Why Koh Tao is so popular for scuba diving courses
There are locations around the world that people spend a lifetime dreaming of visiting and are top of their bucket list.
With over 70% of the planet covered in water, for scuba divers the choices are almost endless.
There are diving locations that offer pristine and diverse underwater conditions and topography to explore until your heart is content.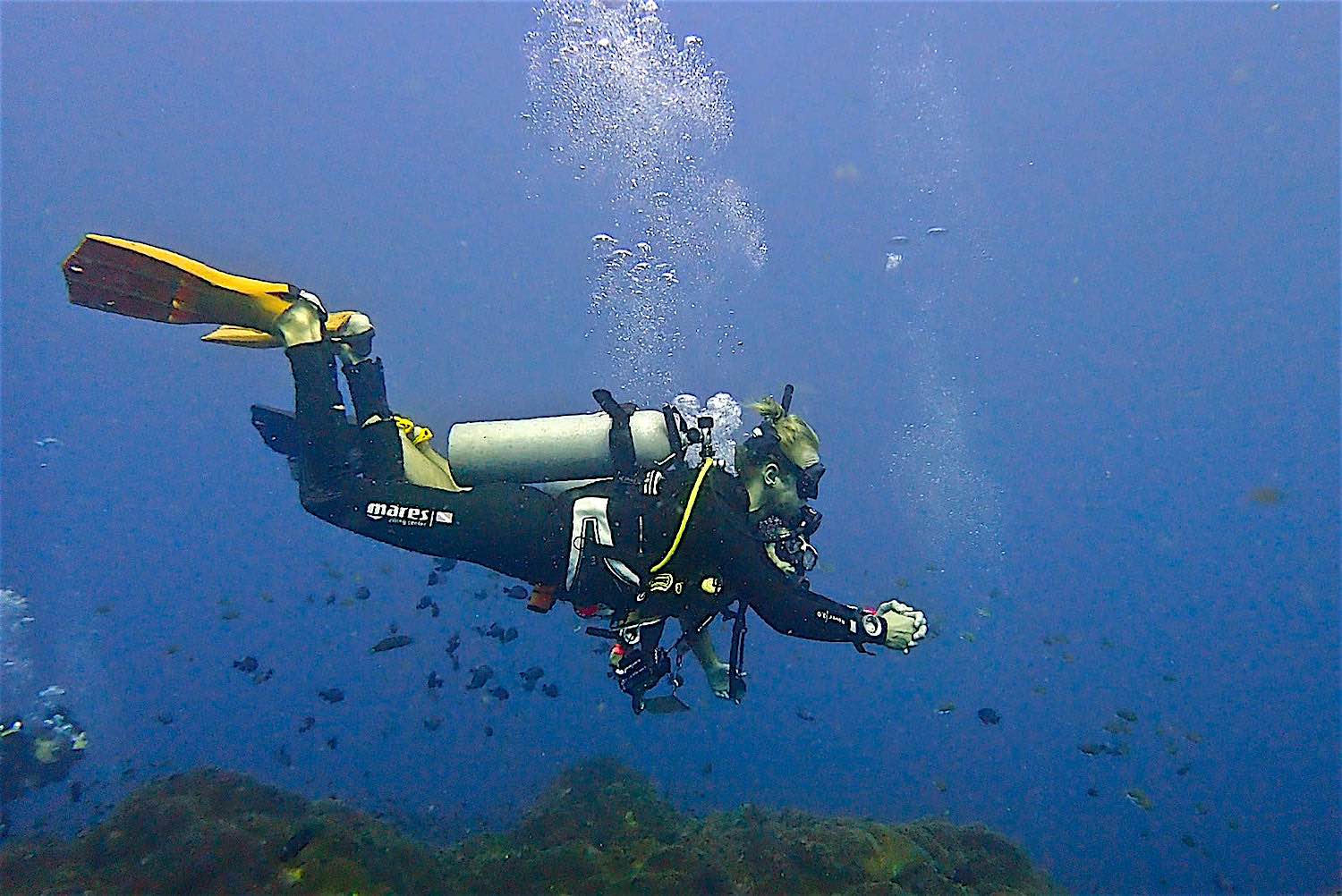 Thailand is the Perfect Destination for Diving Courses
Thailand has long been a favourite destination for scuba divers and Koh Tao is commonly accepted to be a superb location for scuba diver training.
The safe, calm tropical conditions and diverse underwater formations of Koh Tao provide a playground to take a diving course, get certified, learn Freediving or try snorkeling.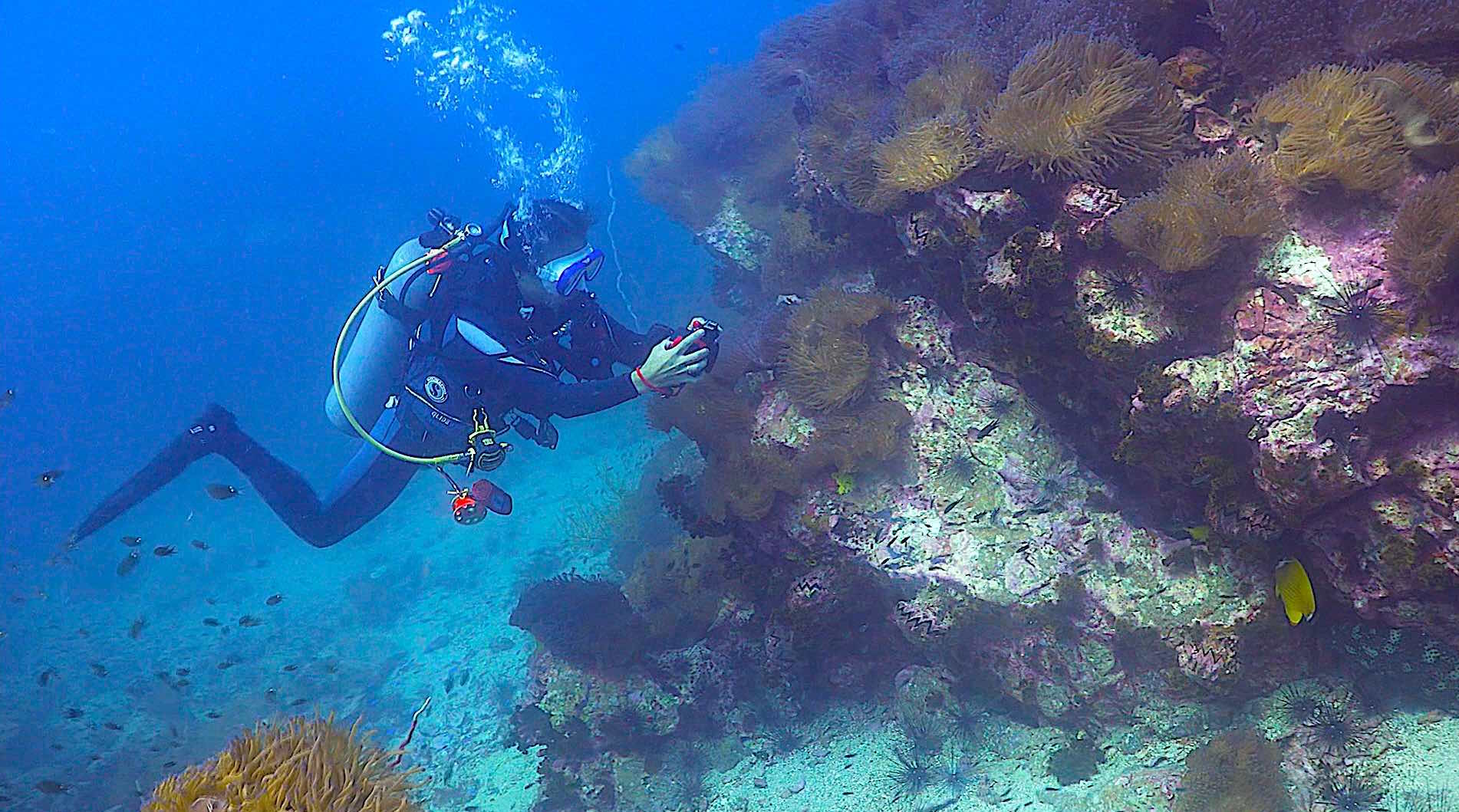 Diving Courses all year round on Koh Tao
Koh Tao has 30 dive sites to choose from and as a small tropical island in the Gulf of Thailand, diving courses can take place all year round in variable weather conditions.
Quite simply, Koh Tao is open for scuba diving business every day of the year and certifies more student divers than any other single location worldwide.
Popular Destination
The island is surrounded by over 8 kilometres of coral reef, artificial dive sites, natural rock formations, sandy seabeds and is perfect for all levels of diving courses.
If exploring the underwater world is on your bucket list then Koh Tao, the world's number one scuba diver training destination is the place for you.
Koh Tao boasts crystal clear water, diverse and varied marine life, a kaleidoscope of colour and is known as the mecca of scuba diving.
Although famous as the most popular destination to get certified as a diver, Koh Tao offers scuba diving training courses for everyone.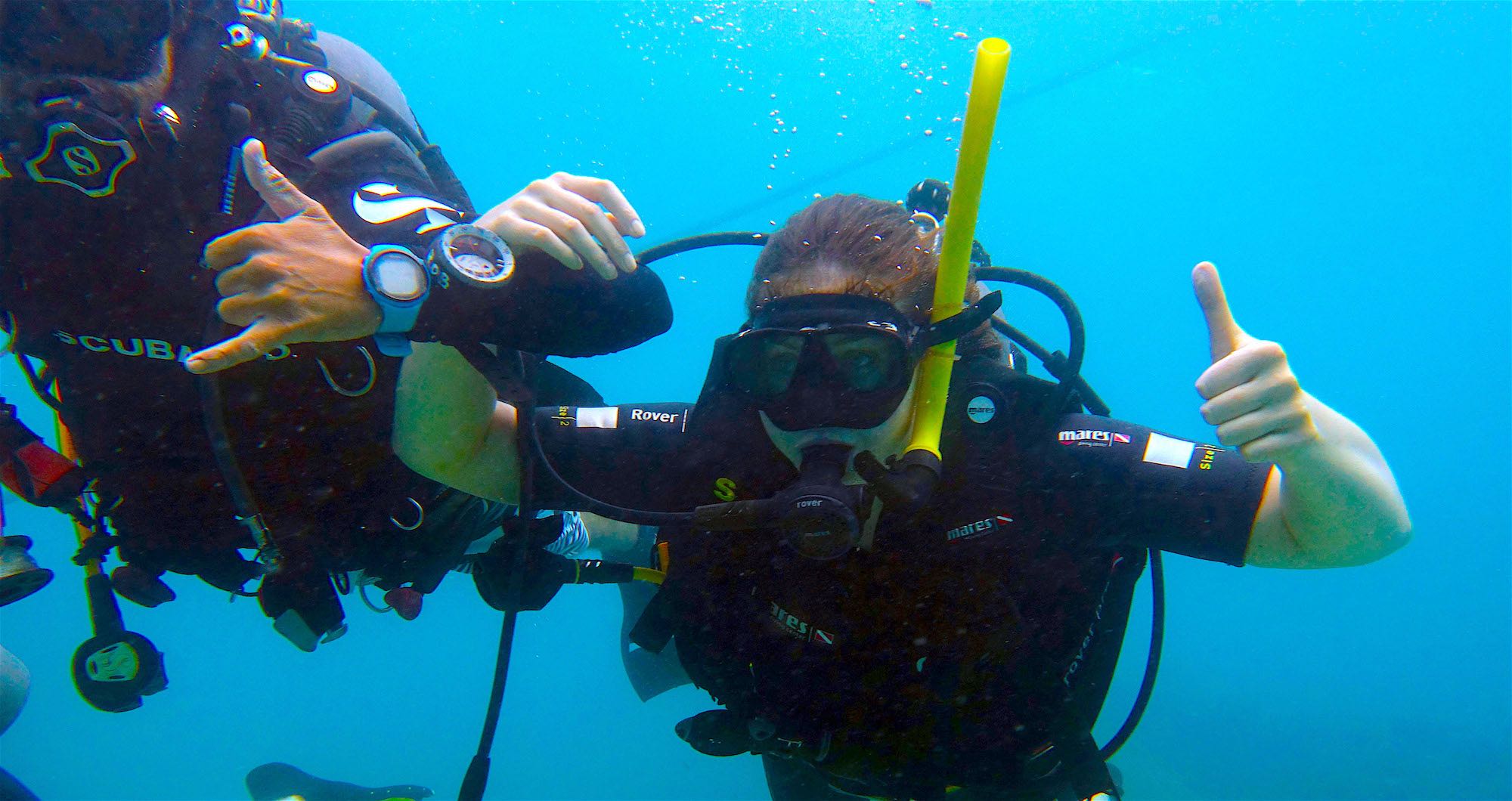 Diving Courses on Koh Tao for Beginners
If you are a complete novice or an experienced certified diver wanting to further your skill set, Koh Tao has a diving course for you.
All visitors to Koh Tao can participate in a range of scuba diving activities that most Koh Tao dive centres offer, as long as you are medically fit to dive and old enough for that specific diving course.
Children (scuba for kids) as young as 8 years old are permitted to participate in exciting and rewarding experience programs.
Bubblemaker program & Seal team missions are diving experience courses on Koh Tao specifically designed for kids.
Koh Tao has something for almost everyone and will make your holiday a fun and memorable one, providing great memories for all the family for years to come.
You can spend the day exploring some of Koh Tao's beautiful shallow bays (such as Mango Bay or Aow Leuk) whilst completing a 1 day Discover Scuba Diving experience.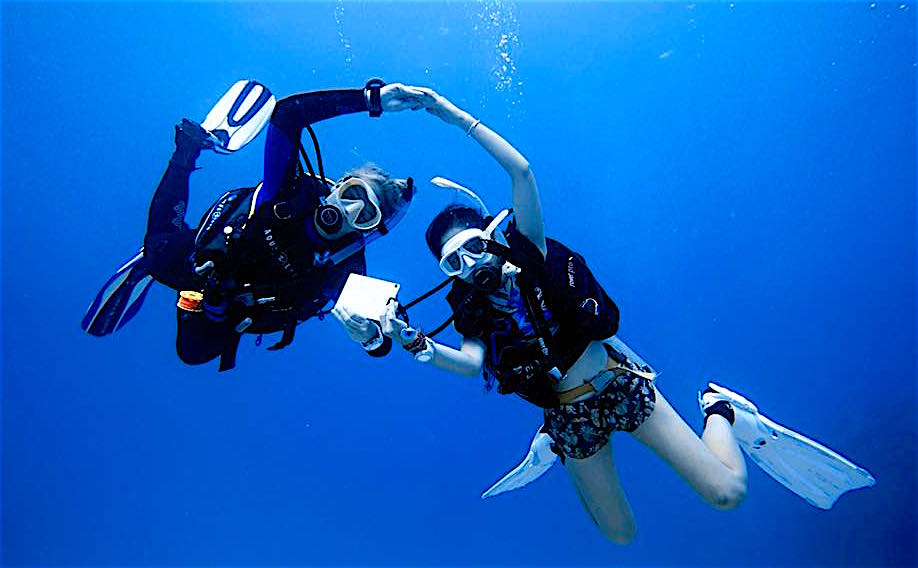 Open Water Diving Course on Koh Tao
The world's most popular entry level diving course is the Open Water Diver certification and you can experience weightlessness for the first time.
Both of these diving course programs can be started from as young as 10 years old, providing a structured and supervised program for first time scuba divers.
Koh Tao's dive centres boast some outstanding facilities, which means you can begin your introduction to scuba diving in a purpose built training swimming pool.
Shallow Water Training
Alternatively, you can start your shallow water training just off the beach, in aquarium type conditions with colourful and inquisitive sergeant major fish to keep you company.
Many Koh Tao dive centres have more than one dive boat and offer 2- 3 daily dive trips.
Koh Tao provides flexibility to tailor your diving course training around a travel schedule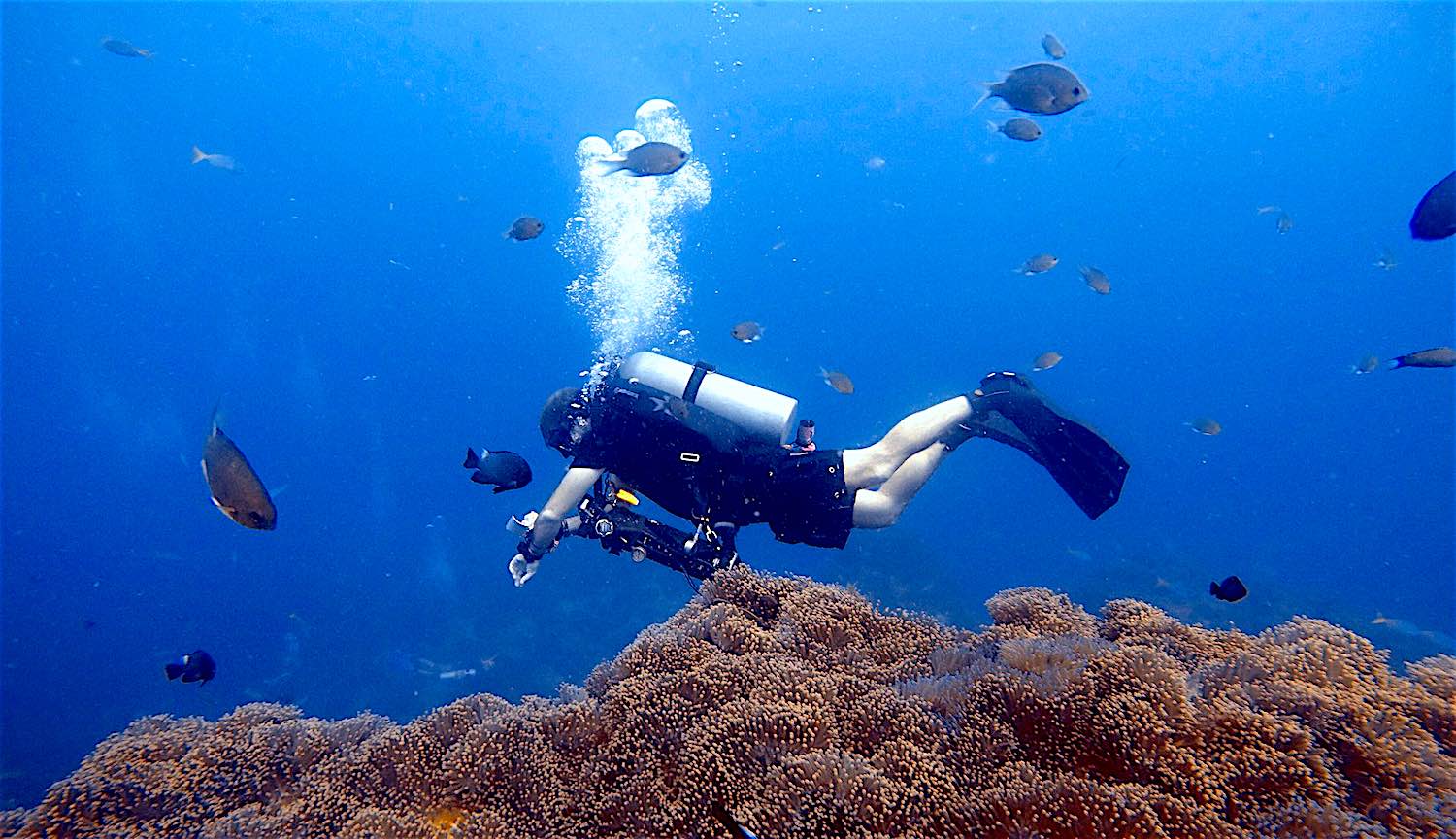 Advanced Open Water Diving Courses on Koh Tao
Certified divers can increase their scuba knowledge and continue their scuba diving education with an Advanced Open water course or try Specialty diving course training.
Flexible Schedule
Go deep at the famous Chumphon Pinnacles and visit the 30 years old Giant groupers that live there or explore our fabulous WWII US gunboat wreck dive, the HTMS Sattakut.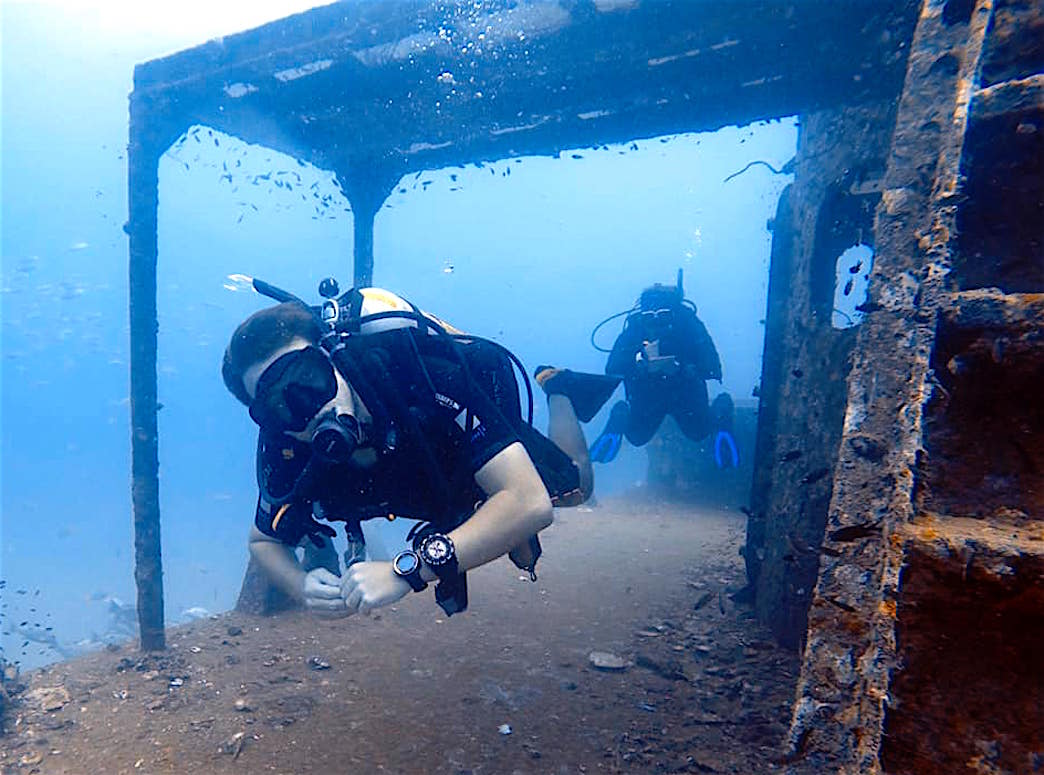 A Choice of Specialty Diving Courses on Koh Tao
Diving at night is one of the most popular specialized training dives and gives you an opportunity to view the marine environment after dusk.
Watch in amazement as Giant Barracuda hunt off your torch light and see the entire underwater world change, as nocturnal life springs to life right before your eyes.
Koh Tao is not just a tropical paradise for scuba diver beginners. It is the most popular destination in the world to to 'Go Pro'.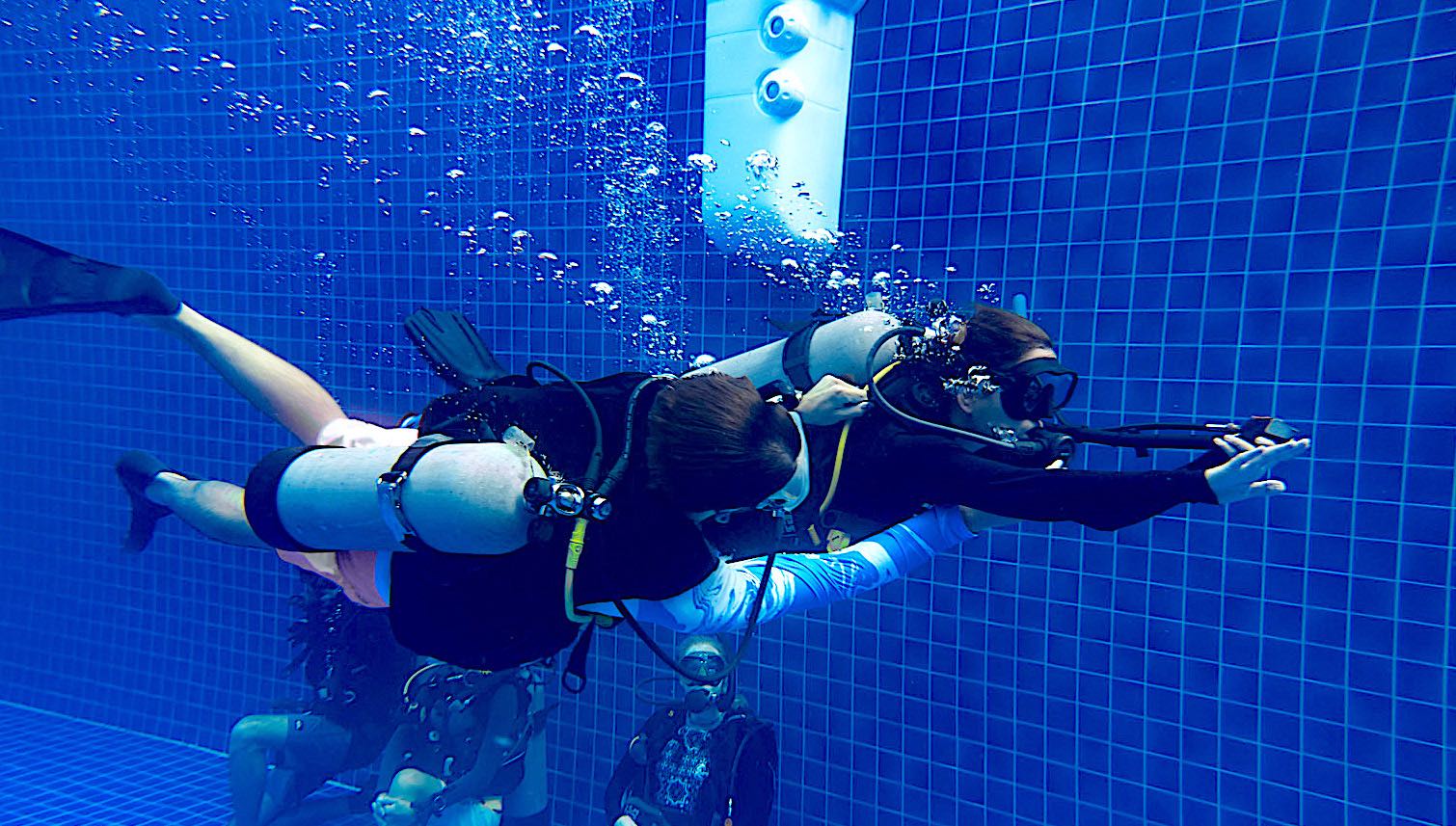 Professional Level Diving Courses on Koh Tao
The island offers some of the most extensive Divemaster and Instructor course training programs, taught under the tutelage of the most experienced Course Directors in the world.
Diver training standards are very high on Koh Tao, partially due to the volume of visitors that are carefully managed and the waters are a safe environment for all levels of diving courses.
Water temperature on Koh Tao is a consistent 26-29 degrees centigrade, with maximum depths available for the recreational diving limits.
The diversity and choice of dive sites ensure favourable conditions all round, so it's easy to gain considerable diving experience in a relatively short period of time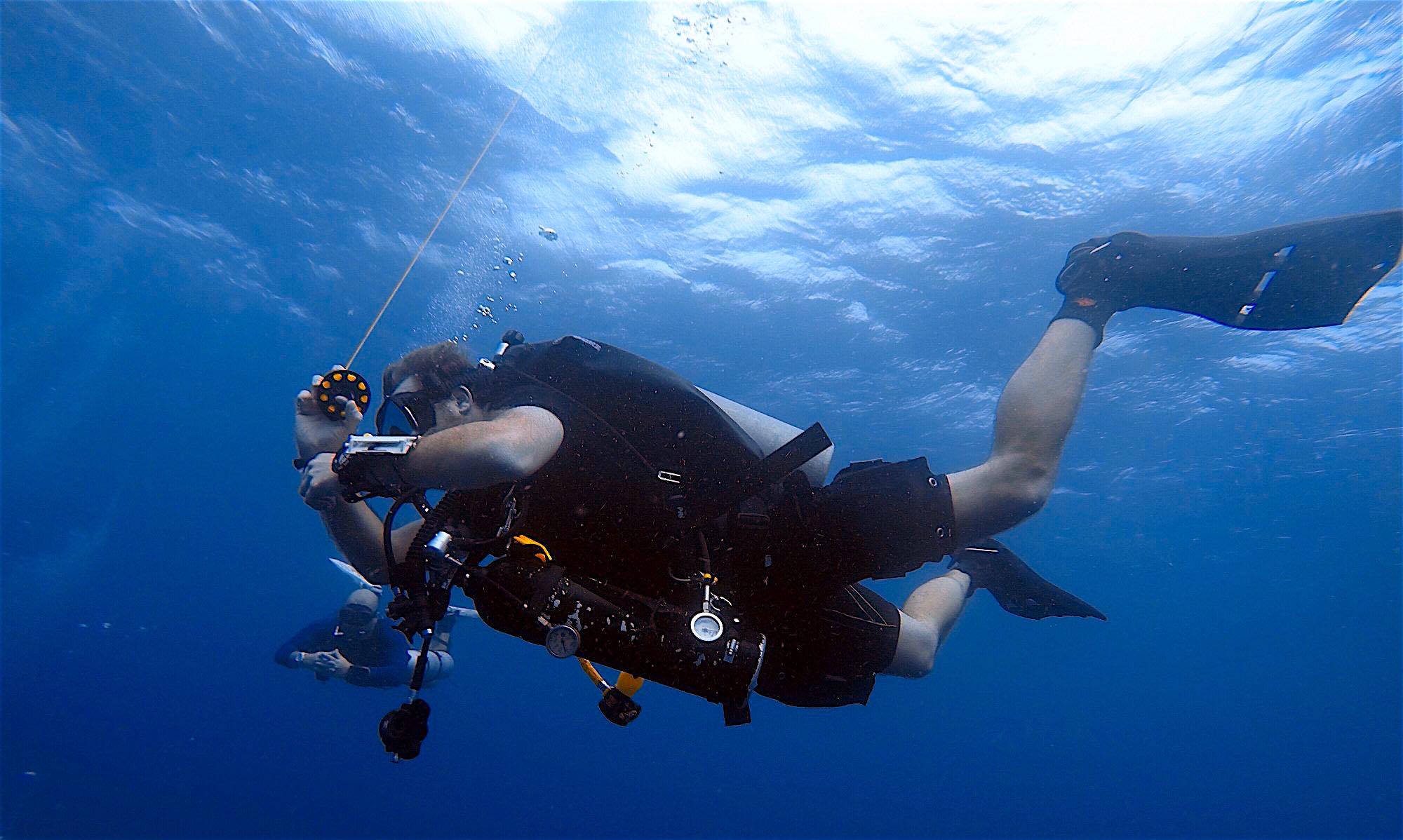 Divemaster Course training on Koh Tao for Dive Leaders
For a Divemaster in training or even for fun divers, it is possible to log 4-5 dives a day to increase your all-round scuba diving experience.
If you are training on Koh Tao to become a diving professional, the employment opportunities for a diving instructor are almost endless.
There are over 50 accredited dive centres on the island who are always looking for well-trained and in some cases, multi lingual scuba instructors.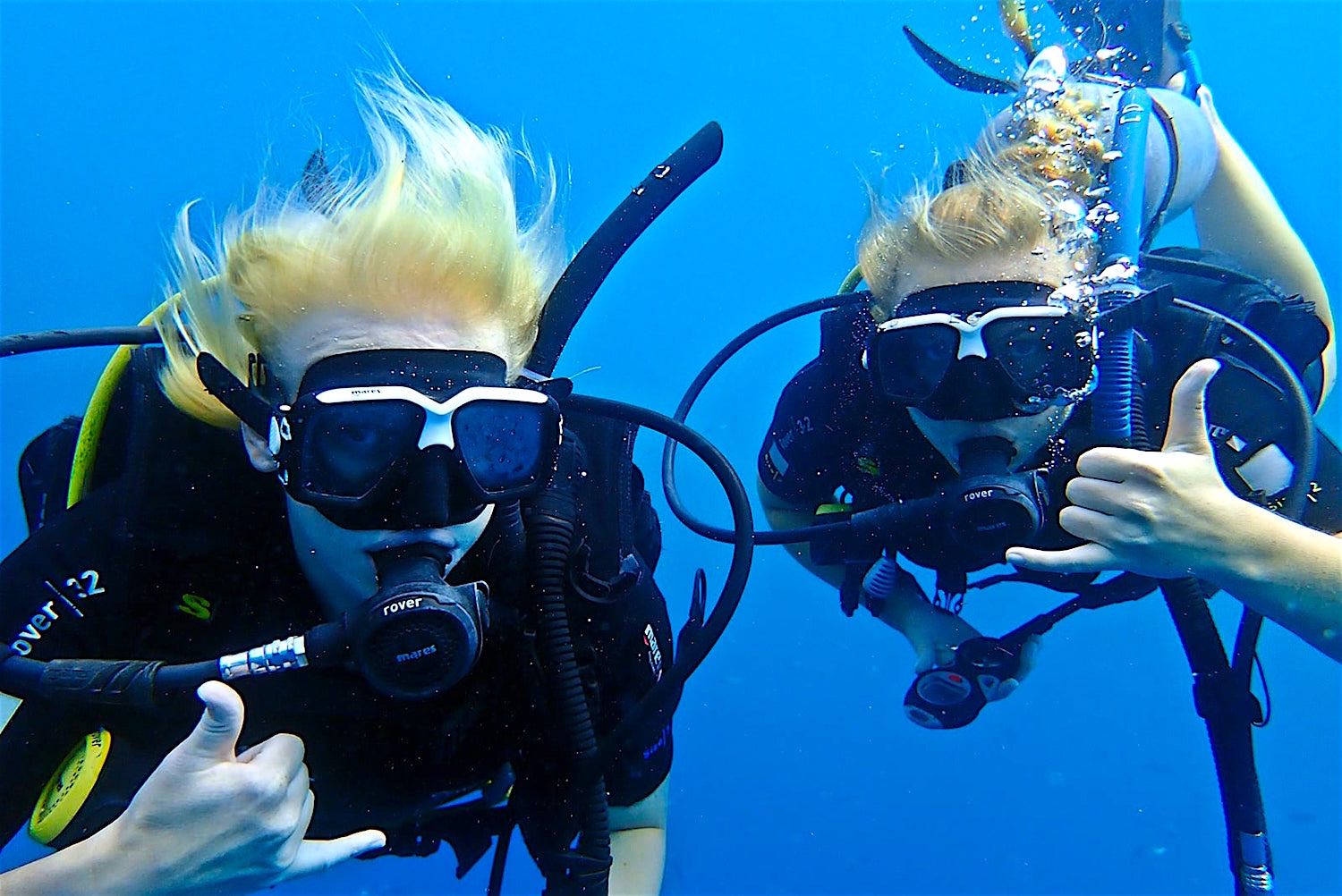 Full Range of Diving Courses on Koh Tao
Koh Tao is a great place for dive professionals to learn on the job with very experienced diving instructors and further their diving knowledge and practical hands-on teaching.
Almost all of the 30 dive sites are within a short distance of the main pier in Mae Haad, so you can spend more time in the water exploring your passion for diving and not travelling to a distant dive site.
Whalesharks & Sea Turtles
Koh Tao enjoys Whaleshark and Sea Turtle sightings all year round and offers diving courses for everyone regardless of age, certification or experience level.
Combine this with the highest standards in diver training taught by experienced diving Instructors and you know you will be in safe hands on Koh Tao, known as the rock.
Frequently Asked Questions
How much does a diving course cost on Koh Tao for a beginner?
The cost of an Open Water course on Koh Tao is 11,000baht. This includes knowledge development, a confined water training session in a swimming pool or one of the many shallow bays on Koh Tao and 4 open water training dives. Contact us to book your course in advance or to discuss how you can complete the knowledge development section before you arrive, giving you more time to have fun in the water.
Are diving courses safe on Koh Tao?
Koh Tao is one of the safest and most popular destinations in the world to learn to scuba dive with approximately 100,000 divers earning certifications each year. The island is the most popular place on the planet to learn to scuba dive and the safest too, with some of the world's most experienced course directors and instructor trainers.
Are there diving courses on Koh Tao in my own language?
Koh Tao offers diving courses in a range of languages including English, Chinese, Thai, German, French, Spanish, Dutch, Hebrew, Korean, Swedish, Danish, Japanese, Russian, Finnish & Italian. Contact us to discuss your plans and we can arrange a course in your language.
How can I book a diving course on Koh Tao?
You can book a scuba diving course online directly through our booking page with a 10% deposit. For any questions or advice on scuba diving courses on Koh Tao please contact us so we can answer your questions, help you plan and choose the best dive centre and course.
Do diving courses on Koh Tao include accommodation?
There are no accommodation packages included with scuba diving courses on Koh Tao, but there are many options for you to choose from. Contact us to discuss your plans and we can arrange the best accommodation within your budget.
How popular is Koh Tao for diving courses?
Koh Tao is the most popular destination in the world for people to learn to scuba dive and has been for the past 20 years. The island lives and breathes scuba and with so many visitors in the water on any given day, you will find expert instructors teaching courses to the highest standards.
Where is the best place on Koh Tao to take a diving course?
There are many experienced diving Instructors working for reputable dive centres that offer high quality scuba diving training and experiences on Koh Tao. Our recommendation is to find a dive centre and instructor that you feel most comfortable with.  You can contact us and we will provide you with advice and choices. We can also assist with all the arrangements to ensure your scuba diving experience on Koh Tao is a memorable one.
How big are the groups on Koh Tao diving courses?
Most dive centres on Koh Tao offer a student to Instructor ratio of 4:1, which is an ideal sized group and ensures you receive lots of attention, have incredible fun and meet new people, all done in a safe and friendly way. If you have any concerns about diving group sizes, contact us to discuss your plans and travel itinerary.
Can I take more advanced diving courses on Koh Tao?
Koh Tao offers the full range of advanced scuba diving courses from Specialty courses such as Deep diving, Wreck diving and night diving to Rescue diver all the way to Divemaster internships and Instructor level courses.
How do I sign up for a Divemaster diving course on Koh Tao?
Koh Tao is the best place in the world to complete the Divemaster course. You can get lots of diving experience diving every day, mentored by some of the very best diving instructors in the world.  If you are undecided, contact us and we will answer your questions about the Divemaster course and help you plan and book your course at the dive centre that is most suited to your personal needs, goals and personal development.