How to get to Sai Daeng Beach Koh Tao
Sai Daeng beach is located on the south coast of Koh Tao, about a 15-minute drive from Mae Haad and it offers a picture perfect beach to visitors.
Amazing Views
The road to the beach is concrete and in good condition and passes over the hills in the south. It will take you through the old palm plantations and past a now defunct windmill giving you amazing views along the way.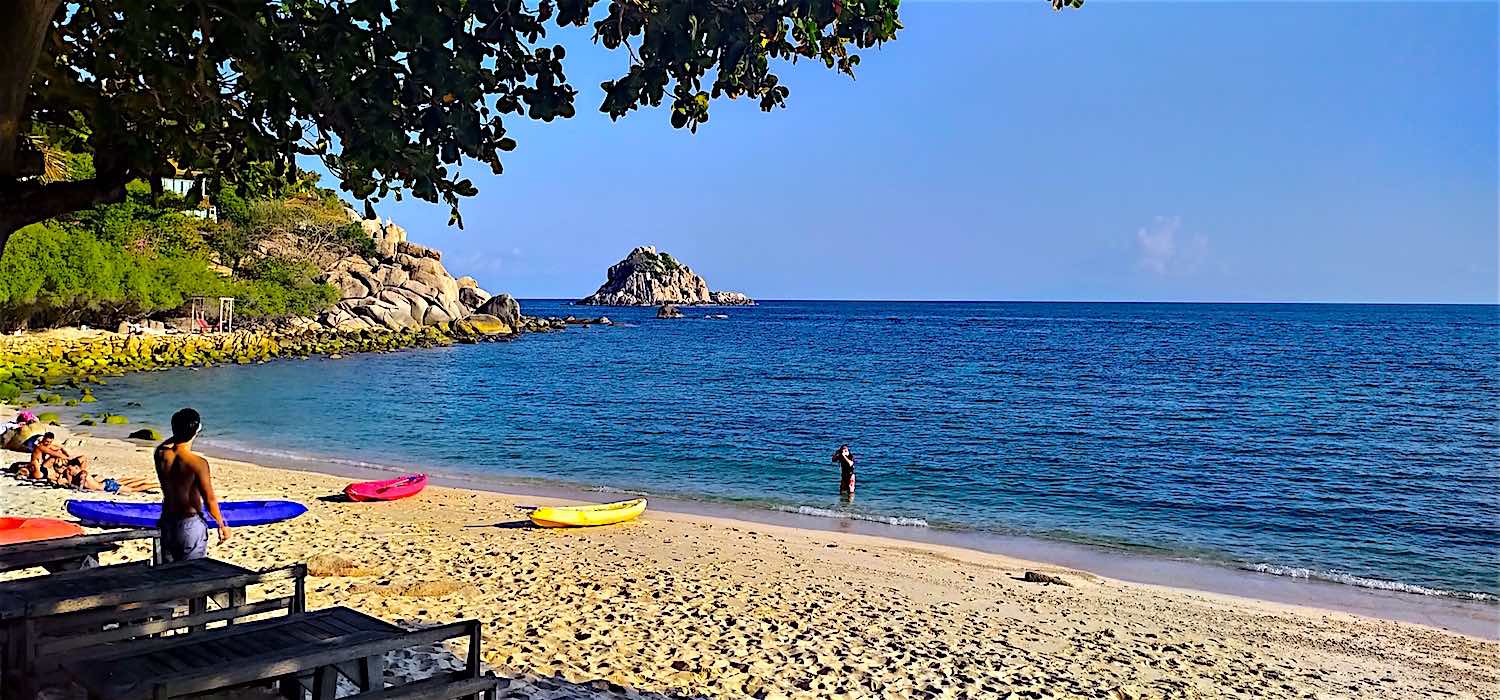 Good Road Access to Sai Daeng Beach
At the top of the mountain you are faced with stunning panoramic views of the Sai Daeng peninsula including Shark Island, across the sea towards Koh Phangan.
Luxury Resorts at Sai Deng Beach Koh Tao
There are two steep roads leading down to either Coral View Resort or Sai Daeng Resort and car parking to access the beach through the resorts.
You will need to exit a taxi or park your scooter here and make your way through the resort to Sai Daeng beach. Both resorts allow public access to Sai Daeng beach free of charge.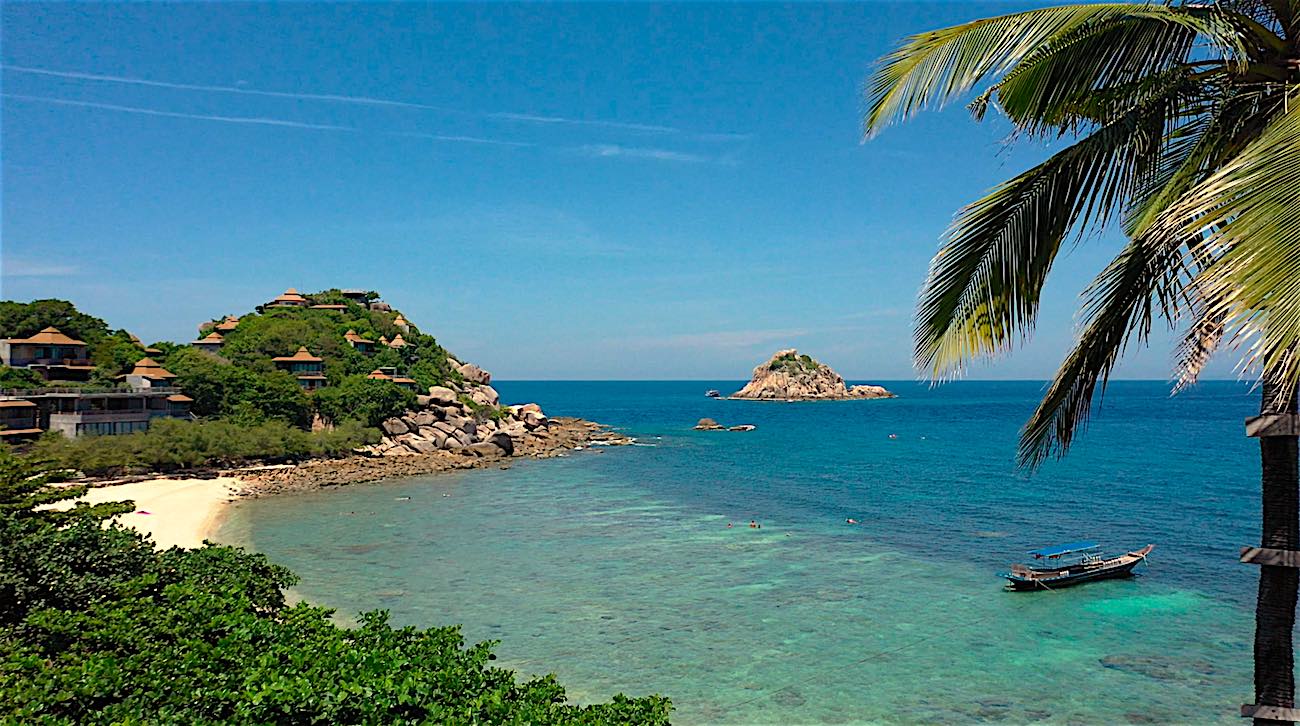 Palm Trees
Once you reach Sai Daeng, you will discover a small white sandy beach with clear, warm water and a shoreline bordered with palm trees, which provide shade when you need a break from the hot sun.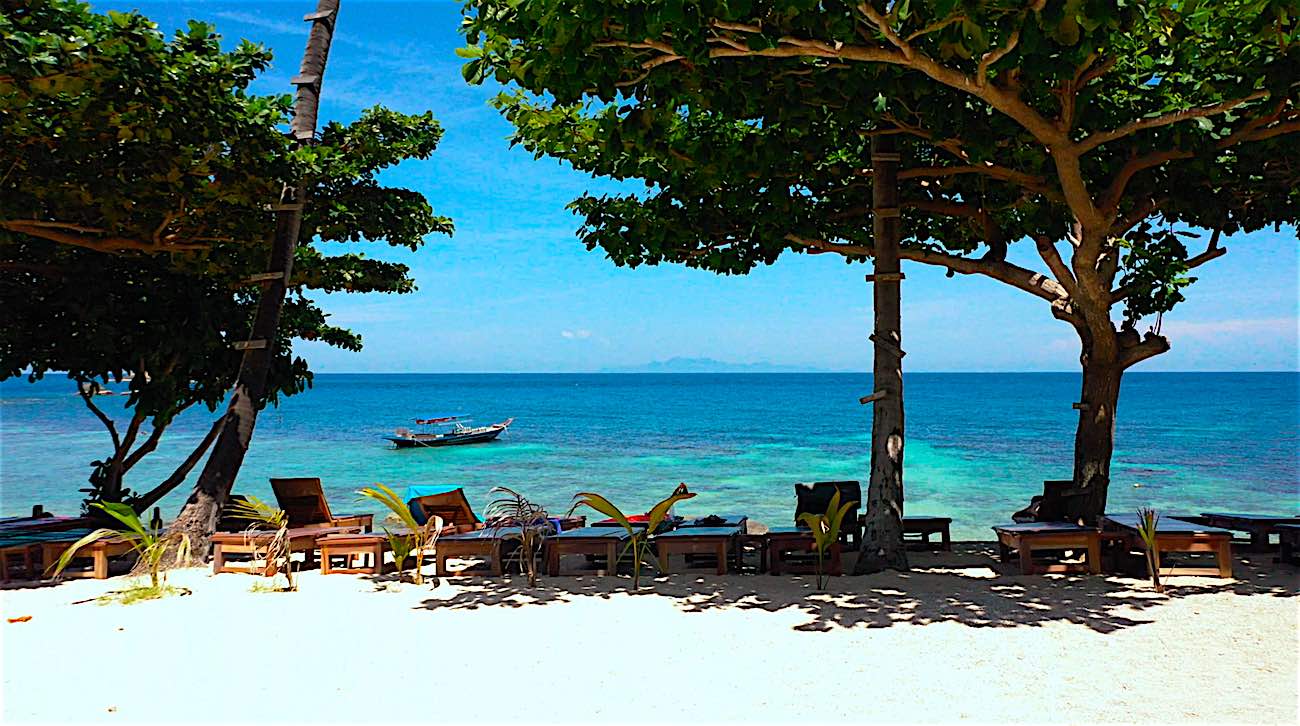 Shark Island
The beach is clean and peaceful with spectacular views and is also the closest one to Shark Island. Although popular, Sai Daeng is much quieter than many of the other beaches on Koh Tao.
This is most likely because this location is a bit further out of the way and only has the two resorts nearby.
On the plus side, this makes it a great choice for those who are looking for a place to get away from the crowds and relax.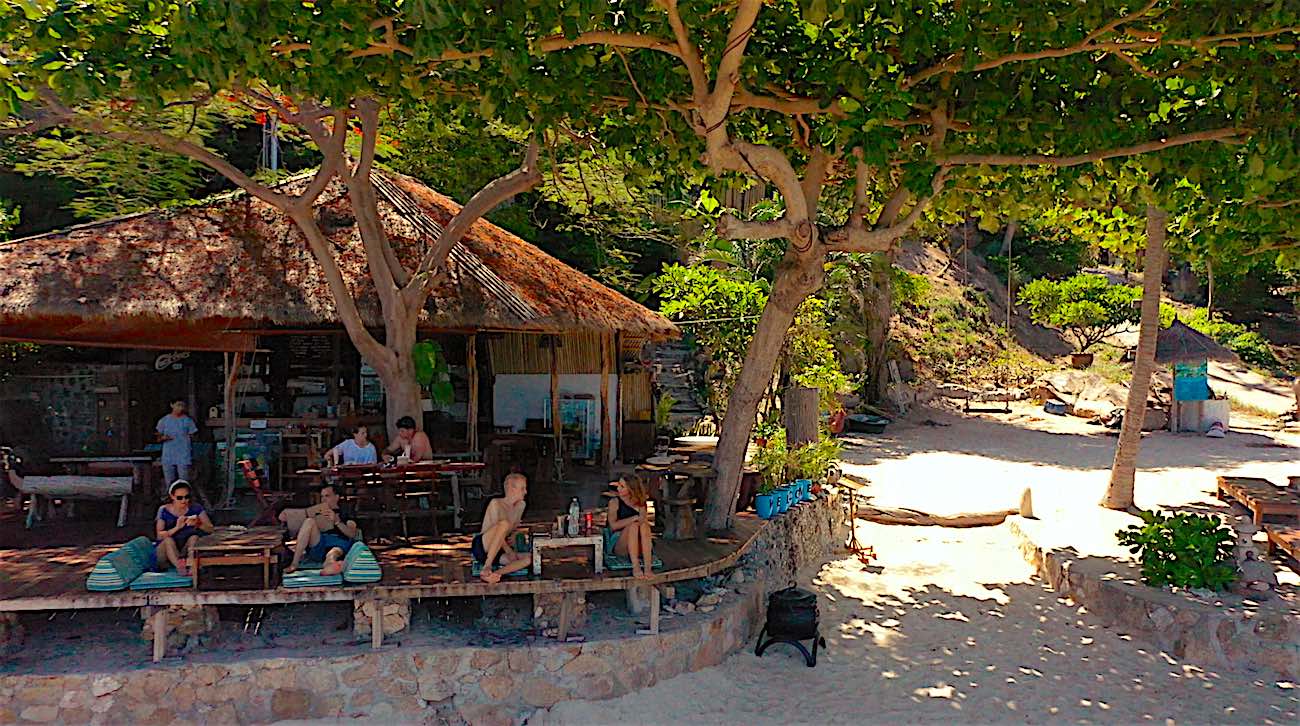 Coral View Resort Sai Daeng Beach Koh Tao
Coral View Resort is situated on the west side of Sai Daeng beach and has a relaxing, friendly café and restaurant on the beach.
The beach bar provides shade and a place for you to enjoy a refreshing drink in between relaxing on the beach, snorkeling and swimming.
Water Activities
The resort can offer water based activities from Kayaking to snorkeling in one of the most beautiful locations on Koh Tao.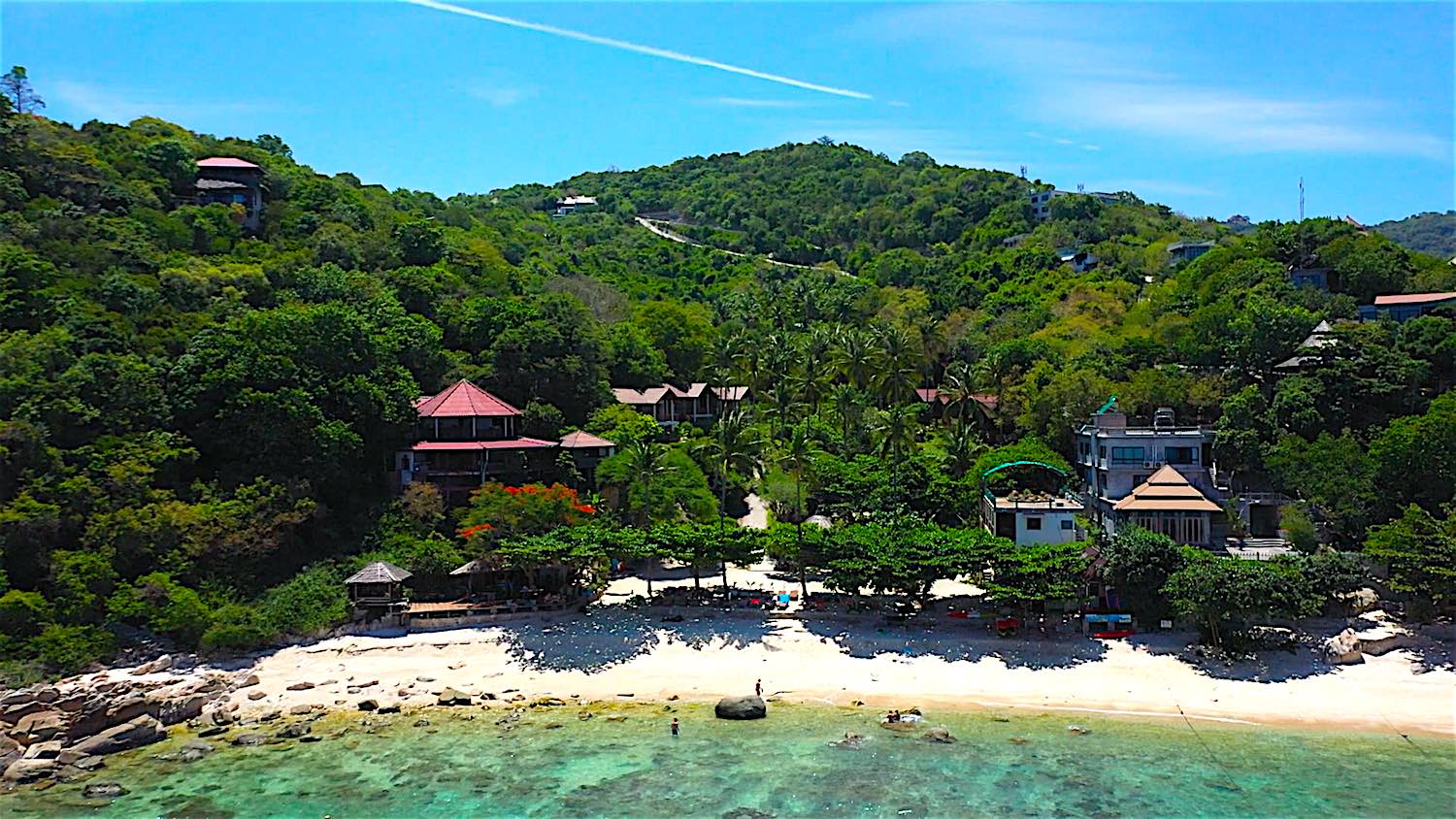 Sai Daeng Resort Koh Tao
Sai Daeng resort offers a restaurant on the beach, called Uncle Soon's, which is part of the resort. They serve a mixture of Thai and Western food, which is both reasonably priced and good quality.
As well as serving food and drinks, they also have kayaks and snorkeling equipment, which is available to rent for the day.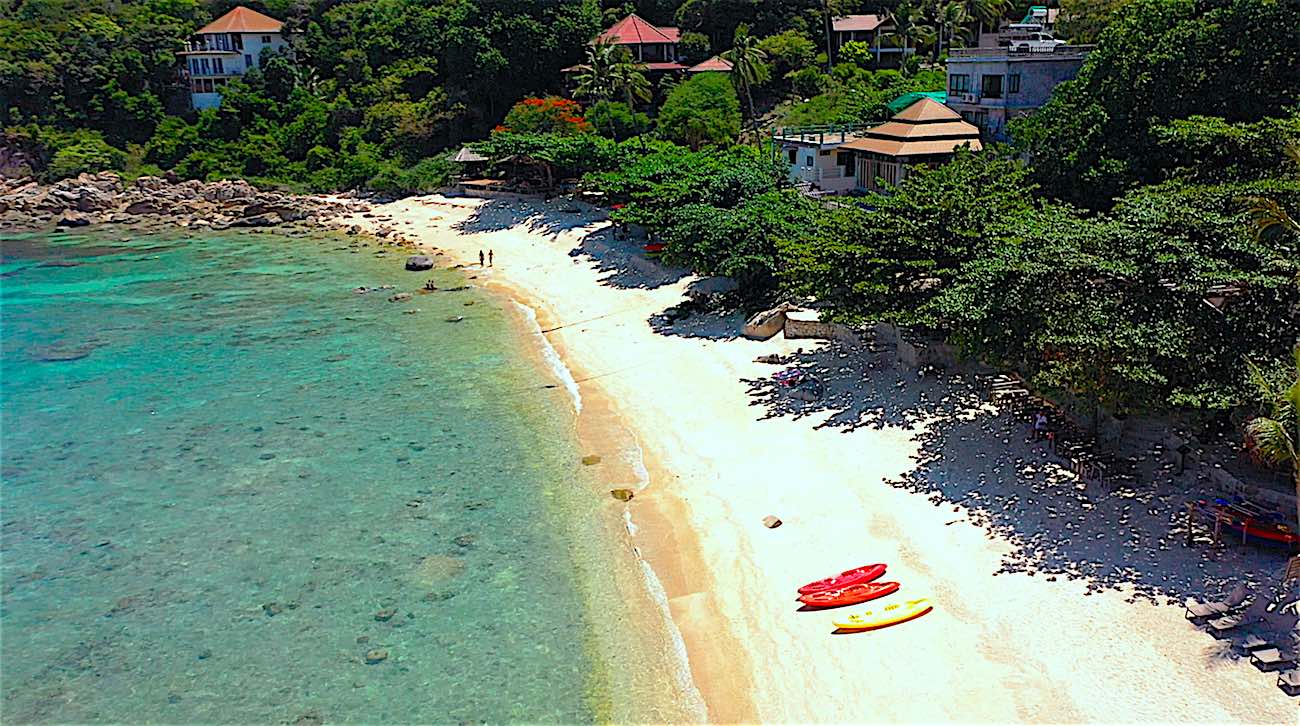 Snorkeling at Sai Daeng Beach Koh Tao
There are great snorkeling spots at both the east and west ends of the beach.
Marine Life
You can explore and discover a variety of colourful corals attached to the rocks and the entire area is a common location to see turtles and black tip reef sharks.
If you choose to try underwater you can see large shoals of fish and an abundance of colourful Christmas worms.
In addition to Sai Daeng, there are two extra locations nearby that are great for snorkeling.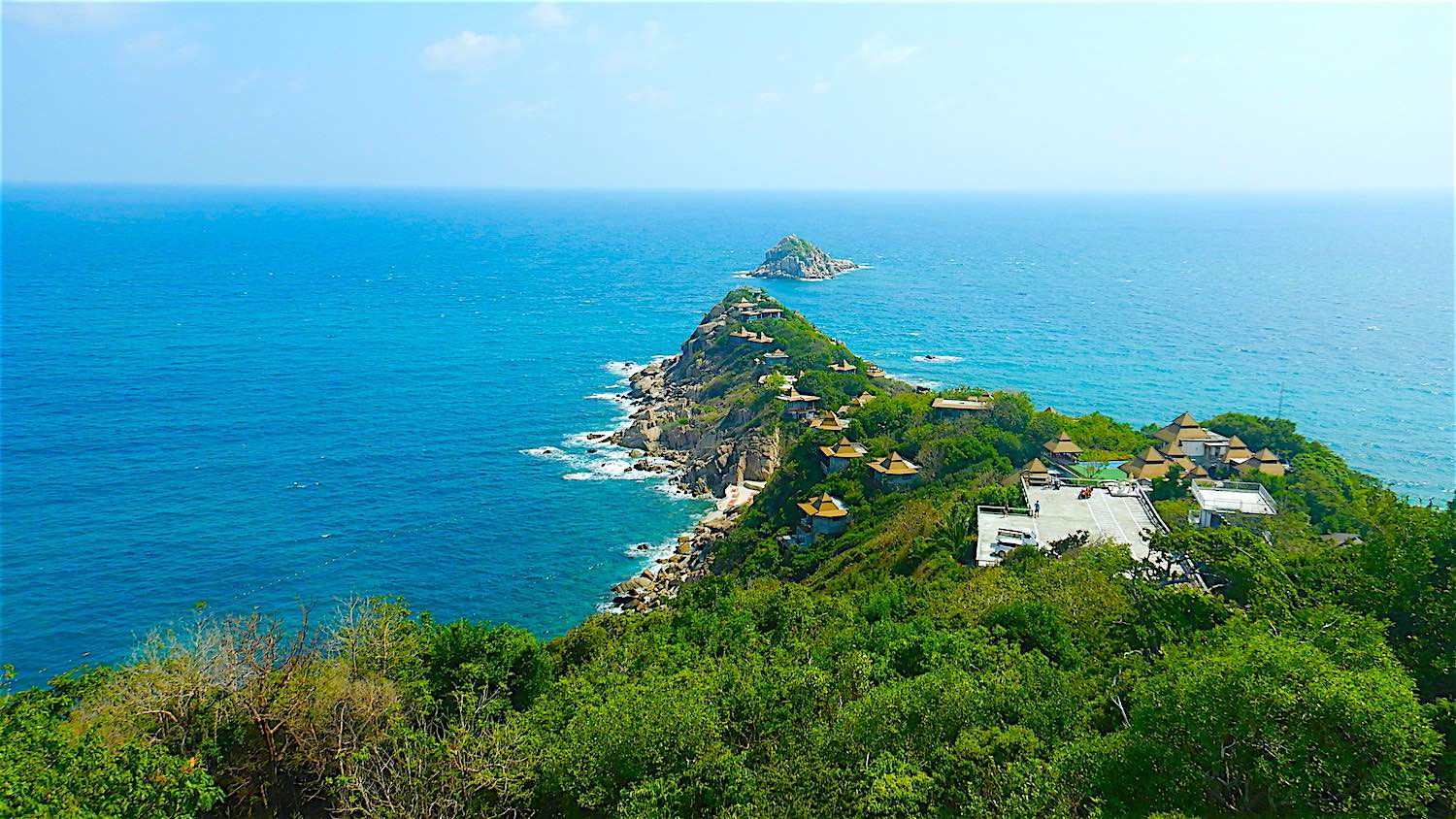 Hin Ngam Bay at Sai Daeng Peninsula
Swimming east around Cape Gong Sai Daeng will bring you to Hin Ngam Bay.
This area has a rocky shoreline that continues underwater, providing an ideal base for coral to thrive on.
Take extra precautions if swimming around the cape, as the currents can be strong.
Kayaking
Alternatively, you can take a kayak and visit Shark Island, a journey which takes just 10 minutes in calm weather.
Once you reach Shark island, you can attach your Kayak to a floating buoy and explore underwater with a snorkel.
Explore Shark Island from Sai Daeng Beach
As a small island, Shark Island can be affected by strong currents, so take extra precautions when swimming or snorkeling.
The water depth ranges from 5-25 metres, with boulders in the shallow areas providing excellent locations to explore when snorkeling.
Frequently Asked Questions
How do I get to Sai Daeng Beach on Koh Tao?
Sai Daeng beach is located on the south eastern coast of Koh Tao and you can visit there by walking or by riding a scooter. The hill is very steep in places so inexperienced scooter riders should be very careful.
You can head towards Chalok Baan Kao and turn left after the large supermarket called Aukotan and drive up the hill and as the road branches into two, take the new road to the left and follow the sign for Sai Daeng resort.
The road breaks into two again and you can follow the steep hill down to Coral View resort or to Sai Daeng resort, if following the left branch. Both resorts share Sai Daeng beach.
Can I walk to Sai Daeng beach?
You can walk to Sai Daeng beach by following the signposted road to Sai Daeng resort or Coral View resort.  50metres from Aukotan store, turn left and walk up the hill and follow the signposts and be aware that the hill is quite steep as you descend down to the beach.
Do I have to pay to access Sai Daeng beach Koh Tao?
Sai Daeng beach is shared by two resorts and the beach area itself is free to enter. There are beach bars for you to enjoy food and drink and activities along the beach. Please be aware that the resort guests use the beach area, so it is important that you follow the information on any signs or instructions about how to behave whilst using the beach.
Is it safe to swim at Sai Daeng beach?
Sai Daeng beach is beautiful, secluded and offers visitors a perfect location to swim safely. The beach area and water is usually very calm, clear and warm and if you stay within the bay, there is little to no current. Always let someone know what you plan to do when swimming for your own safety.
Can I swim to Shark Island from Sai Daeng beach?
Swimming to Shark Island from Sai Daeng beach is not recommended as there can be a strong current outside the confines of the bay. The water channel between Koh Tao and Shark island is often subjected to a variable strong current.
Can I rent a Kayak at Sai Daeng beach?
Sai Daeng beach is a perfect location to rent a Kayak and enjoy a leisurely paddle around the bay and you can travel around the headland to Hin Ngam. Always take a life jacket with you as the water becomes deep and is subject to strong currents without warning.
Can I buy food and drink at Sai Daeng beach?
Sai Daeng beach offers visitors choices for food and drink wth beach bars and restaurants available at both of the resorts that share the beach. Sai Daeng is a great day out for those who want to visit a secluded, clean and inviting location on Koh Tao.