The Best Koh Tao Snorkeling Guide
Koh Tao offers a unique marine environment and lots of opportunity for snorkeling fun for visitors of any age group.
Snorkel Koh Tao
The safe waters and hot climate provide a picture perfect setting to enjoy, take photographs and create memories that will last for a lifetime.
Snorkeling is available to everyone and Koh Tao offers a large choice of stunning bays and beaches that are perfect for snorkeling.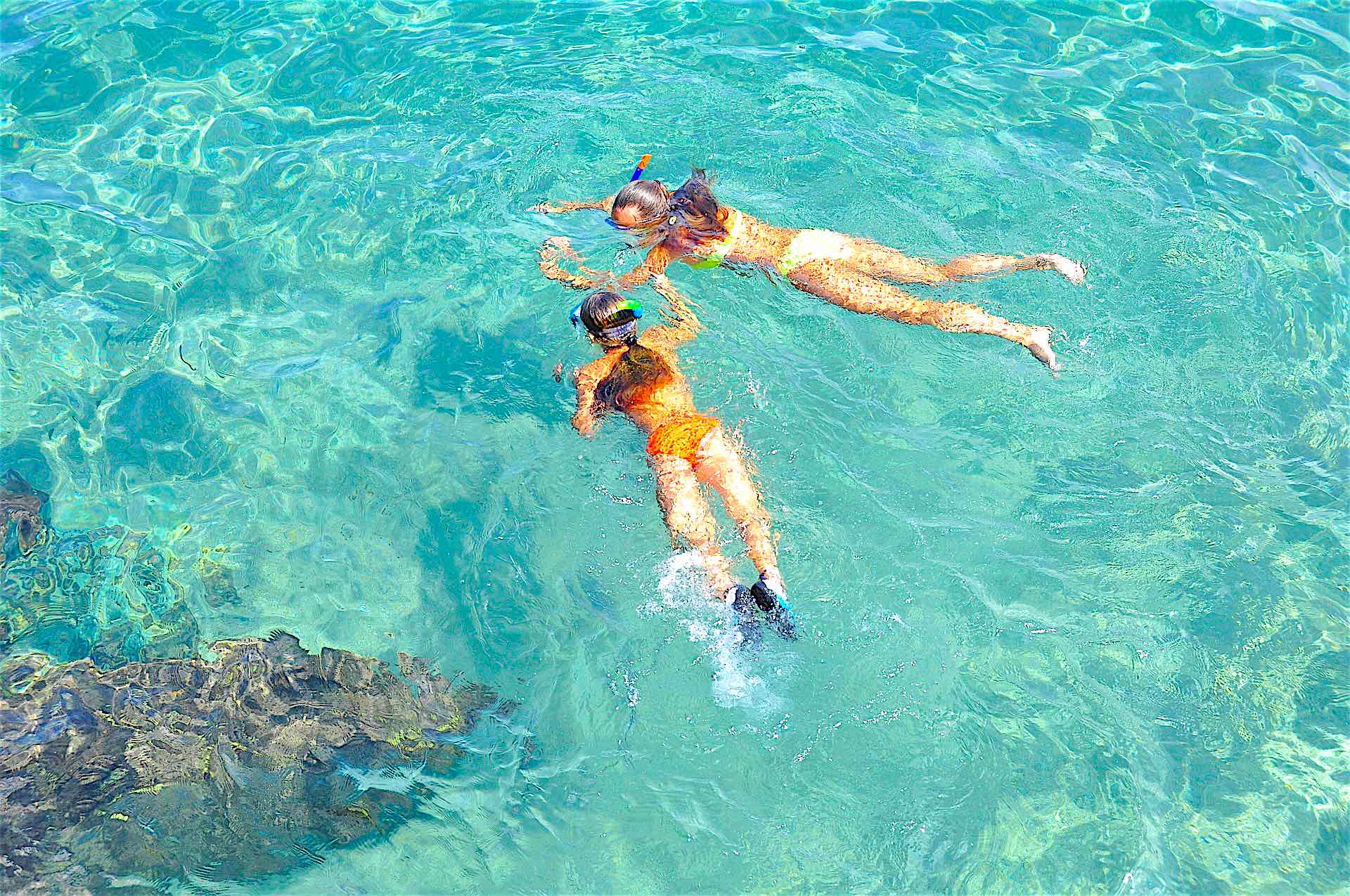 Snorkeling at the best bays of Koh Tao
The jagged coastline of Koh Tao is ringed with open bays and idyllic sandy beaches.
Quite often the best marine life is close to the surface and can be seen straight off a boat or by swimming off a beach.
Within a few minutes you can be swimming and snorkeling in a clear, warm sea and surrounded by a huge diversity of marine life.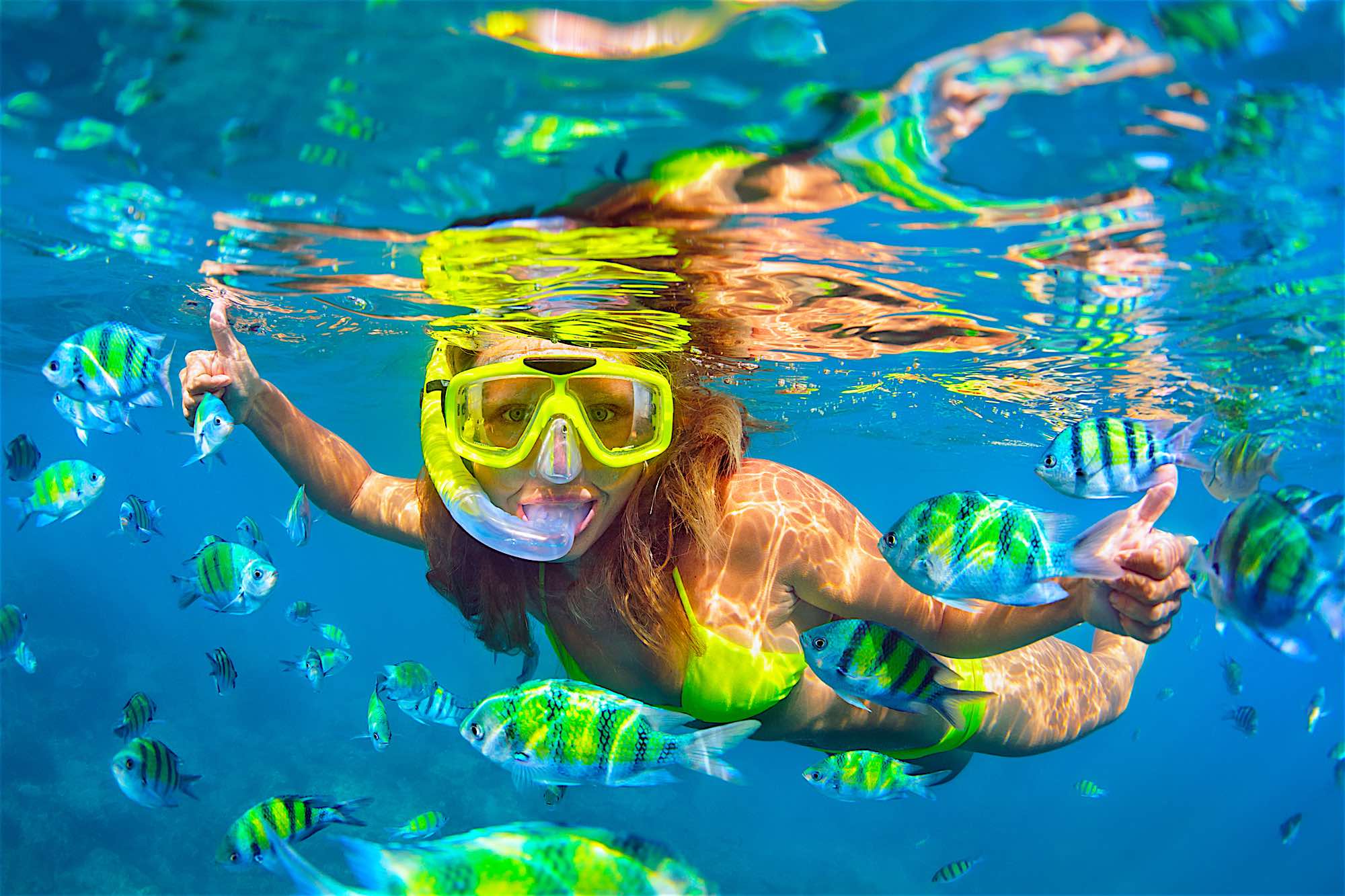 What you can see when Snorkeling on Koh Tao
Koh Tao is a unique island in the Gulf of Thailand as it is surrounded by over 8 kilometres of various types of Coral Reef, including colourful soft and hard corals.
The underwater topography ranges from small and large rock pinnacles to coral gardens and artificial dive sites that provide an abundance of hiding places for the marine life to grow and flourish.
Sea Turtles
The snorkeling locations around Koh Tao are home to hundreds of species of fish, plants, coral and our beloved Sea Turtles.
Schools of fish are part of the natural environment at Koh Tao's best snorkeling spots as often their source of food is found in shallower waters.
If you are looking for a Tailfin Batfish or the glimmer of an orange and purple Unicorn fish, snorkeling is a great way to witness the beauty of the underwater world.
Finding Nemo
For snorkelers who enjoy searching the crevices of the coral for the elusive Mantis Shrimp or the White Eyed Moray Eel, snorkeling on Koh Tao will satisfy your wishes.
If you enjoy a good Disney movie there is always a 'Finding Nemo' family of clown fish nestled in the safety of their sea anemone.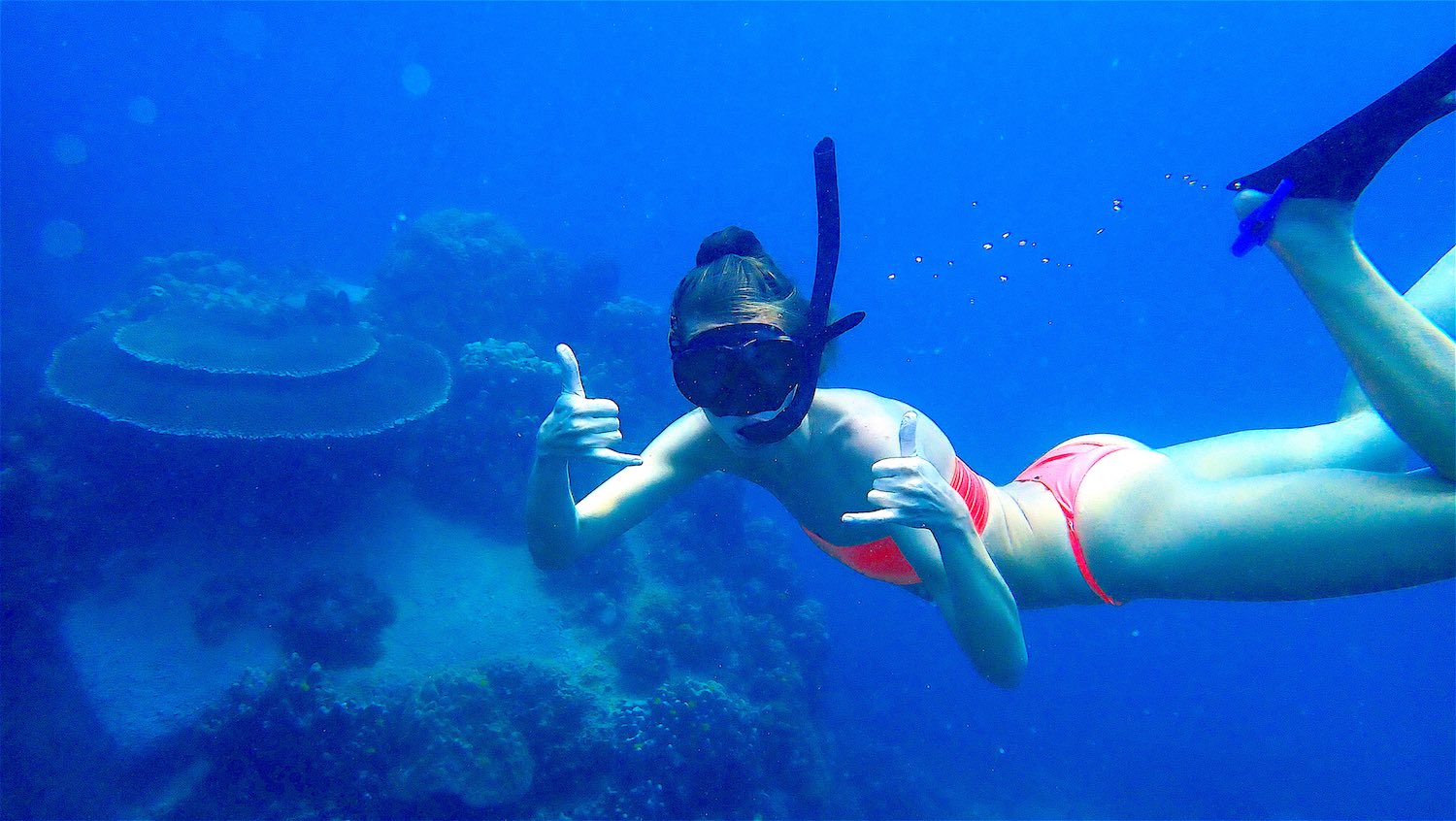 The best ways to go snorkeling on Koh Tao
If you have not already booked a snorkel trip before you arrive, you have lots of snorkel choices available.
If you stay at a resort, hostel or a hotel on Koh Tao, staff can make lots of recommendations for full day or half day snorkel tours.
They can also advise on buying your own snorkel and mask and arrange taxi's or longtail taxi boats to take you to a bay or beach of your choice.
The organised snorkel tours operate a daily schedule and what type of snorkel trip you want to book, is dependent on how much time you have.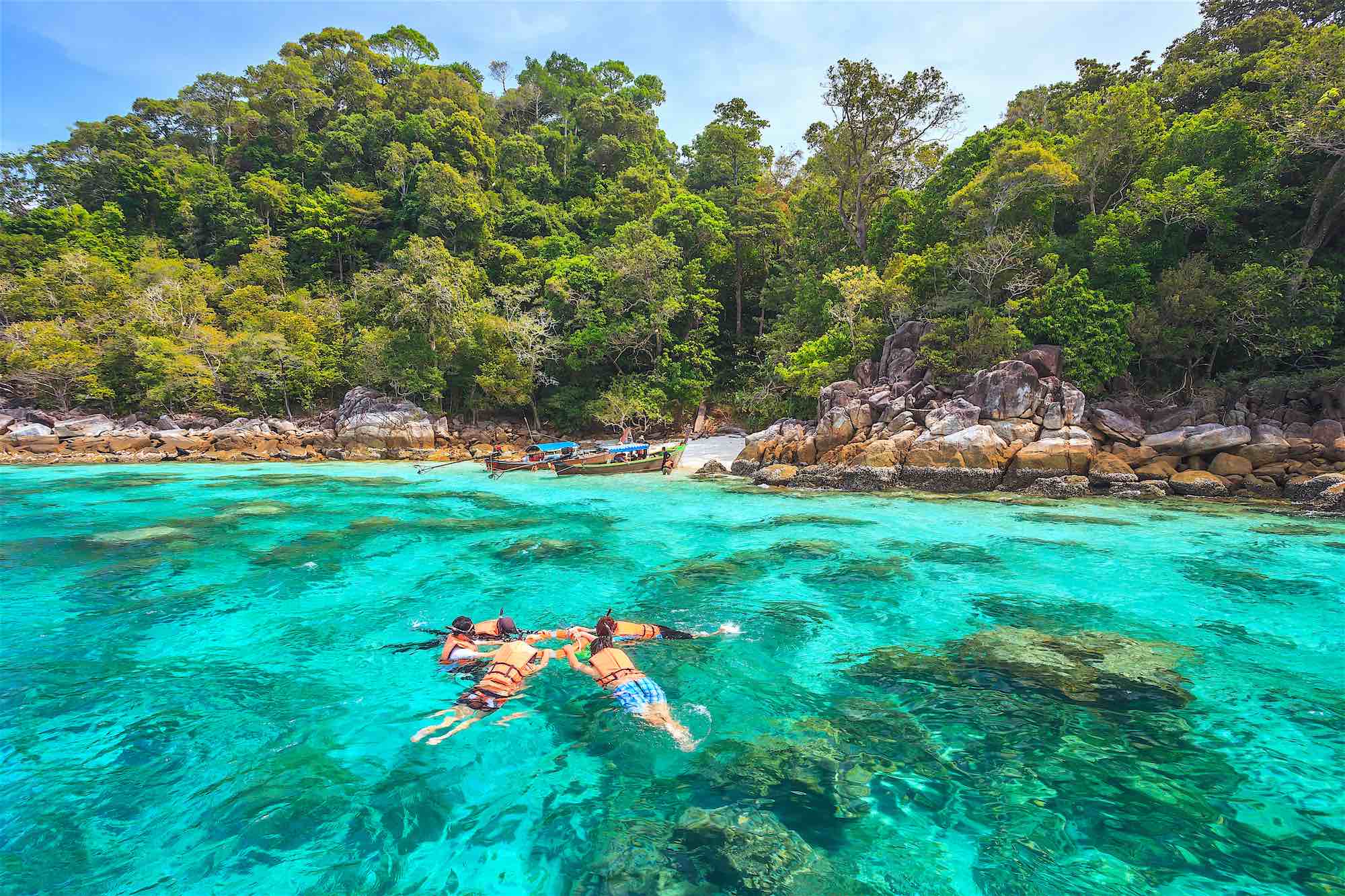 The facts about Snorkeling on Koh Nang Yuan Island
Koh Nang Yuan (Nang Yuan Island) is a unique location and famous throughout the world. The island itself is often mistaken for Koh Tao and if you 'Google' Koh Tao, often the images show Koh Nang Yuan.
Koh Nang Yuan is actually 3 small islands that are connected with a unique sandbar that is visible at low tide and can be submerged underwater depending on the season and tide.
This stunning island is situated about 800 metres off the North west coast of Koh Tao and can be reached by longtail taxi boat in 15-20 minutes.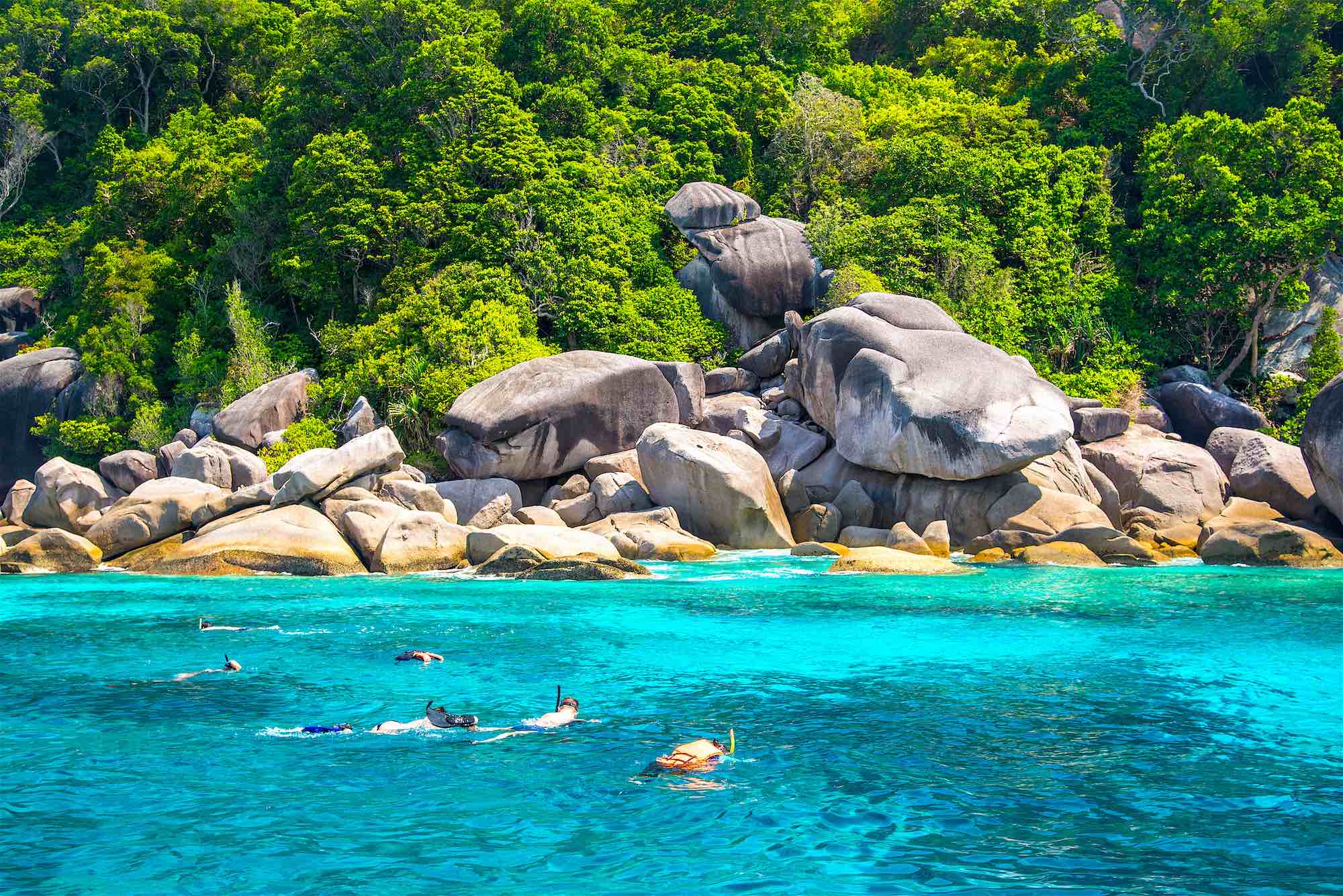 Fun Snorkeling on Koh Nang Yuan
The beaches on Koh Nang Yuan are lined with deckchairs to relax and snorkelers can choose from three areas to snorkel.
The best snorkel locations on Koh Nang Yuan will depend on the season and how high the tide is. In some locations at low tide, the coral is visible above the surface, so it is not suitable for snorkeling.
Snorkel Koh Nang yuan
Koh Nang Yuan is a popular stop on the organised snorkel tours and you will spend around 1-2 hours on the island to visit the viewpoint and enjoy some snorkeling.
If you want to make your own way to Koh Nang Yuan, longtail taxi boat drivers will take you to Koh Nang Yuan and wait for you. These trips can be negotiated direct with the longtail drivers from Sairee beach or from Mae Haad beach.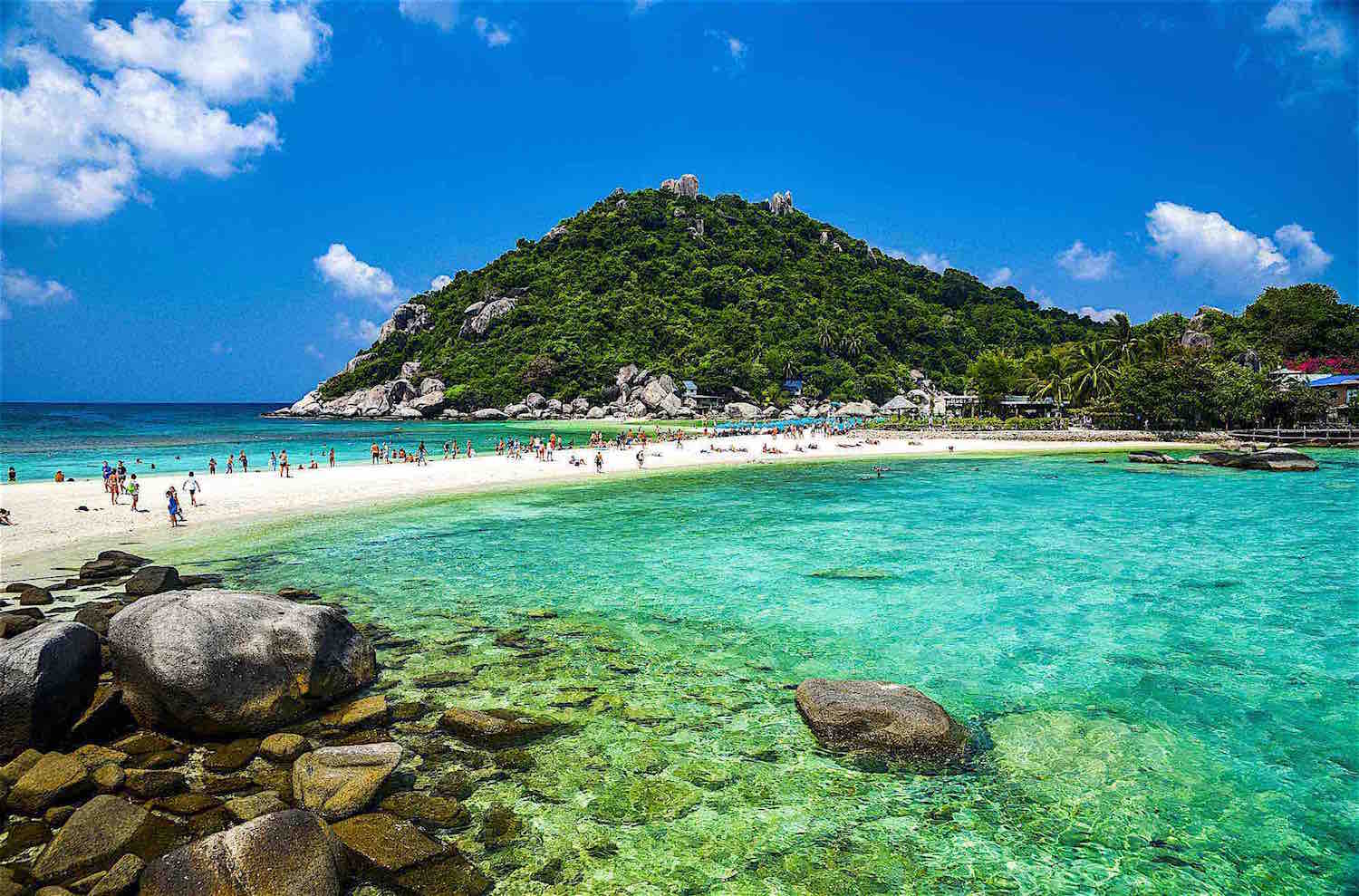 Snorkeling at the best beaches on Koh Tao
Koh Tao has dozens of white sandy beaches that you can snorkel from. You can either speak to a member of staff at your resort or hotel and they should provide you with a mask and snorkel.
Our recommendations for snorkeling from the beaches on Koh Tao is to check with someone who knows the area before venturing out swimming or snorkeling on your own.
Tell A Friend
You can always 'buddy up' and visit as a group or let someone know what you are planning to do.
Snorkeling can be tiring, regardless of how strong a swimmer you are and legs can cramp up. Its always best to be safe and plan your day with safety, fun and adventure in mind – in that order!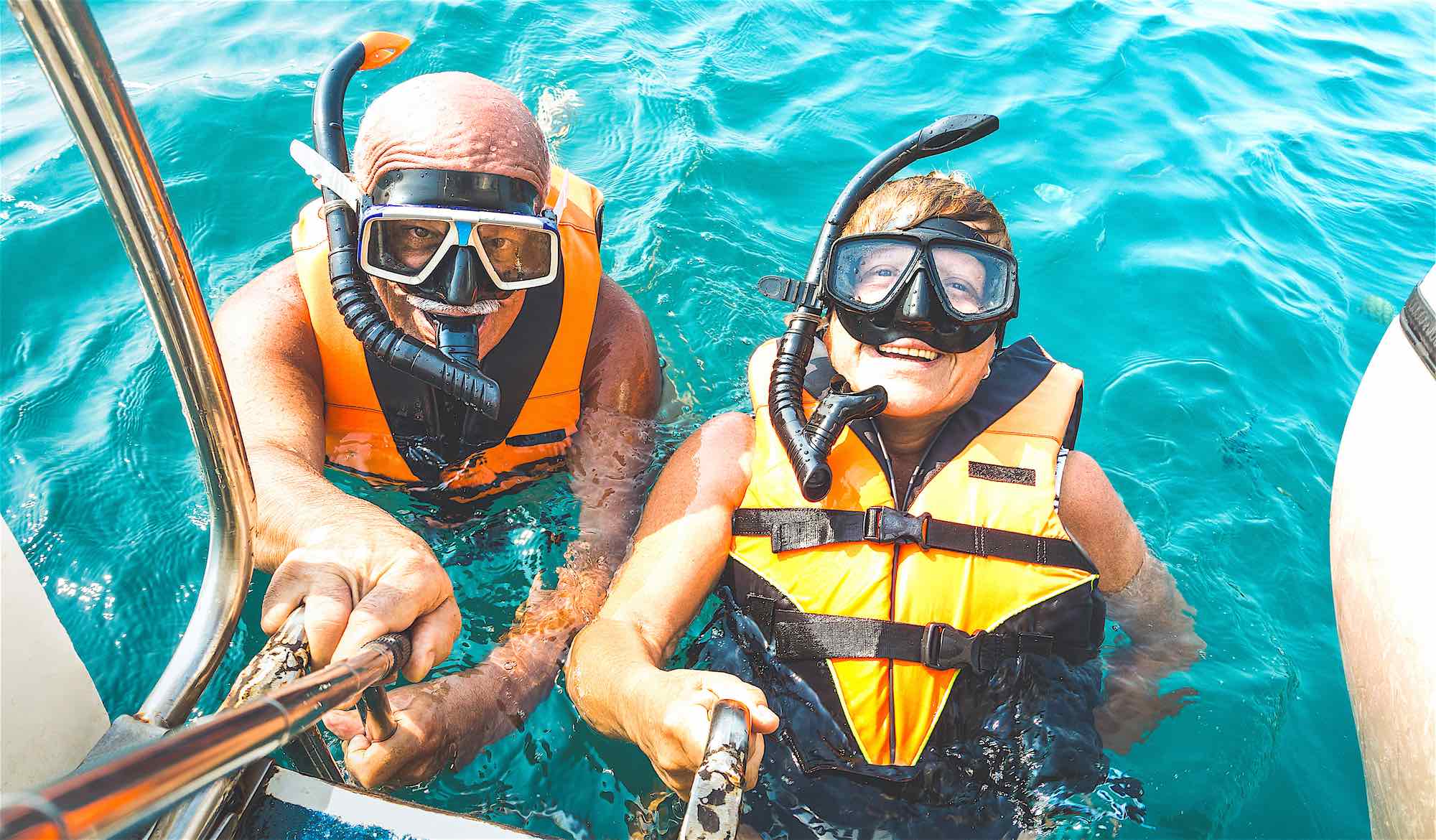 Our Top Tips for Snorkeling on Koh Tao
Koh Tao offers wonderful snorkeling locations, beautiful pristine beaches, hidden bays and some of the most amazing sunsets in Asia.
Koh Tao is a bucket list favourite and one of the most popular destinations in the world. For your safety and so that you can make the most of your visit, below we have provided some basic tips on snorkel behaviour.
• Wear a Life Jacket
Regardless if you are a strong swimmer, snorkeling can be very tiring and you can experience unexpected tiredness and cramp, so please wear a life jacket.
• Do Not Touch or Feed Marine Life
Any Marine life should not be fed or touched by humans. This is for your safety and for the safety of the fish or organisms. Just do not do it. By feeding the fish you are conditioning the fish in an unnatural practice, which will be detrimental to their health and well-being.
• Do Not Chase Marine Life
Chasing marine life to get a better look is a destructive behaviour. If you relax in the water, you will find the fish more attracted to you. Do not chase or touch sea turtles, no matter how inquisitive they are.
• Do Not Stand on or Touch Coral
Coral has evolved over millennia and has a finely balanced existence in its natural habitat. Standing on or touching coral affects this balance and can destroy the very living organism that you want to see.
• Snorkel with a friend or in a group
Everyone has a different threshold for fatigue and tiredness and you may find yourself out of breath without warning. It is much easier and more fun to go snorkeling around Koh Tao with a friend or in a group.
• Protect Yourself from the Hot Sun
Koh Tao weather can be extremely hot and humid and floating around snorkeling on the surface means you will burn if you do not add protection. The shops around Koh Tao offer 'Eco friendly' sunscreen that helps protect you and protects the marine environment.
• Drink Lots of Water
It is important that you stay properly hydrated whilst snorkeling around the bays on Koh Tao.  Drink fluids before you get in the water and when you get out of the water.
• Stay Away from Boats
Unless instructed to do so or as part of an organised snorkel tour, do not go anywhere near boats or longtail boats when in the water. If you have an emergency situation, then you can attract the attention of the boat before approaching it.
• Have Fun and Stay Safe
Snorkeling around the beaches and bays of Koh Tao is an activity that will stay with you for a lifetime. Proper basic planning will ensure you get the most out of this fantastic activity and create lasting memories.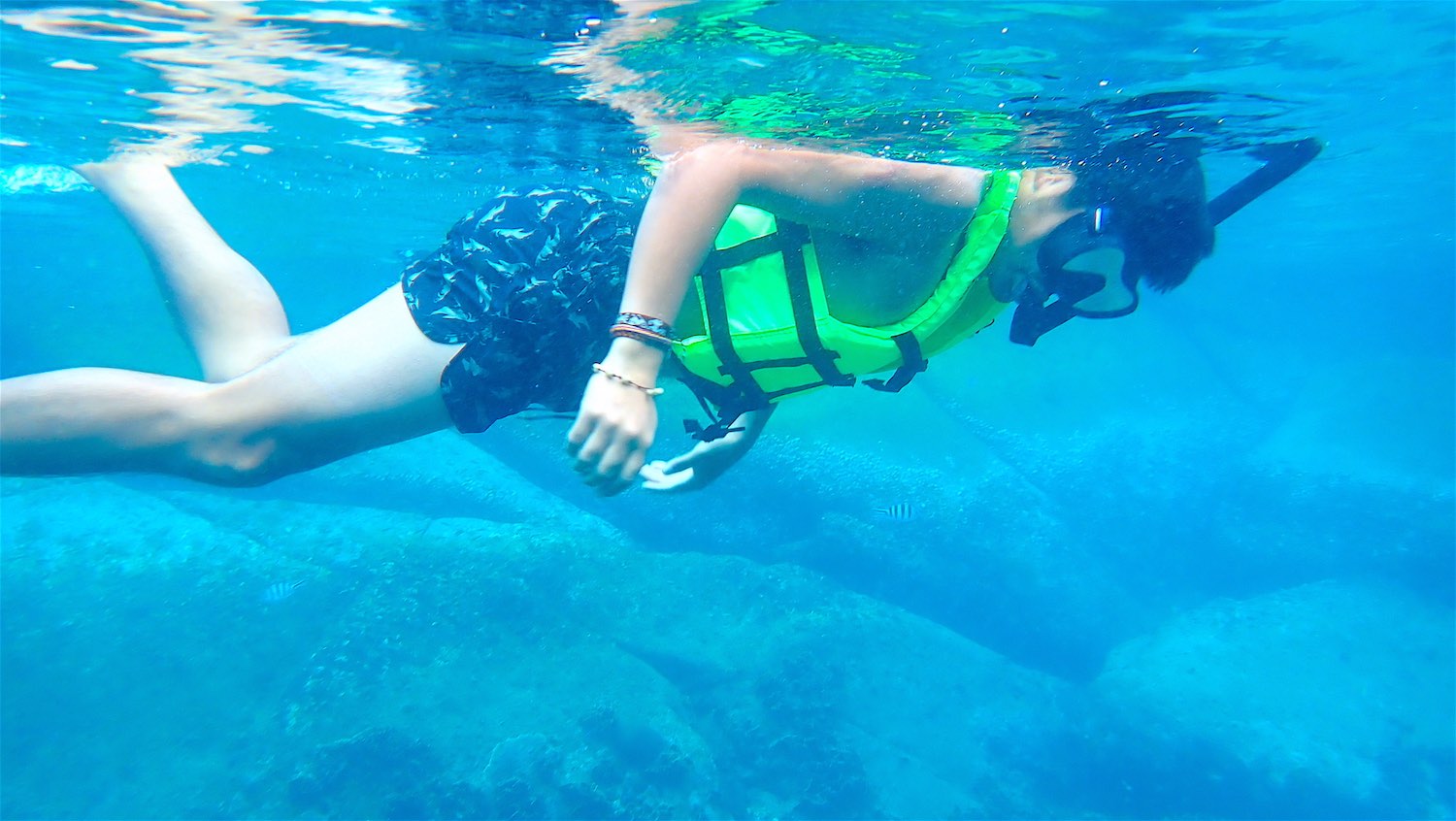 Frequently Asked Questions
Is it safe to snorkel on Koh Tao?
Snorkeling at the many bays and beaches around Koh Tao is considered to be very safe and is an extremely popular activity.
Most of the bays offer perfect sheltered conditions and the weather quite often provides snorkelers with clear blue skies and calm, warm water.
There are daily organised snorkel trips with guides around the island or you can choose to go snorkeling with friends or family.
If going alone, read our Top Tips for Snorkel Safety guide.
Where is the best snorkeling on Koh Tao?
There are many superb snorkeling locations around Koh Tao and the most popular ones are considered to be the bays that are visited by the daily snorkel tours.
Supervised snorkel trips provide customers with experienced guides that know the local conditions and can help you find the best locations to see the most amazing marine life.
Where is the best beach to snorkel from on Koh Tao?
Koh Tao has dozens of beaches that you can go snorkeling from with your own mask and snorkel. With many beaches to choose from, visitors are fortunate to be able to try different beaches on separate days. Snorkeling from Sairee beach you can find Sairee reef just metres from the shore. South Mae Haad you can find marine life along the coastline. Sai Daeng beach, Shark bay, Tanote bay, Aow Leuk and Hin Wong bay also offer snorkelers amazing opportunities for good snorkeling.
Do I have to pay to snorkel on Koh Tao?
You will have to pay to access some of the beaches from which you can base yourself to go snorkeling.
At other beaches you can buy refreshments in lieu of an entrance fee to the beach. There are beaches you can visit on foot that are free to enter and go snorkeling.
If you choose a supervised snorkel boat trip, there is the cost of the trip but it will include lunch and refreshments throughout the day.
Do I have to book a snorkel trip to go snorkeling on Koh Tao?
For the safest and best snorkeling experience on Koh Tao, it is best to pay for one of the daily organised snorkel trips that provide a snorkel guide.
You can book a half day or full day snorkel tour around the island, which stops at 5 of the most popular bays.
The daily trip provides customers with resort pick up, drop off and lunch with refreshments and all equipment.
How much does it cost to go snorkeling on Koh Tao?
The full day and half day snorkel trips costs 850-900baht per person and this does not include the entrance fee to Koh Nang Yuan island, which is 100baht per person.
The full day snorkel trip is the same price as the half day trip and will stop at 5 locations. The difference is that the full day snorkel trip starts earlier in the morning and finishes earlier in the afternoon.
The half day snorkel trip starts at lunchtime and finishes later, so that you catch the sunset on the way back to the boat pier.
Can I go snorkeling on Koh Nang Yuan?
Snorkeling at Koh Nang Yuan island is allowed at any of the marked zones on the beaches.
The daily snorkel trips from Koh Tao stop at Koh Nang Yuan as one of their planned stops so you can enjoy the viewpoint and try snorkeling for around 2 hours on the full day trip.
You can also take a longtail taxi boat from Koh Tao to Koh Nang Yuan and pay the 100baht entrance fee to visit the viewpoint and go snorkeling.
Koh Nang Yuan island is open from 10am to 5pm daily.
What is the best Koh Tao snorkeling trip?
The best Koh Tao snorkeling trip is the full day snorkel trip with snorkel guides on the boat and including lunch with unlimited refreshments during your trip.
You will be allowed to stop at Koh Nang Yuan for up to 2 hours and then spend 45 mins at each of the next 4 snorkel locations.
The regular snorkel trip may stop at Mango Bay, Hin Wong, Aow Leuk and Shark Bay after Koh Nang Yuan but the schedule may vary in the event of any adverse weather.
How long can I snorkel for on Koh Tao?
If you are part of a daily full day snorkel trip, you have the opportunity to snorkel for approximately 45 minutes at each of 4 bays around Koh Tao and will be allowed to stay at Koh Nang Yuan island for up to 2 hours.
If you plan to go snorkeling alone, please read our Top Tips for Snorkel Safety so that you can have a perfect snorkel experience.
Can I go snorkeling on my own on Koh Tao?
You can go snorkeling alone from many of the beaches around Koh Tao. In our experience, you will have more fun if you go with friends or family so you can share the experience and look after each other, ensuring everyone has an enjoyable time. You can read our Top Tips for Snorkel Safety as a guide for best practices.
Where can I buy snorkel gear on Koh Tao?
Many of the shops on Koh Tao sell snorkel equipment that you can buy before setting off to explore the many locations available.
All 3 of the main villages at Sairee beach, Mae Haad and Chalok Baan Kao have shops offering a range of appropriate clothing and snorkel gear.
Can I rent snorkel equipment on Koh Tao?
You can rent snorkel equipment from most of the resorts, hotels and hostels on Koh Tao if you are staying there.
There are a few beaches that will also rent snorkel equipment to you when you visit for the day.
The shops in the main villages are unlikely to rent equipment to you and you will need to buy it.