How to get to Sairee Beach on Koh Tao
Sairee beach is the longest beach on Koh Tao and runs for 1.85km along the west coast of the island.
Known to be both the busiest and most popular beach on the island, it is also one of the first things you see as you approach Koh Tao on the ferry.
Sairee Beach is the most Popular Beach on Koh Tao
There is good road access to the beach and you can drive from Mae Haad pier in just 5 minutes using the main north-south road on the island.
Yellow Brick Road
You can also walk along the 'path' that runs almost alongside the beach. Paved in brick along the entire route, the only vehicles using this path are scooters, which makes it a safer path for walking.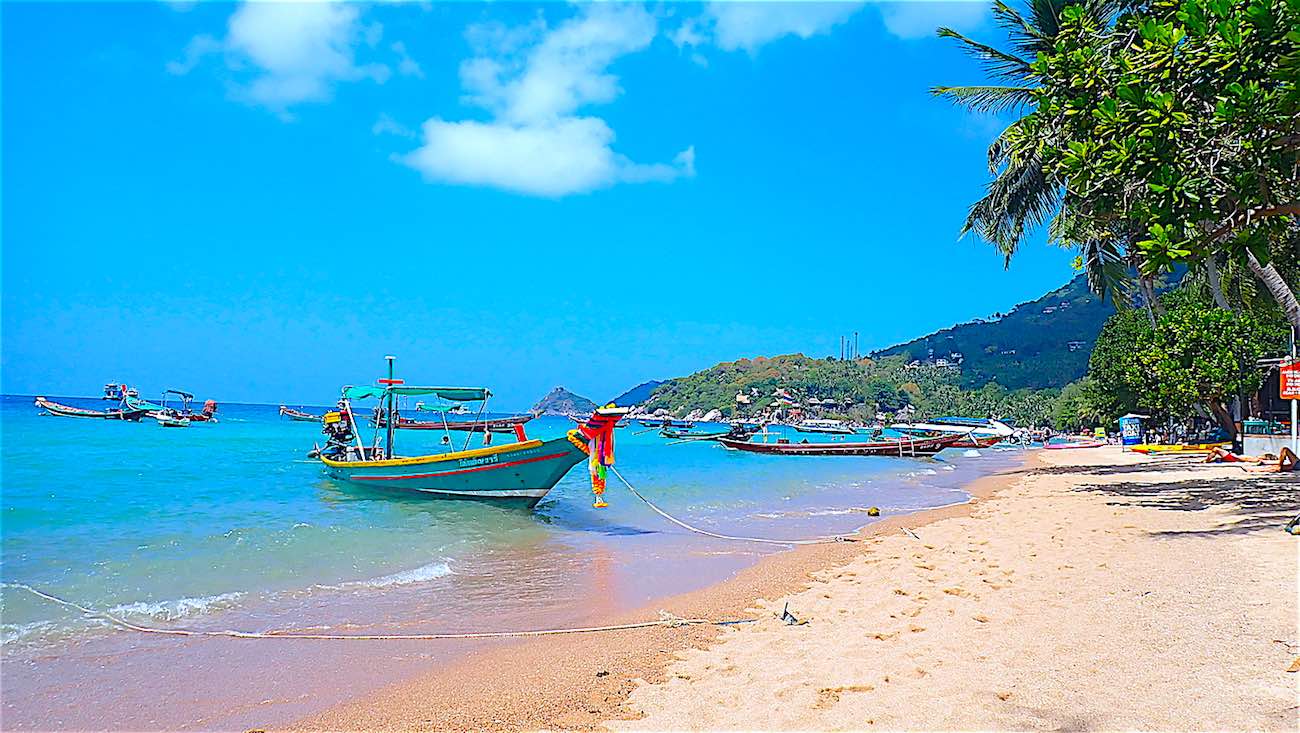 Sairee Beach Koh Tao is a White Sandy Beach
Once you reach the sand, it is easy to explore the entire beach which has a sandy shoreline and is perfect for children.
Calm & Shallow
The water is shallow and calm here and when the tide is out, you can walk quite a way out from the shore with the water still only reaching waist level.
The calm waters make this a good area to swim and there is a coral reef around 30 metres from the shore, which is ideal for snorkeling.
There are a number of longtails boats coming in and out from the beach, so you need to be aware of this when you are in the water.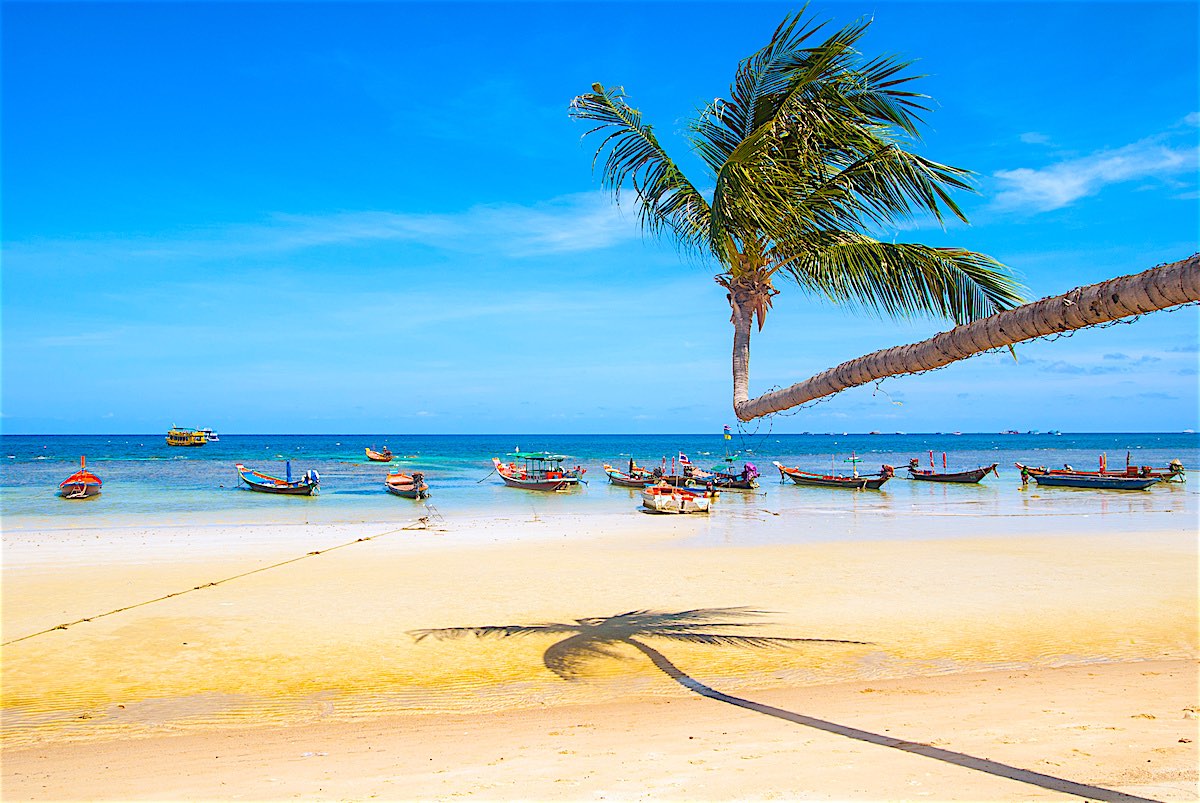 Lots of Activities on Sairee Beach
On the beach itself you will find countless activities, including volleyball and frisbee, along with some great spots for taking photographs and even a couple of tree swings.
There are many Koh Tao dive schools located on or near the beach, alongside a lot of other amenities and things to do.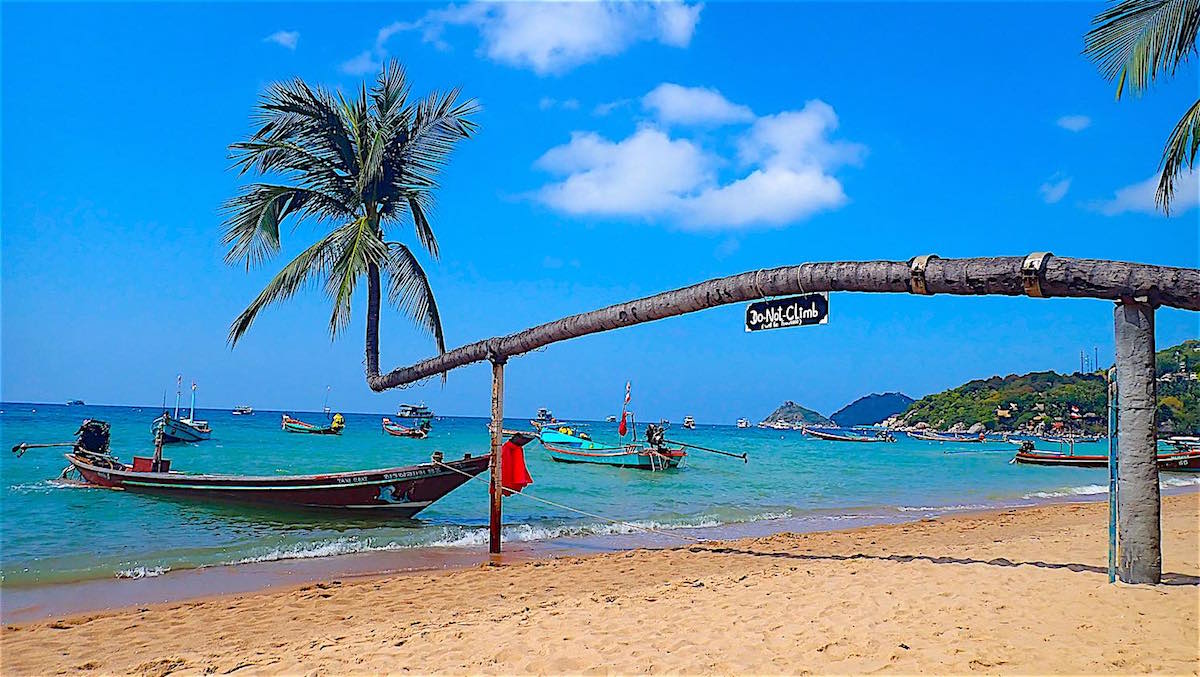 Great Views of Koh Nangyuan from Sairee Beach Koh Tao
The north end of the beach can be quieter, however, if you visit the south end of Sairee beach you will find a cape called Laem Jor Por Ror and get a great view of the entire beach and Koh Nangyuan island.
King Rama V Rock
The south end of Sairee Beach is also the location of the famous boulder inscribed with the initial of His Majesty the King Chulalongkorn – Rama V.
This was carved when he visited the island in 1899, alongside a statue of the king.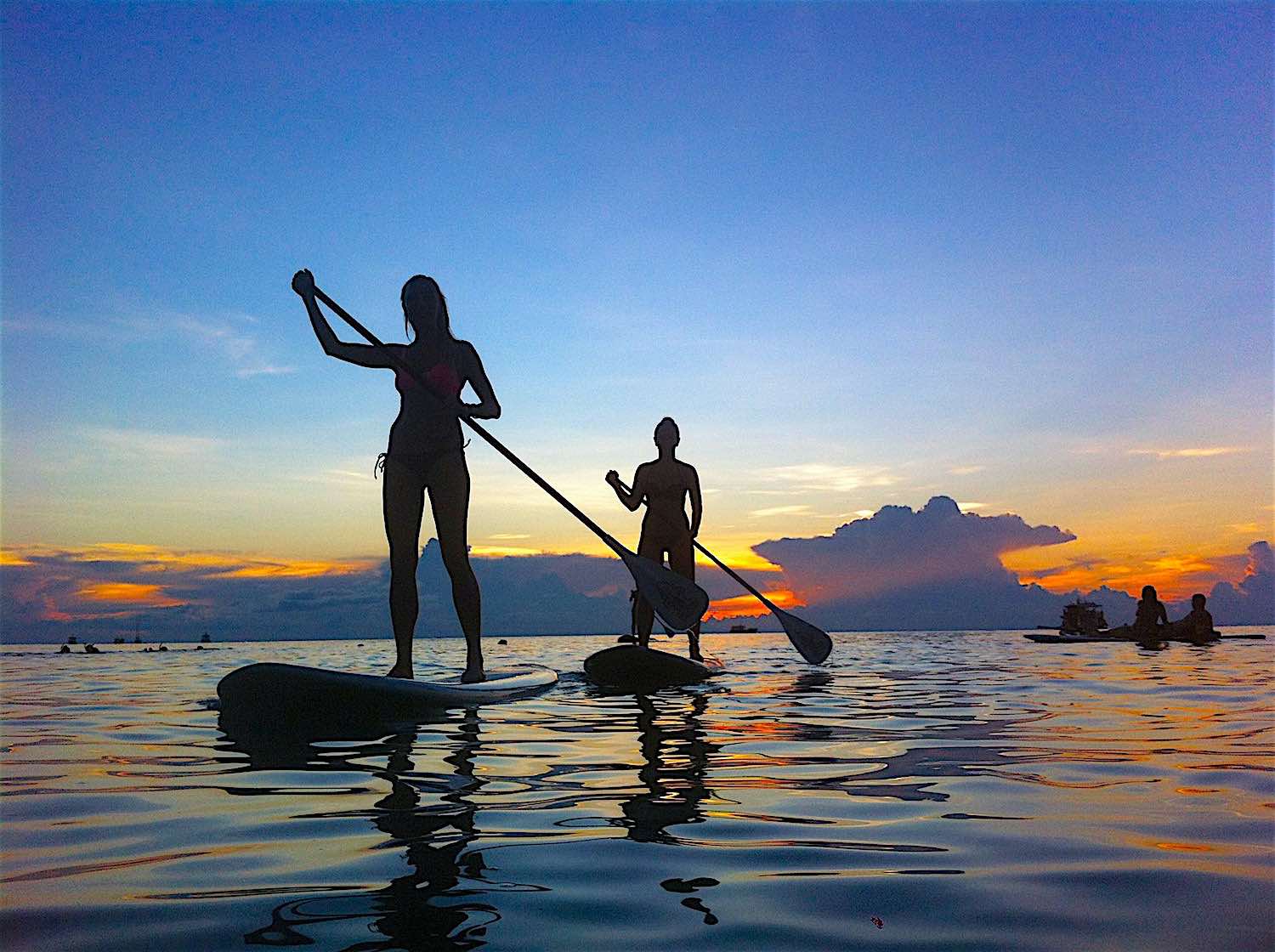 Beautiful Sunsets on Sairee Beach
With its location on the west side of the island, Sairee also offers one of the best places on the island to see the spectacular sunsets that can occur here on a daily basis.
There are many hotels, hostels, bungalows and resorts all within metres of Sairee Beach and many of them are situated on the beach.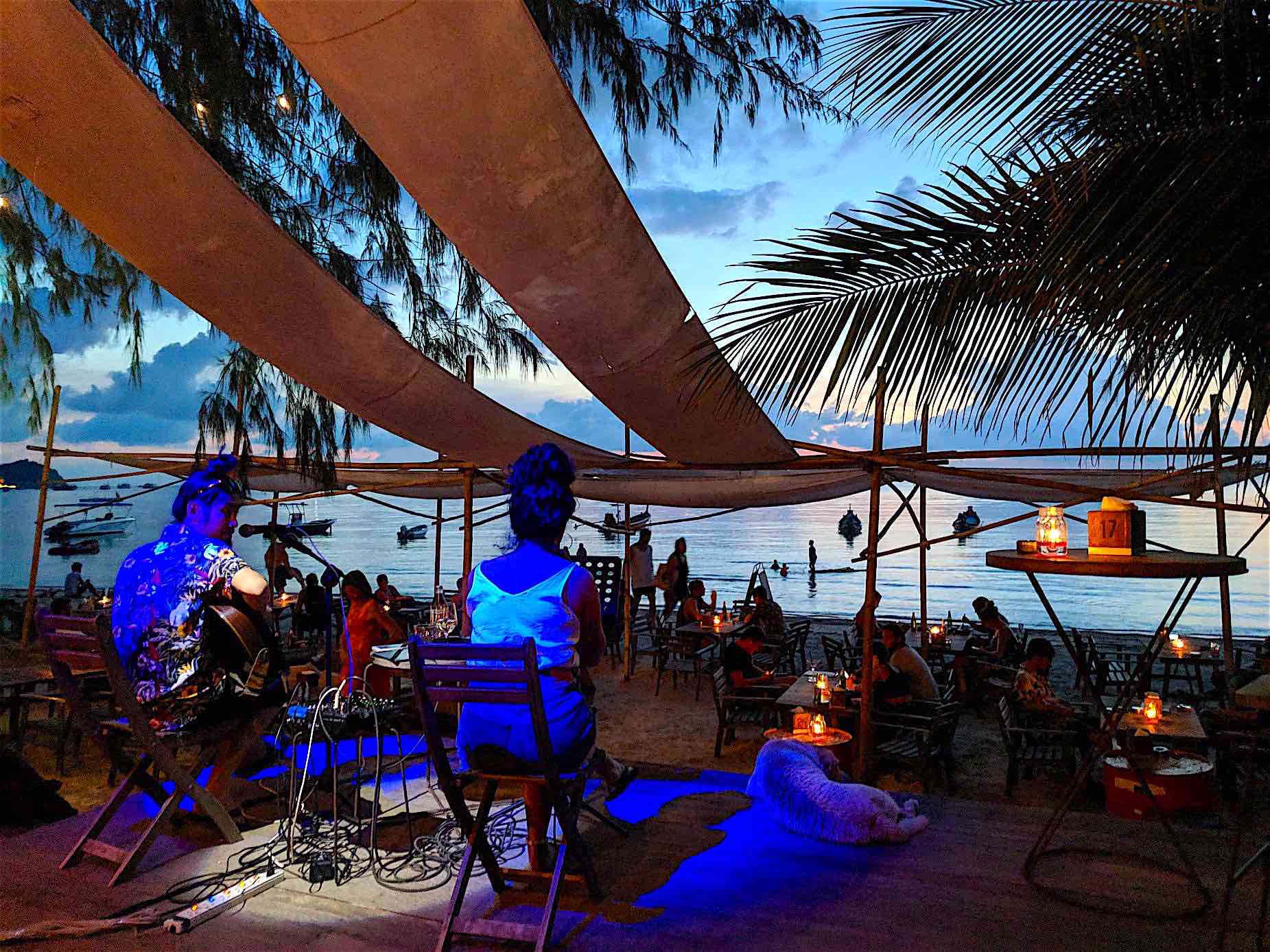 Restaurants & Bars on Sairee Beach
You can relax on the beach to watch the sun sink on the horizon, or visit one of the many bars and restaurants to enjoy a bite to eat and a cocktail while you enjoy the view.
Sairee Nightlife
Once the sun has set, the nightlife on Sairee Beach really gets going. There are night markets located just back from the beach, where you will find plenty of street food vendors.
Beachside bars have fire shows and you will find lots of venues offering live music, international DJ's, live sports and much more.
Sairee Beach should be high on any visitors wish list and a fun place to visit at any time of the day.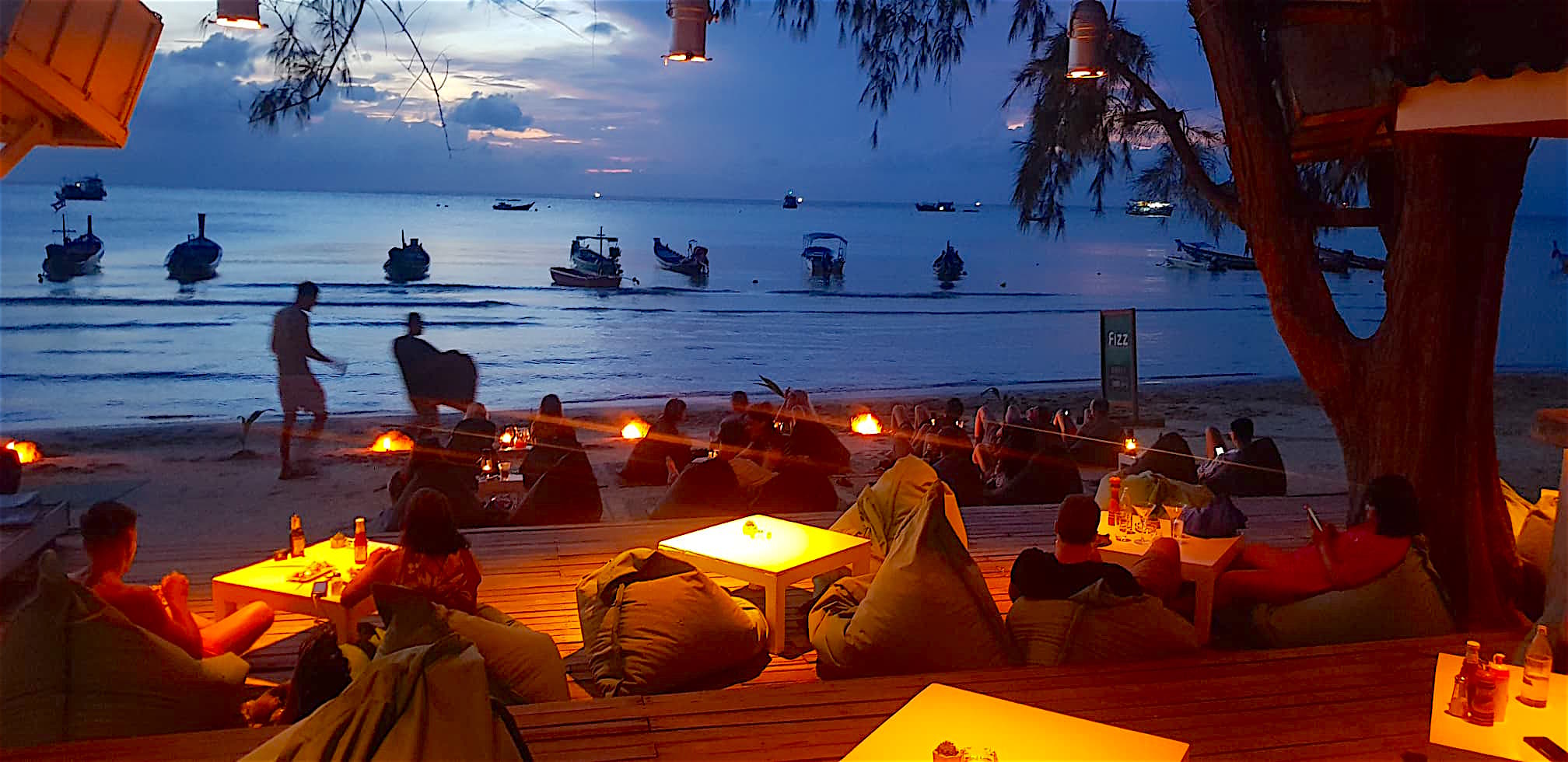 Frequently Asked Questions
How far is Sairee Beach from Mae Haad pier?
The south end of Sairee beach is located a 20 minutes walk from Mae Haad pier and the beach is approximately 1.8 kilometres in length along the west coast of Koh Tao. This beach is the longest beach on the island and one of the most popular beaches with various activities available.
How much does accommodation cost in Sairee Beach?
Accommodation costs in the Sairee beach area will vary and depend on your budget. You can rent hostel rooms for a few hundred baht per night or mid range beach front hotels for 1,000 – 3,000+ baht per night.
Choosing a location on the beach will also increase your costs and away from the beach you will find cheaper rooms. Costs are also seasonal and will increase in the high season months.
Are there many restaurants in Sairee Beach?
There are many restaurants along Sairee beach and the cuisine is diverse and suited to families, couples or single travelers. The choices are huge and there is also a regular food market to sample and taste food from restaurants around the island.
Can I get to Koh Tao Viewpoints from Sairee Beach?
You can access any of the viewpoints from Sairee beach and either walk or use a scooter. Obviously the beach is on flat ground so to reach the many viewpoints around the centre or the north of the island, you can expect to walk or ride up steep hills.
Walking from Sairee beach to Mango viewpoint, you can expect a 1 hour walk and you are encouraged to take drinking water with you.
Are there lots of bars in Sairee Beach?
Sairee beach offers a wide range of bars to visitors and is the busiest place on Koh Tao to enjoy a social evening with friends, other visitors or locals.
The beach is lined with party bars, beach bars and an amazing fireshow. You can walk the whole length of the beach and witness the fun and socializing.
Where is the best nightlife on Koh Tao?
Koh Tao offers an exciting and diverse nightlife to visitors who want to meet new people, have fun and have a wonderful time on holiday.
In Sairee, there is something for everyone including the Koh Tao Pub Crawl, which takes place 4 times a week, Queens Cabaret, family friendly beach bars, sports bars, pool and party bars.
Mae Haad also offers a different vibe with beach side restaurants, café's, sports bars and beach side bars. This is the location of all the main island amenities such as banks, post office, pharmacies and shops, although you will find assorted shops in other locations around the island.
Chalok Baan Kao in the south of the island also offers visitors its own unique vibe with a variety of places to see and things to do, including restaurants, bars, café's and stunning scenery.
There are also amazing out of town restaurants located at stunning viewpoints and they provide sensational food and drink. The best nightlife on Koh Tao is a mixture from each area, including hilltops and remote bays.
Is it safe at Sairee Beach Koh Tao?
Sairee beach and Koh Tao are considered to be very safe. The local Thai, Myanmar and ex pat community are extremely welcoming to visitors who enjoy sharing their island home with the many hundreds of thousands of visitors who arrive each year.
Koh Tao now offers visitors modern infrastructure, amenities and excellent transport links to the mainland. The island provides visitors with a unique opportunity to explore the stunning bays, beaches, viewpoints, restaurants, bars and a wide range of activities.
The unique sub tropical and hot climate that Koh Tao enjoys, provides visitors with an excellent opportunity to escape, explore and have a memorable and enjoyable vacation.