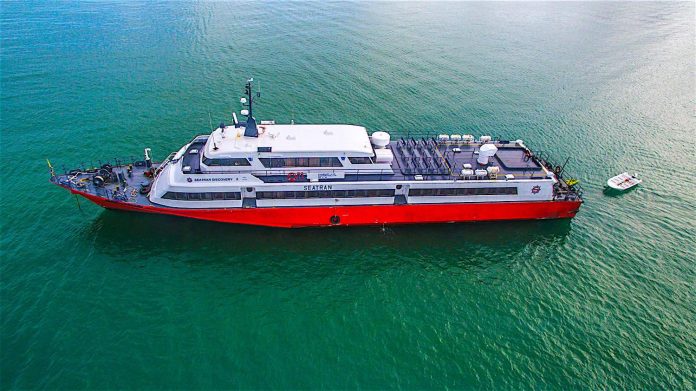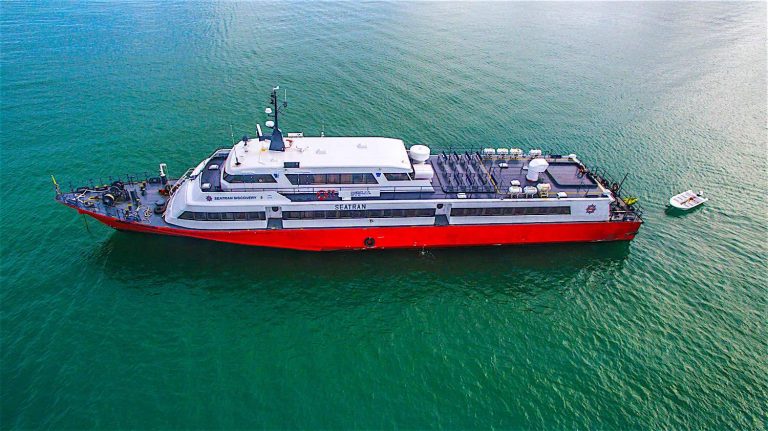 Ferry Travel Routes from Koh Samui to Koh Tao
Koh Tao is located less than 70km north of Koh Samui and the crossing between the two islands can take as little as an hour and a half, depending on what ferry you choose.
The ferries travel several times a day and can be booked online in advance, from a local travel agent or on the day from the ferry terminus.
If you are planning a surprise visit to Koh Tao or want to travel the same day, it is very easy to make it happen.
Ferry Service Operators from Koh Samui to Koh Tao
There are three different companies providing ferry services between the two islands; Lomprayah, Seatran Discovery and Songserm Express, all of which stop at Koh Phangan island on their way to Koh Tao.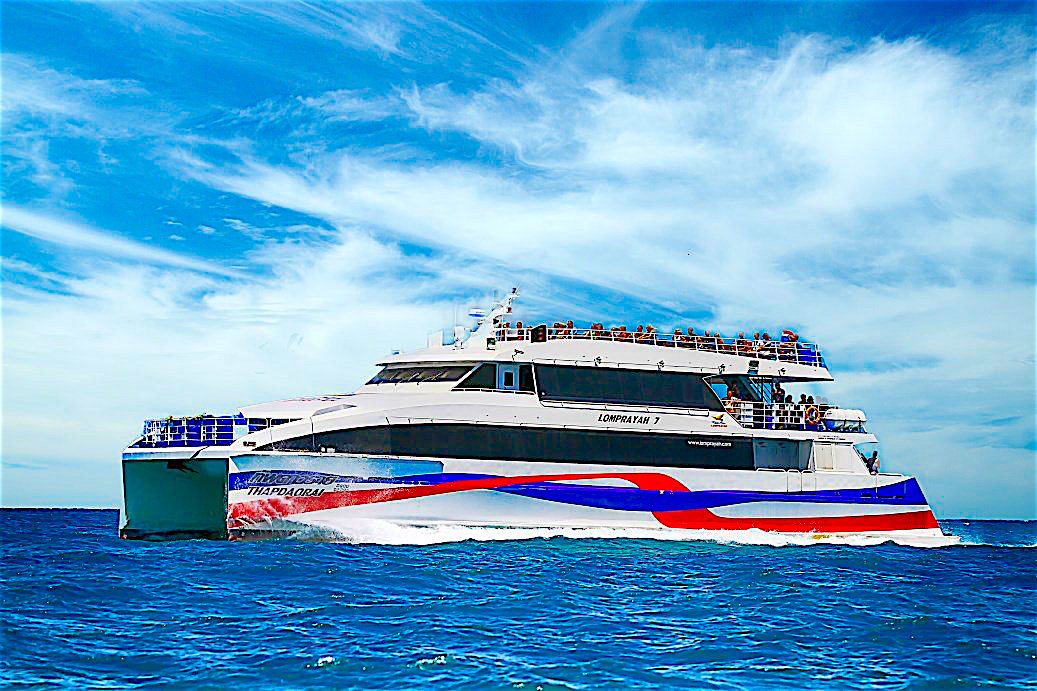 Lomprayah High Speed Ferry from Koh Samui to Koh Tao
Lomprayah was established in 1996 and operates a fleet of high-speed catamaran passenger ferries and is the fastest way to get from Koh Samui to Koh Tao.
Lomprayah high speed ferries depart from two locations on Koh Samui.
Maenam Pralan Pier located on the north coast of Koh Samui, which is approximately a 15 minutes' drive from Bophut beach.
Nathon Pier is located on the west coast of Koh Samui near Nathon Town.
Due to its location on the north of the island, the ferries from Maenam have a shorter journey time than those from Nathon Pier and are more likely to be used by passengers coming from the airport.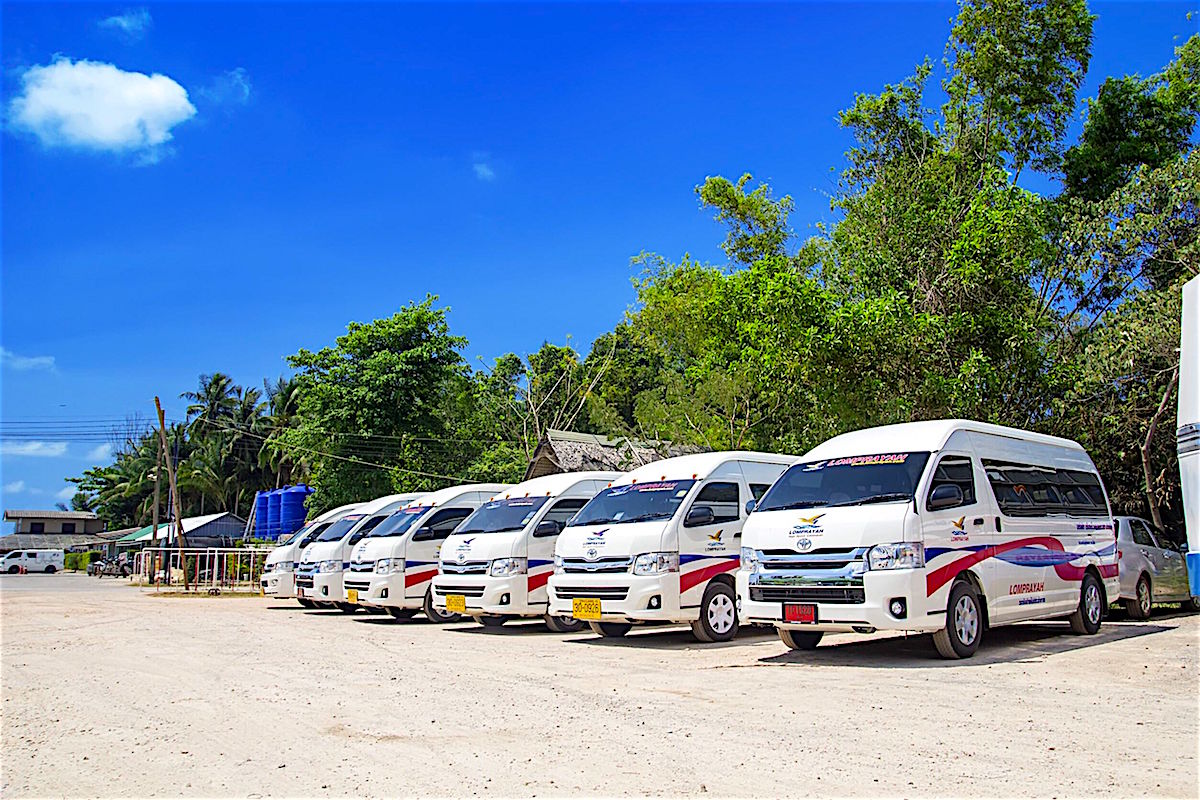 Lomprayah ferry departures from Maenam pier are 08:00am and 12:30pm and take between 1h30 and 1h45.
Lomprayah departures from Nathon Pier are at 11:15am and 5:30pm.
The 11:15am journey from Nathon to Koh Tao takes around 3 hours and this is a great option if you are not a morning person or prefer to start your journey later in the day.
Change at Koh Phangan
The reason why this trip takes longer is due to a boat change at Koh Phangan, so you disembark from the first boat and re-board the next Lomprayah ferry at 1pm.
The 5:30pm departure takes 1h45, the same as departures from Maenam Pier.
With the exception of the 5:30pm departure from Nathon pier, a one-way ticket costs 600THB for adults.
On the 5:30pm departure, an adult ticket costs 700THB. The child price for all departures is 300THB.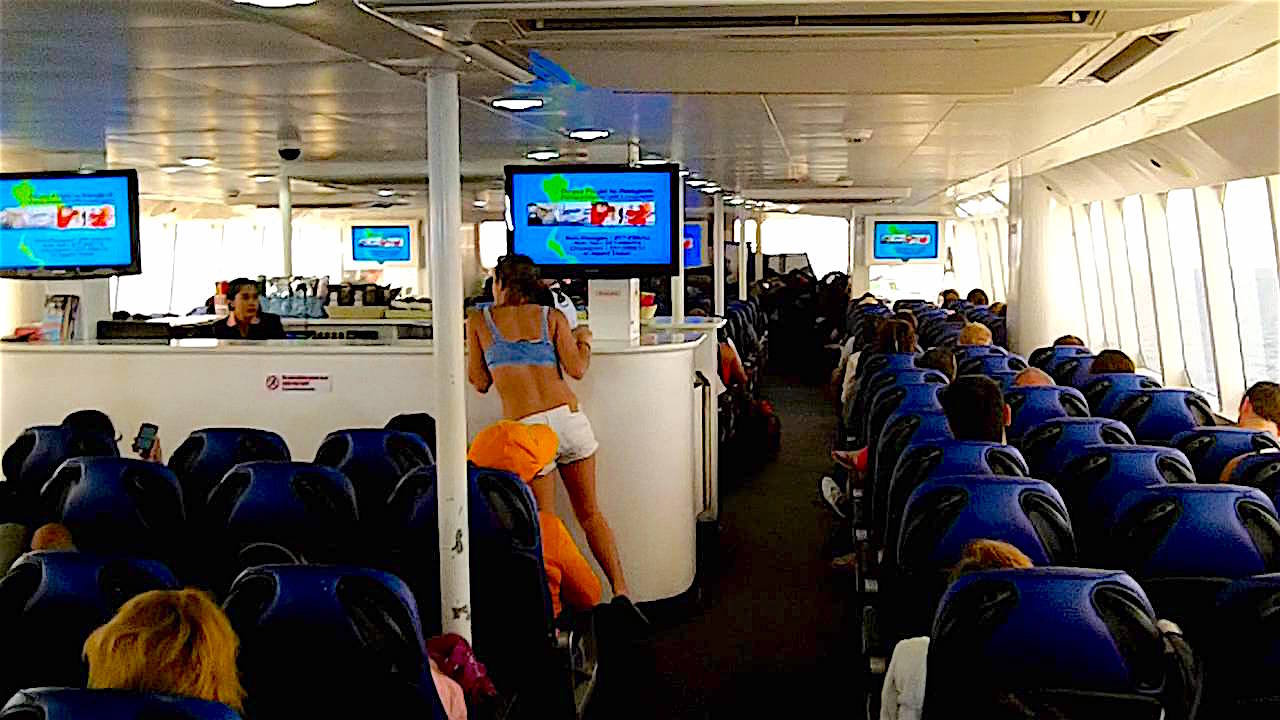 Lomprayah Hotel & Ferry Transfer Services on Koh Samui
Whichever pier you choose to depart from, Lomprayah provide a transfer service from the airport or any of the hotels on Koh Samui, at an additional cost of 150THB per person.
When you arrive at the pier you need to visit the ticket office to collect a sticker that you need to stick on yourself and one gets added to your luggage showing that your final destination is Koh Tao.
When you board the Lomprayah ferry, the staff on board will assist with your luggage and locate large cases together. Hand luggage can go with you to the seating area, large cases cannot.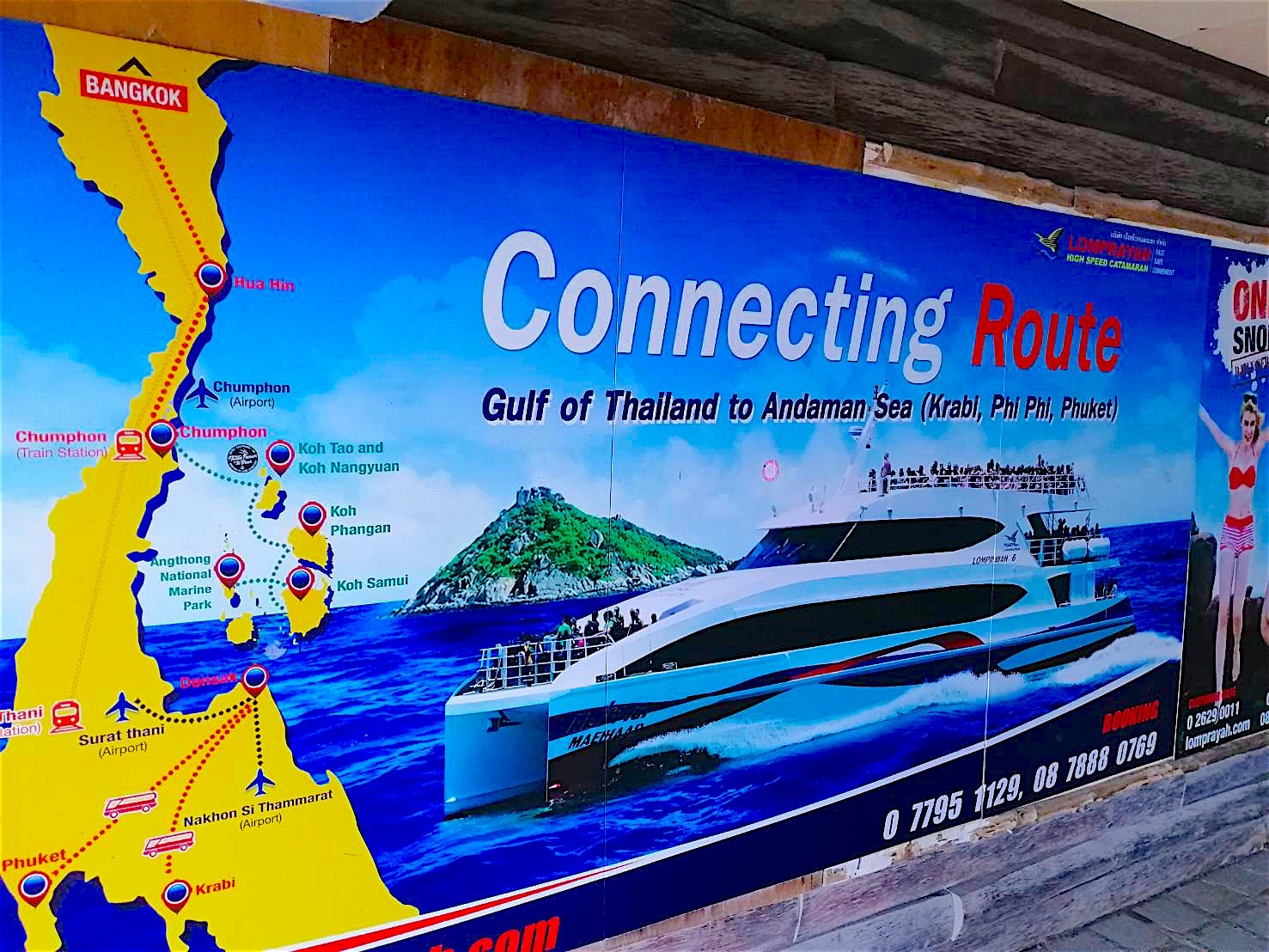 Add Tags to your Luggage
It's important you remember to put the sticker on your cases to identify its final destination as Koh Tao, so the staff can unload it once the boat arrives.
Lomprayah staff are very friendly and have a fast, efficient system in place to get you on their boats, your luggage onboard and your luggage off at the right destination.
There are options to sit inside and outside on all the ferries, along with a small shop selling drinks, snacks and sandwiches.
If you want to travel in more comfort, when you board the ferry you can go upstairs and you will find two levels of VIP section.
The seats here are larger, reclining business class-style seats and you will be provided with a drink by the staff.
VIP Section
There is an extra cost of 100THB for the first level VIP and 200THB for second VIP level, which can be paid to the staff when they come around to check your ticket.
There is no extra cost for children traveling in this section.
Seatran Discovery Ferry services from Koh Samui to Koh Tao
Seatran Discovery was established in 2002, and offers 3 departures a day to Koh Tao from Bangrak Pier on Koh Samui.
Bangrak Pier is located in the north east of Koh Samui around 25 minutes from Bophut beach and 10 minutes from Koh Samui airport, making it a great option if you are flying in to Koh Samui from Bangkok.
Bangrak Pier
The Seatran ferries are conventional single hull boats and can be less bouncy if the seas are a bit rough as they cut through the wave rather than riding over it.
Seatran Koh Samui to Koh Tao departures from Bangrak pier are at 8am, 1pm and 4:30pm and the journey takes around 2 hours.
A one-way ticket on any of these departures is 600THB for adults and 400THB for children.
As with the Lomprayah ferry service, Seatran offers transfers from the airport and hotels on Koh Samui at an additional cost of 150THB per person.
Hotel & Airport Transfers
Bangrak Pier has recently been upgraded by Seatran so there are now air-conditioned coffee shops and restaurants to wait in if you arrive ahead of your departure time.
Before boarding the Seatran ferries you will be given colour-coded stickers, based on your destination, to ensure the staff know where you will disembark from the boat.
The process is generally less hectic than you find with Lomprayah as they carry fewer passengers, which can make for a more relaxing journey.
They also have seating inside with air-conditioning and outside with a small shop selling noodles, snacks and drinks.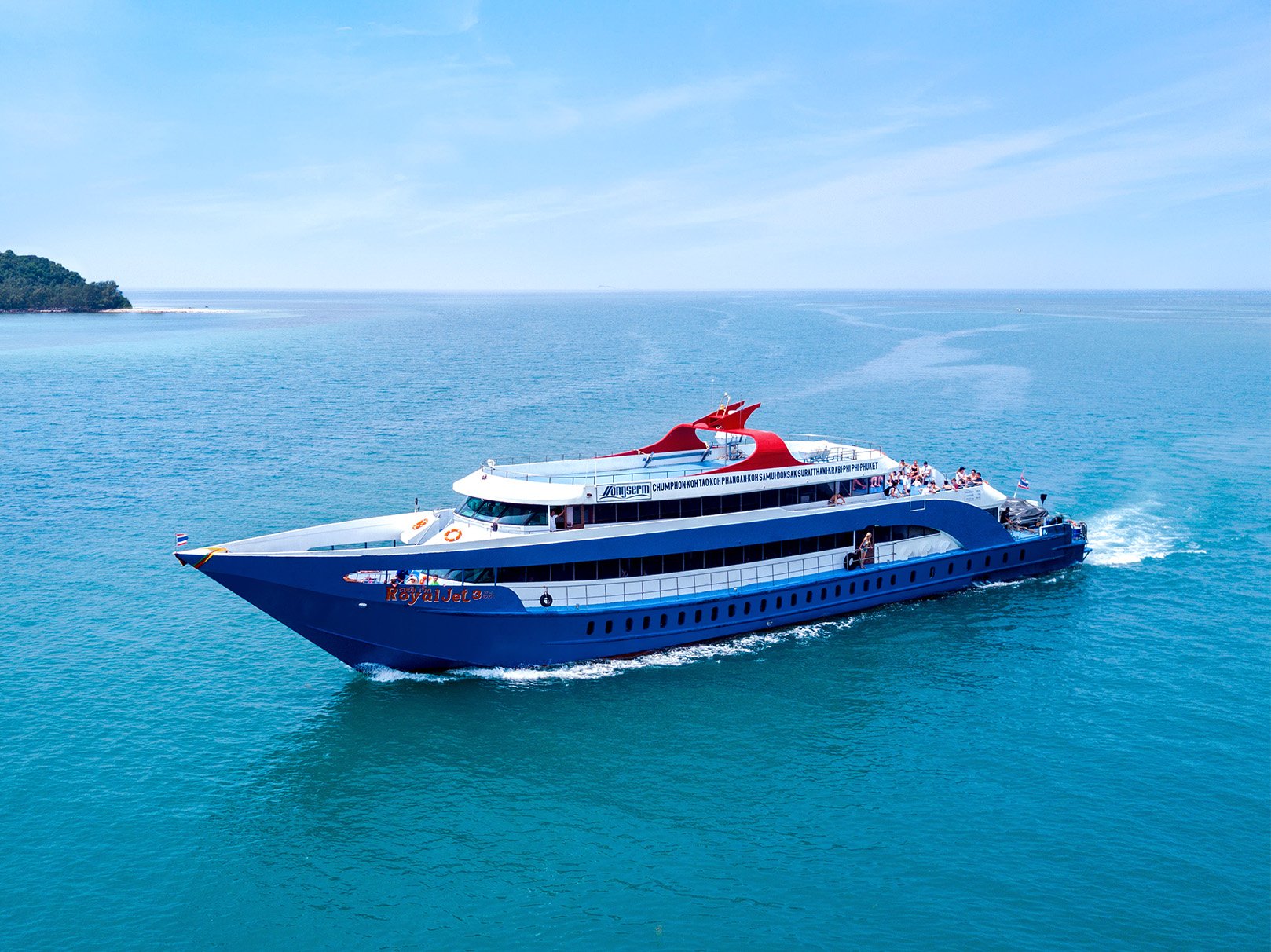 Songserm Express Ferry services from Koh Samui to Koh Tao
Songserm was the first company to offer ferry services in the Gulf of Thailand and they offer a daily departure from Koh Samui, Nathon Pier to Koh Tao at 11:30am.
The ferries are a little older than the other ferry operators, so the journey takes a little longer – around 3 hours.
Songserm is the cheapest ferry route from Koh Samui to Koh Tao and costs 500THB per adult for a one-way ticket.
On board the ferries, you will find seating inside and outside, along with a small shop selling drinks and snacks.
The Songserm ferry can accommodate up to 600 people so can be a lot busier than the Lomprayah or Seatran services.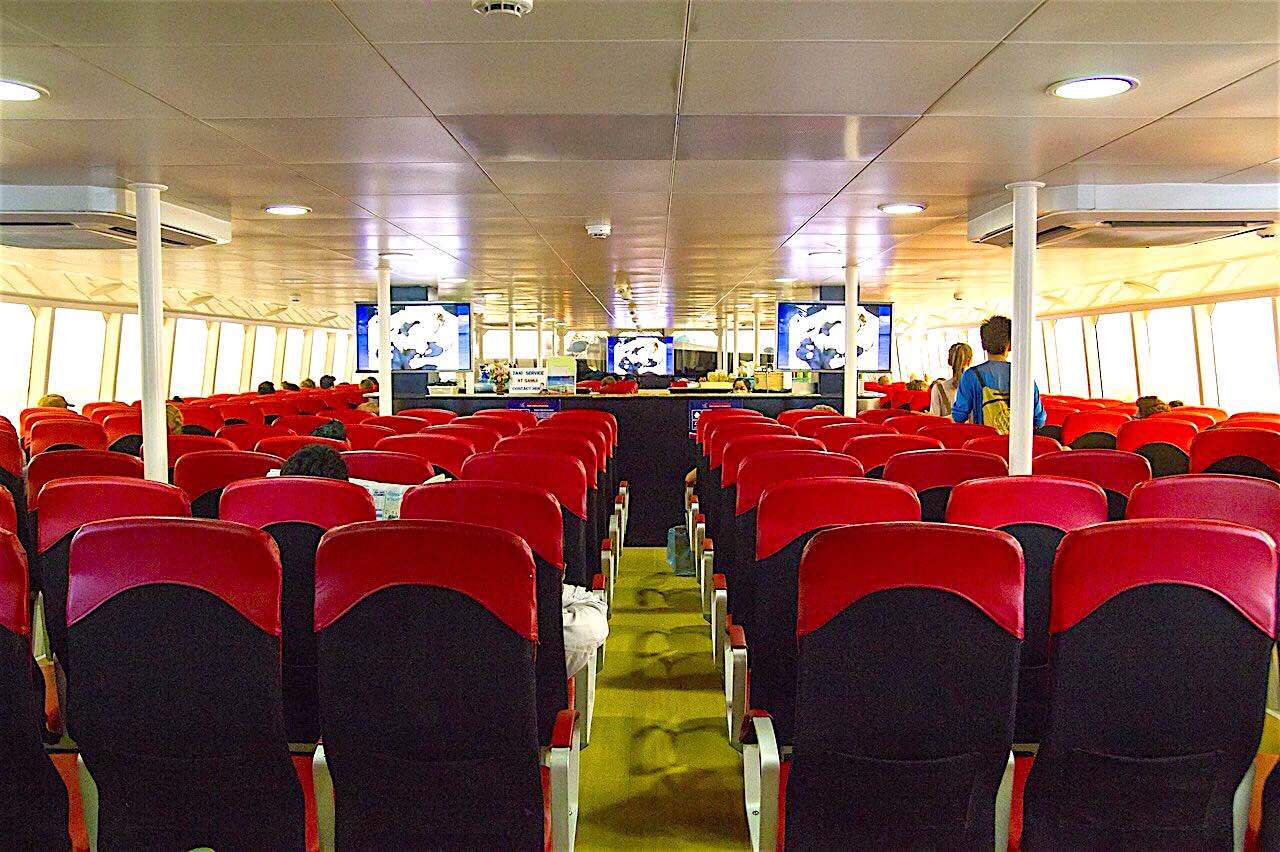 VIP Seating
Songserm also offers a VIP seating area that you can upgrade to once you are onboard the ferry.
Whatever route you choose, the ferry services from Koh Samui to Koh Tao are reliable, safe and they operate a regular schedule.
It is always worth checking the ferry operator's website for any changes to their published timetables, as it can change if the weather is adverse.