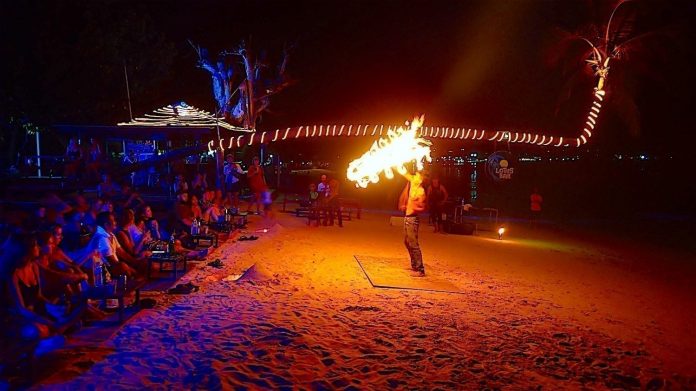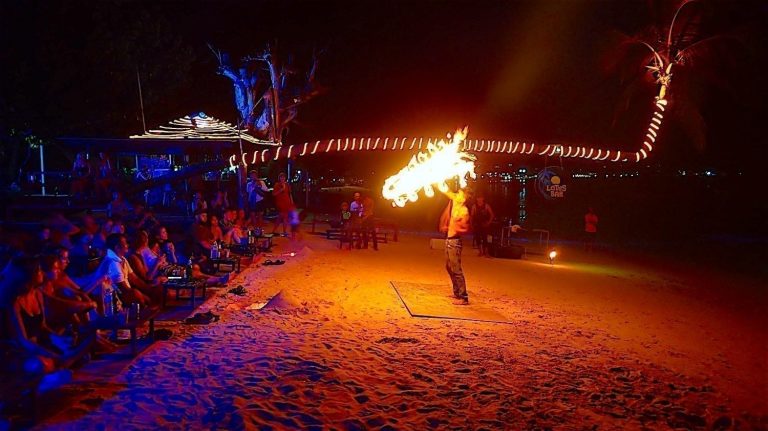 Where to find the best Nightlife on Koh Tao
Koh Tao may be a small island with a laid-back vibe but that doesn't mean the residents or visitors don't know how to have a good time.
From live music to international DJ's, chilled out beach bars to cabaret, craft beers and tropical cocktails, Koh Tao has something for the taste of every visitor.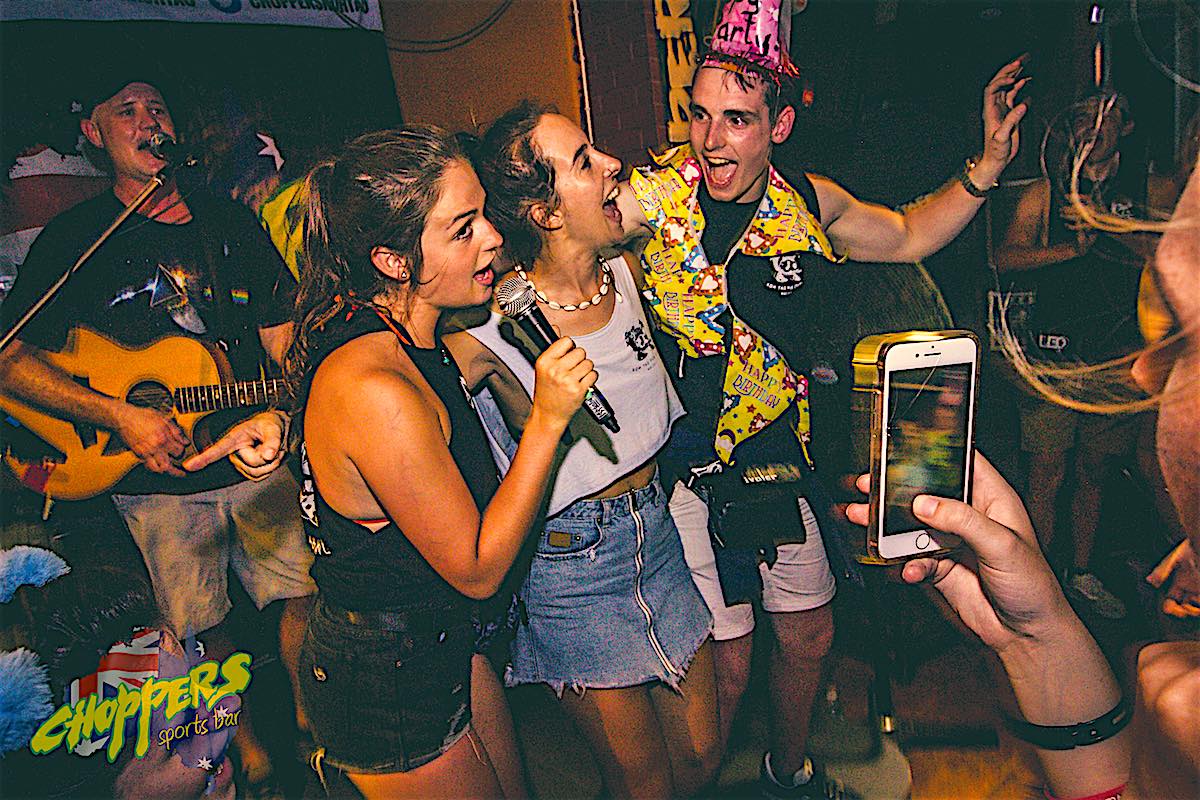 Amazing Nightlife in Sairee on Koh Tao
The main area for nightlife on Koh Tao is found in Sairee. Located on the west side of the island, the area has a wide variety of bars, clubs and restaurants along the beachfront and in the streets behind.
Due to its location on the west coast, Sairee beach is one of the best locations on Koh Tao to watch the sunset.
There are a lots of beachfront bars providing an ideal location to grab a drink, sit back and enjoy the exceptional daily sunsets on Koh Tao.
Arguably the best locations in Sairee to watch the sunset include Leo Beach bar, Fizz Beach Lounge, Maya Beach Club and BND all of which are located on the main stretch of Sairee beach.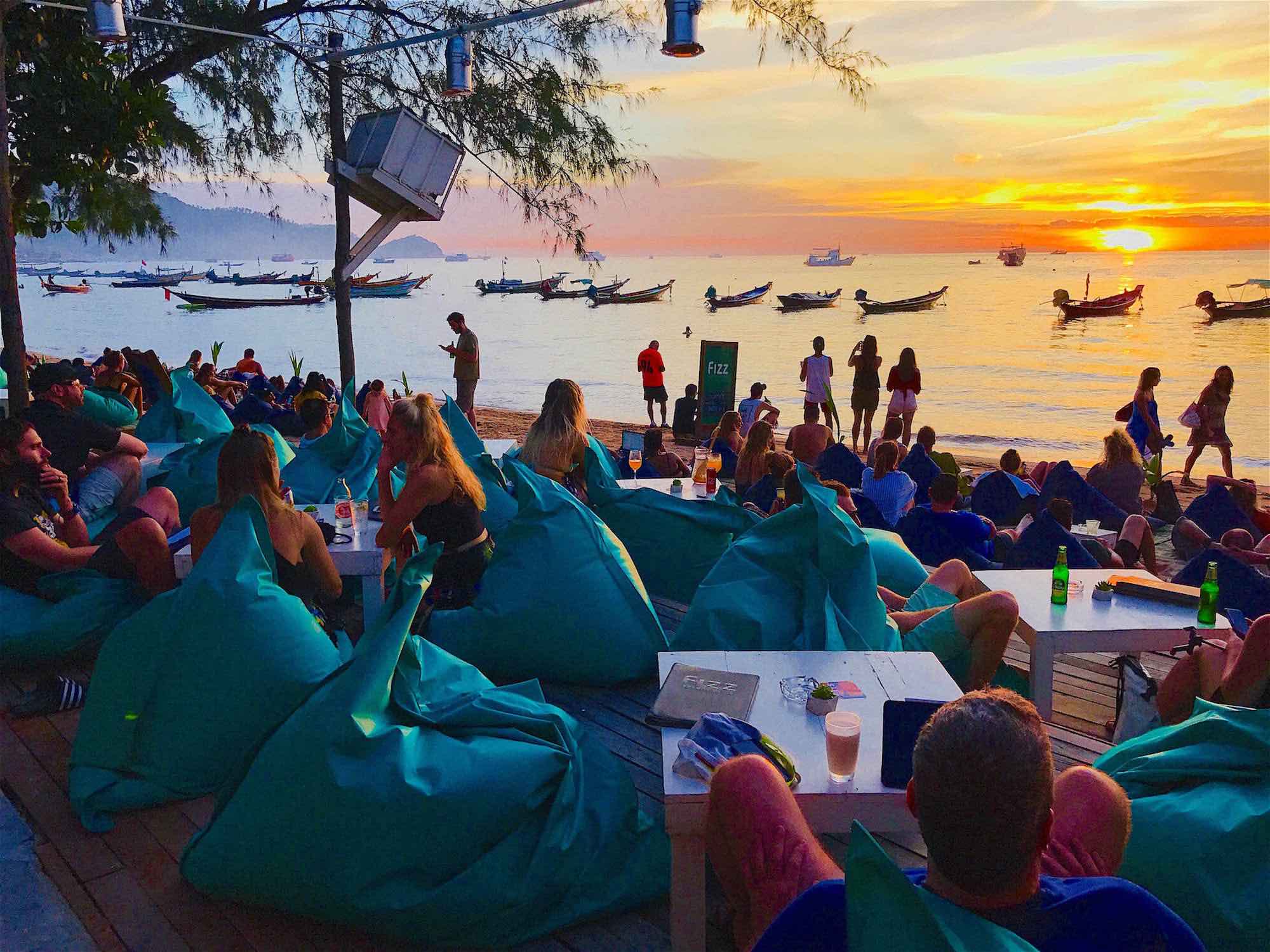 Fizz Beach Lounge in Sairee Koh Tao
Fizz is open until 1am daily and offers comfy bean bags to relax on whilst you enjoy one of the cocktails from their extensive menu.
You can enjoy the carefully selected music that provides a superb mood and ambience to the setting sun.
Happy hour runs from 4-7pm, perfect timing for sundowners and Fizz is very family friendly for those travelling with children.
Maya Beach Club in Sairee Koh Tao
Maya Beach Club is open until 9pm Saturday-Thursday and Friday nights it stays open until 02:00am but still provides a very popular location to start off your evening and watch the sunset.
Maya offers a variety of live music, DJ's and has a vibrant atmosphere, so it's a perfect place to have a bite to eat before you head on to the next place.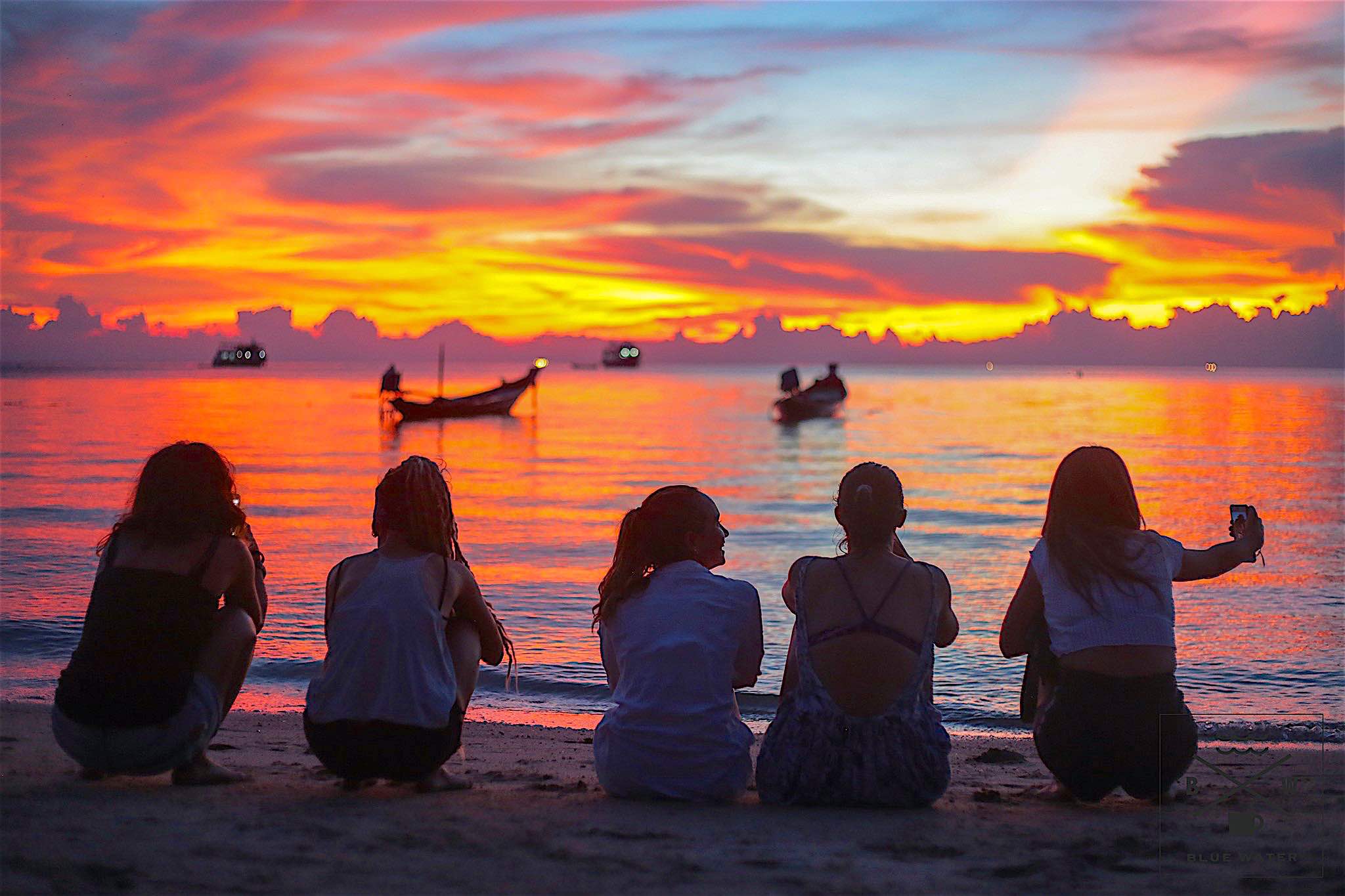 BND Beach Club in Sairee Koh Tao
BND is open until 02:00am daily and provides a multi level experience over 3 floors including a beer garden, rooftop food court and a lounge area.
Happy hour runs until 10pm so you can enjoy the sunset and then stay on for the rest of your evening, which may include live music or top-quality DJ's.
There is also a regular Latin Party night every Friday so you can dance the night away to your favourite Latin beats and tunes.
Leo Beach Bar by The Rock Koh Tao
Leo beach bar is very popular and offers live DJ's every night and a party on the beach. It's another Sairee venue that should not be missed when visiting Koh Tao.
The venue offers a fantastic atmosphere through the night with Fireshows on the beach and every type of drink you can wish for.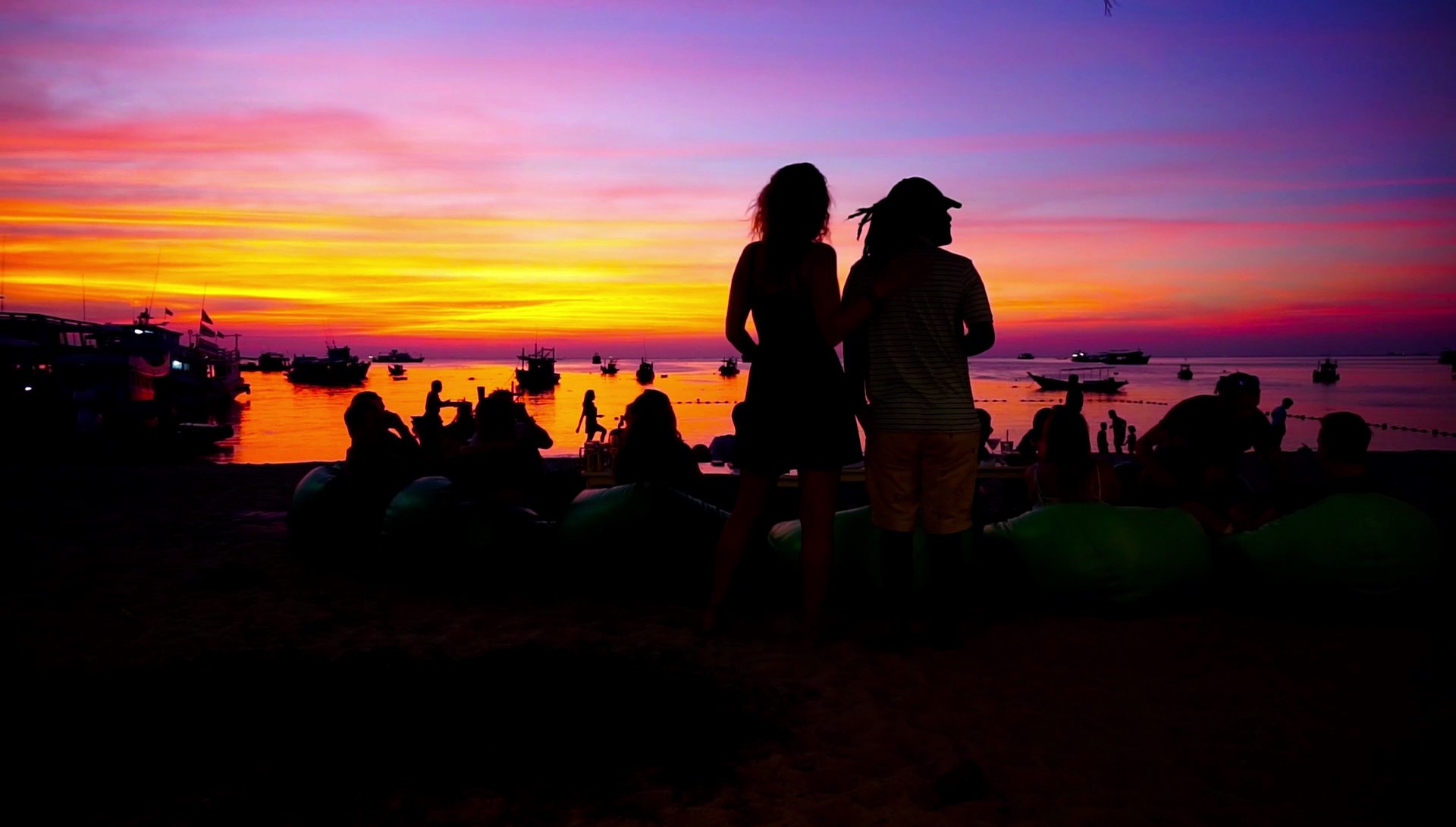 Best Nightlife for Sunsets on Koh Tao
If you prefer to watch the sunset away from a crowd, you can choose Sky Bar or High Bar, both of which are located in the Southwest of the island.
Breeze Koh Tao located in Mae Haad offers a great location to eat and drink on their beachside terrace to the sound of the sea, quite often to a stunning orange sunset backdrop.
You can while away the early evening sampling their draught beer, selection of craft beers, smoothies and cocktails, whilst choosing what to eat from a varied international menu.
On the south side of Mae Haad beach facing west is Lollipop Koh Tao café and bar that offers another perfect location to watch the sun go down to the sound of the sea.
Choose from their popular dishes and an impressive drinks list, whilst you relax on beachside cushions to another exceptional sunset.
Another popular location is Banana Rock Bar, which is located just next to Sai Nuan Beach, where you can enjoy the sunset in one of the most uniquely beautiful bars on the island.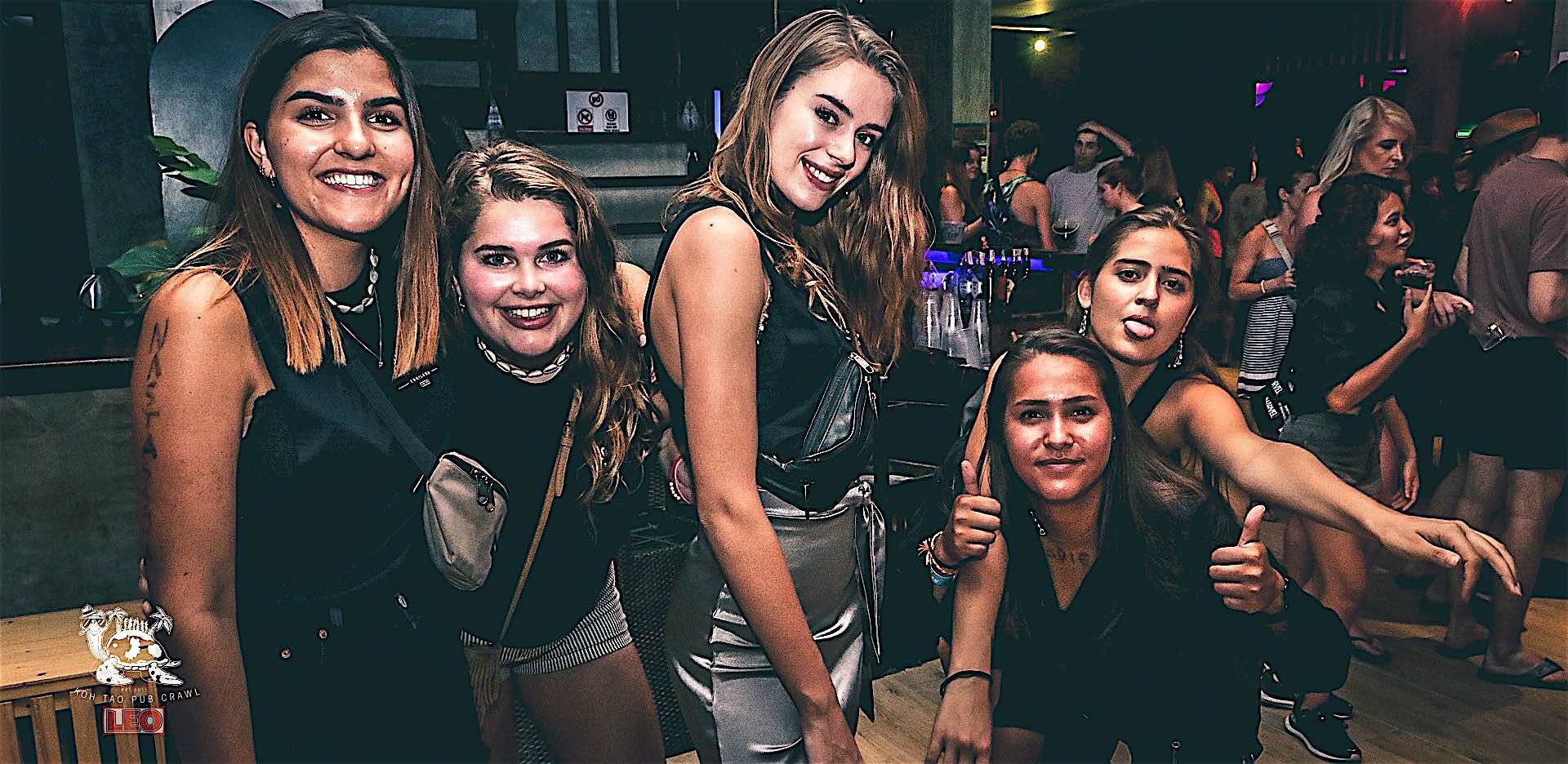 Banana Rock Bar
These bars are a bit further away from the rest of the nightlife so tend to be more laid back, but they are accessible from most places on Koh Tao on a scooter within 10-20 minutes.
Once you have enjoyed your beachside sundowners, you can choose to stay at one of the many beach-front bars, or move on to try the next venue.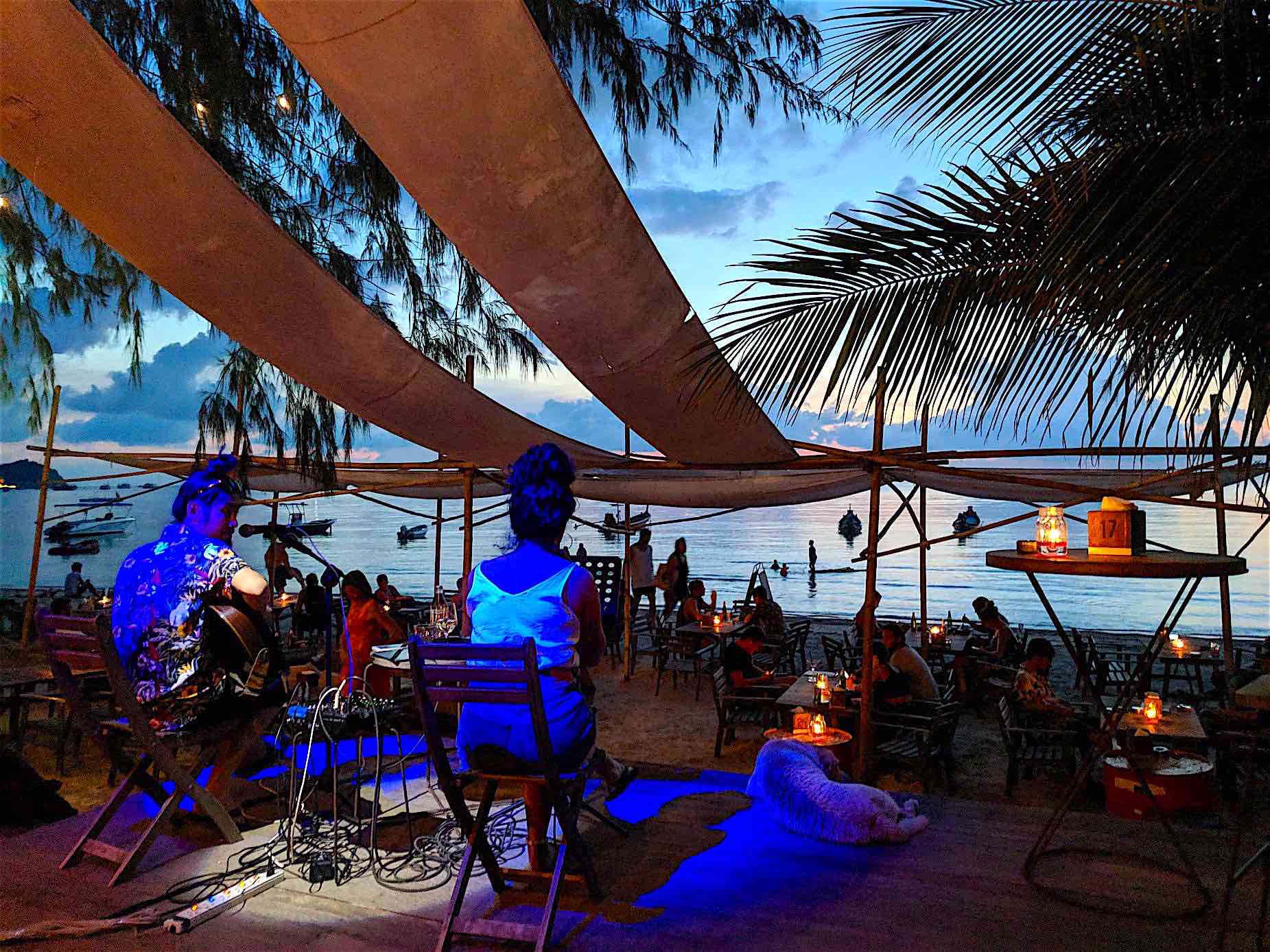 Live Music Bars on Koh Tao
Koh Tao offers a varied and diverse nightlife and many of the bars and beach bars have live music and a selection of local and international DJ's.
Good Vibe bar in Chalok is very friendly, welcoming and is open 6 days a week (except Monday's) until 02:00am, where you can enjoy chilled live music with special jam session nights on Tuesday, Thursday and Sundays.
Looking for something a little different, you can try Baby Rasta. Open until 02:00am, they offer live jam sessions every night followed by reggae music for the rest of the evening.
With a very relaxed and friendly atmosphere, they offer a great alternative if you just want a chilled-out evening.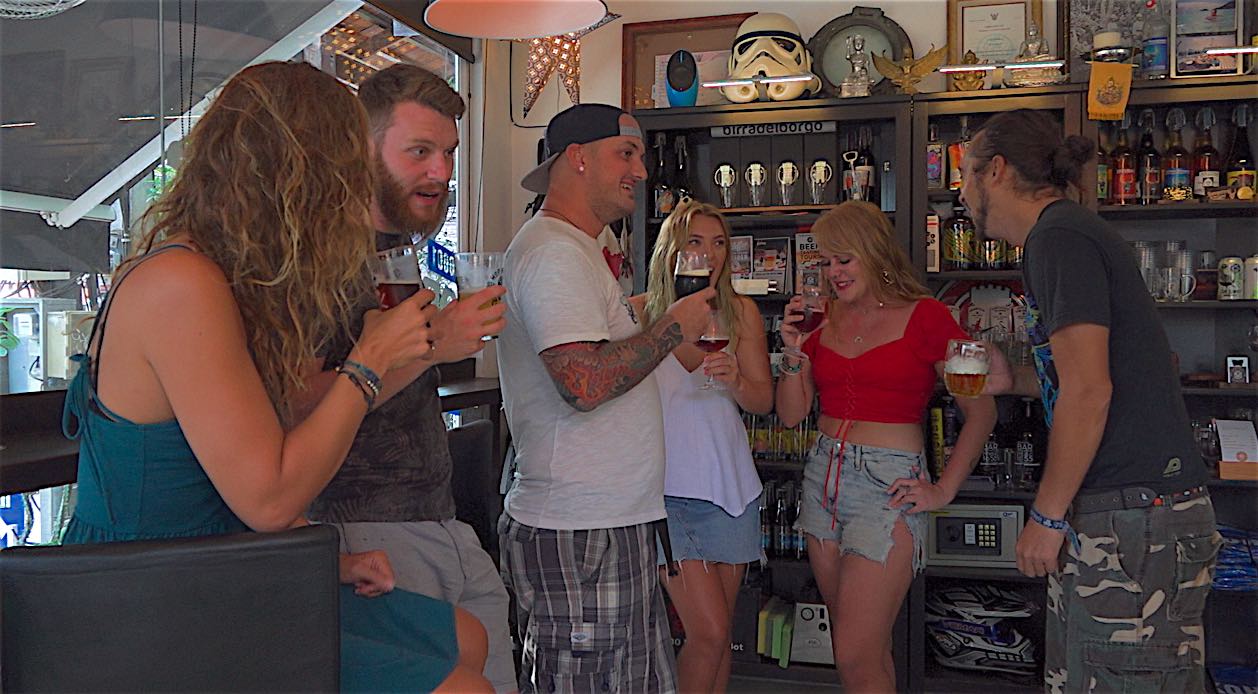 The Beer Masons Craft Beer on Koh Tao
If you are a fan of craft beers, you may want to make your way to The Beer Masons located near Sairee junction, next door to Shalimar Indian restaurant.
They offer 100's of different beers and ciders on draft pumps or bottled and stay open until midnight daily. This is a great alternative to the local Chang and Leo beers.
Famous Queens Cabaret in Sairee Koh Tao
If you are in the mood for a bit of entertainment, be sure to include Queen's Cabaret in your plans for the evening.
The show starts at 10pm each evening and lasts for around 2 hours. Entrance to the bar is free but you are expected to buy a drink. The cabaret show is definitely worth a visit.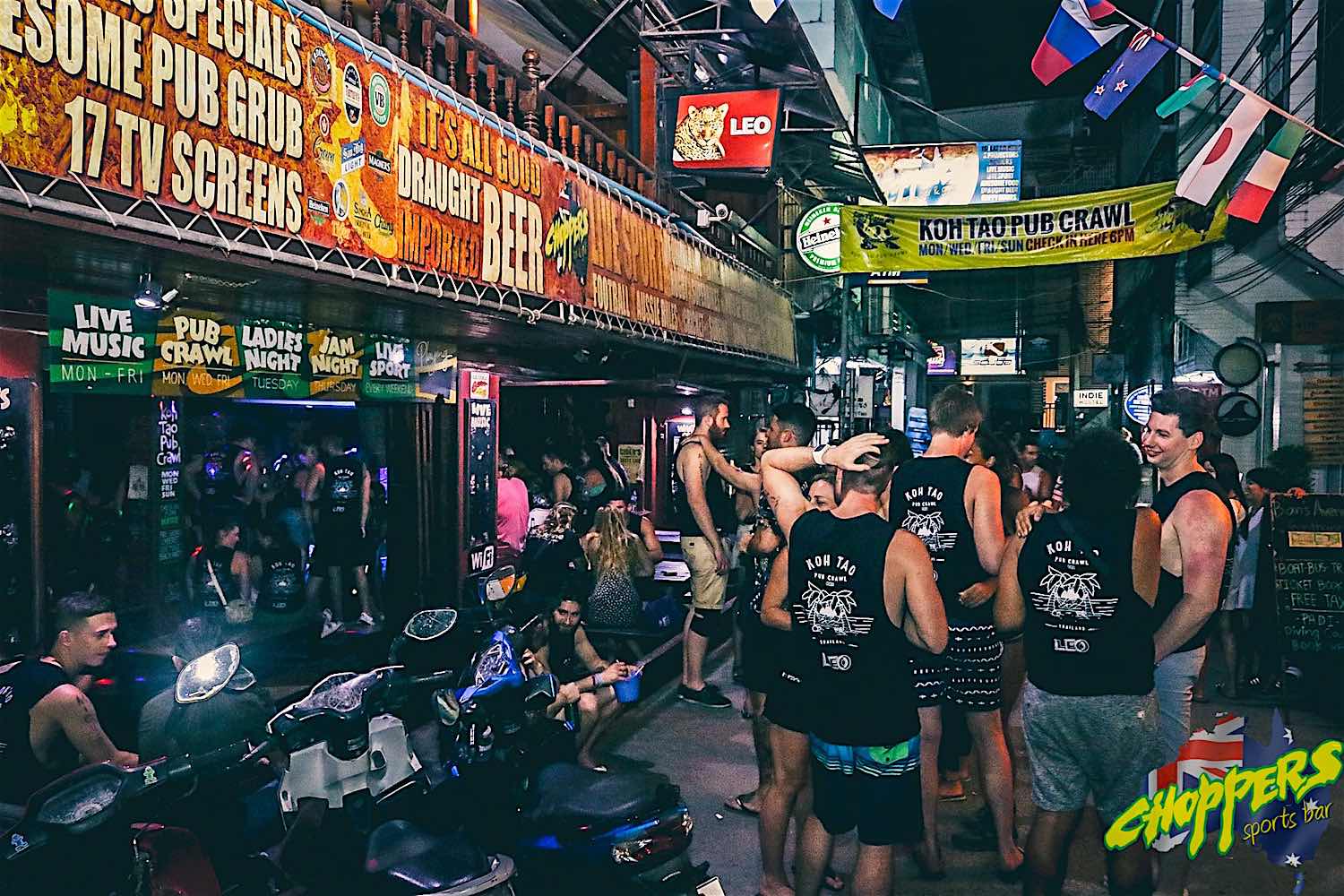 Best Sports Bar Nightlife on Koh Tao
For visitors who want a great night watching your favourite sports team playing, you can head to Choppers Bar & Grill in Sairee.
With at least 15 TV's across the two levels, they show most sporting events live, and will open outside of their usual hours to accommodate the broadcasts.
For more live sports and if you are situated in Mae Haad, you can choose Reef Sports Bar located on the down road or Safety Stop near the main Koh Tao pier.
Grumpy's bar is another popular live sports venue located at Koh Tao Leisure Park & Hacienda Bar & Restaurant and offers an extensive menu and drinks list.
Grumpy's is set in spacious grounds adorned with palm trees and has the only mini-golf course on Koh Tao together with a range of other activities on offer.
Situated on the main road between Mae Haad and Chalok opposite the main gas station and 7/11, Grumpy's shows most international live sports on a huge screen and there is even a cinema at the venue.
Party Nightlife at Moov Bar Koh Tao
If you want to party the night away in Mae Haad, you can visit Moov bar that is located just off the Songserm road, about 100metres from the Songserm pier.
Open until 2am, they offer special events each week, including club nights hosted by a rotating list of DJ's.
Fishbowl Beach Bar on Koh Tao
If you are still in Sairee village, (or never made it out of there), you can make your way to Fishbowl Beach bar to listen to their live music sessions and international DJ's,
If you want to party from early, the best way to get a taste of the nightlife and meet new friends, is to join the Koh Tao Pub Crawl.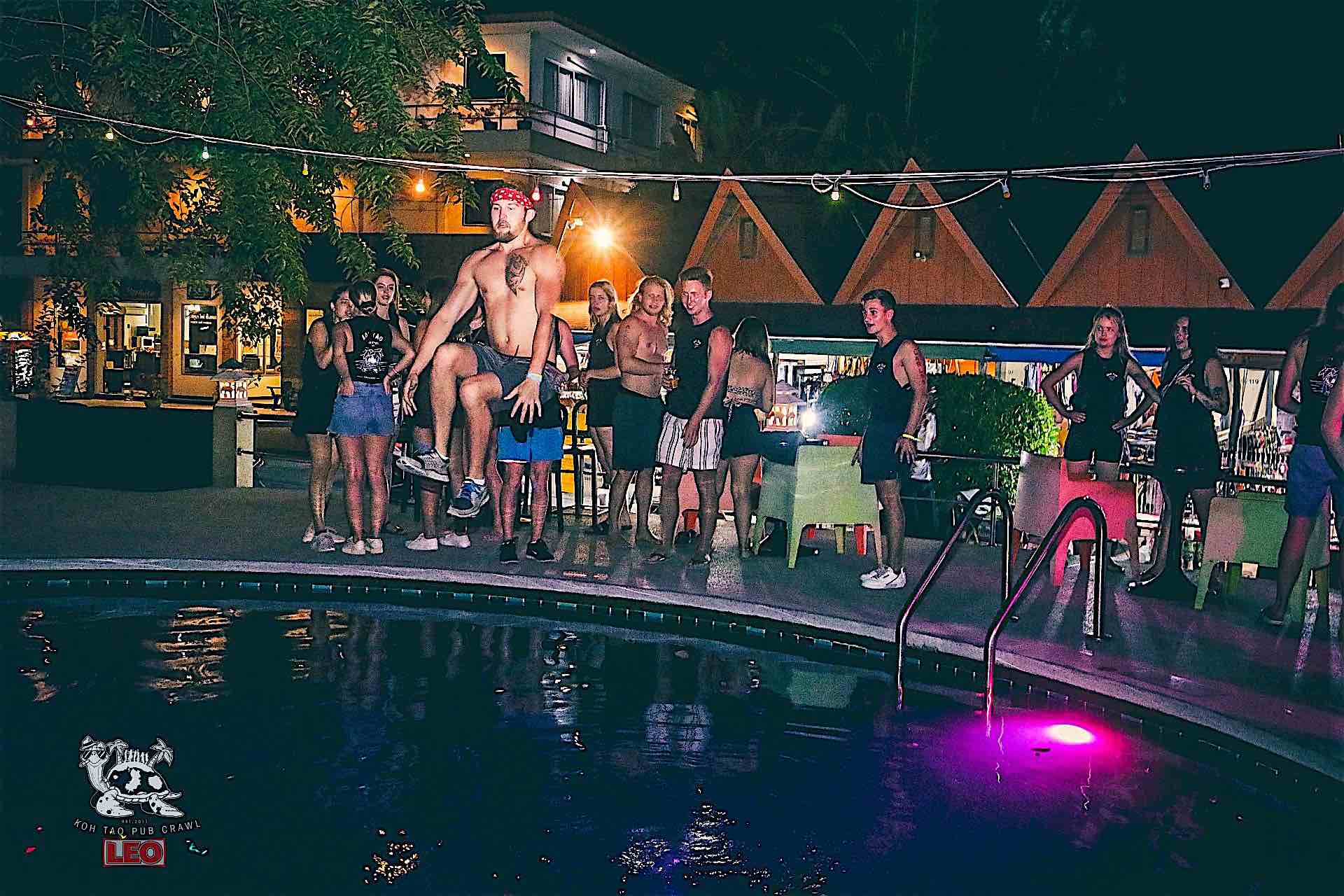 Koh Tao Pub Crawl – Asia's Best Pub Crawl
Koh Tao Pub Crawl is on Monday, Wednesday, Friday and Sunday and starts at Choppers and visits the 4 best party bars on the island, as well as Queen's cabaret.
You can enjoy a selection of island wide discounts, get a free T shirt and a starter bucket for just 480THB.
Koh Tao Pub Crawl is a night to remember and a perfect way to experience the nightlife on Koh Tao.
The Koh Tao beach bar and party scene has something for everyone. The only thing left for you to do, is decide what you want and plan your night responsibly!