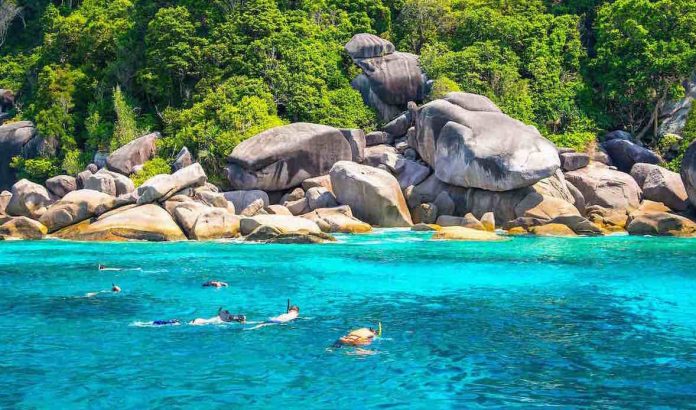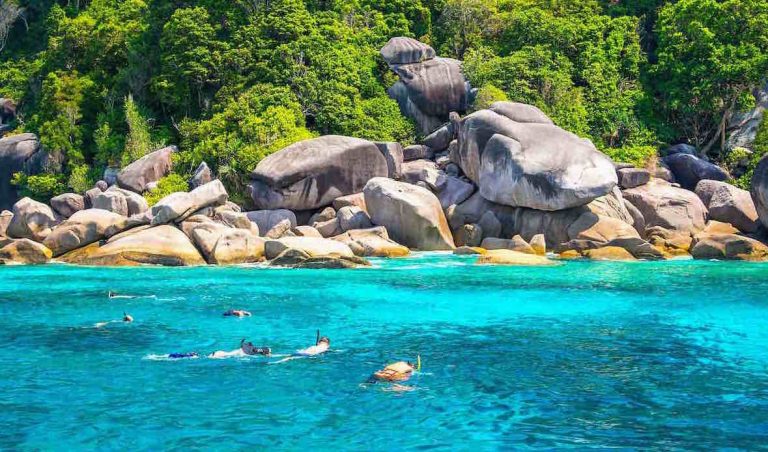 Where to go Snorkeling when you visit Koh Tao
As one of the world's most popular diving destinations for scuba diver training, it's no surprise that the underwater landscape around Koh Tao is amazing.
However, not every visitor has the time or wants to scuba dive and what few people realise is that Koh Tao is actually more popular for visitors who enjoy snorkeling.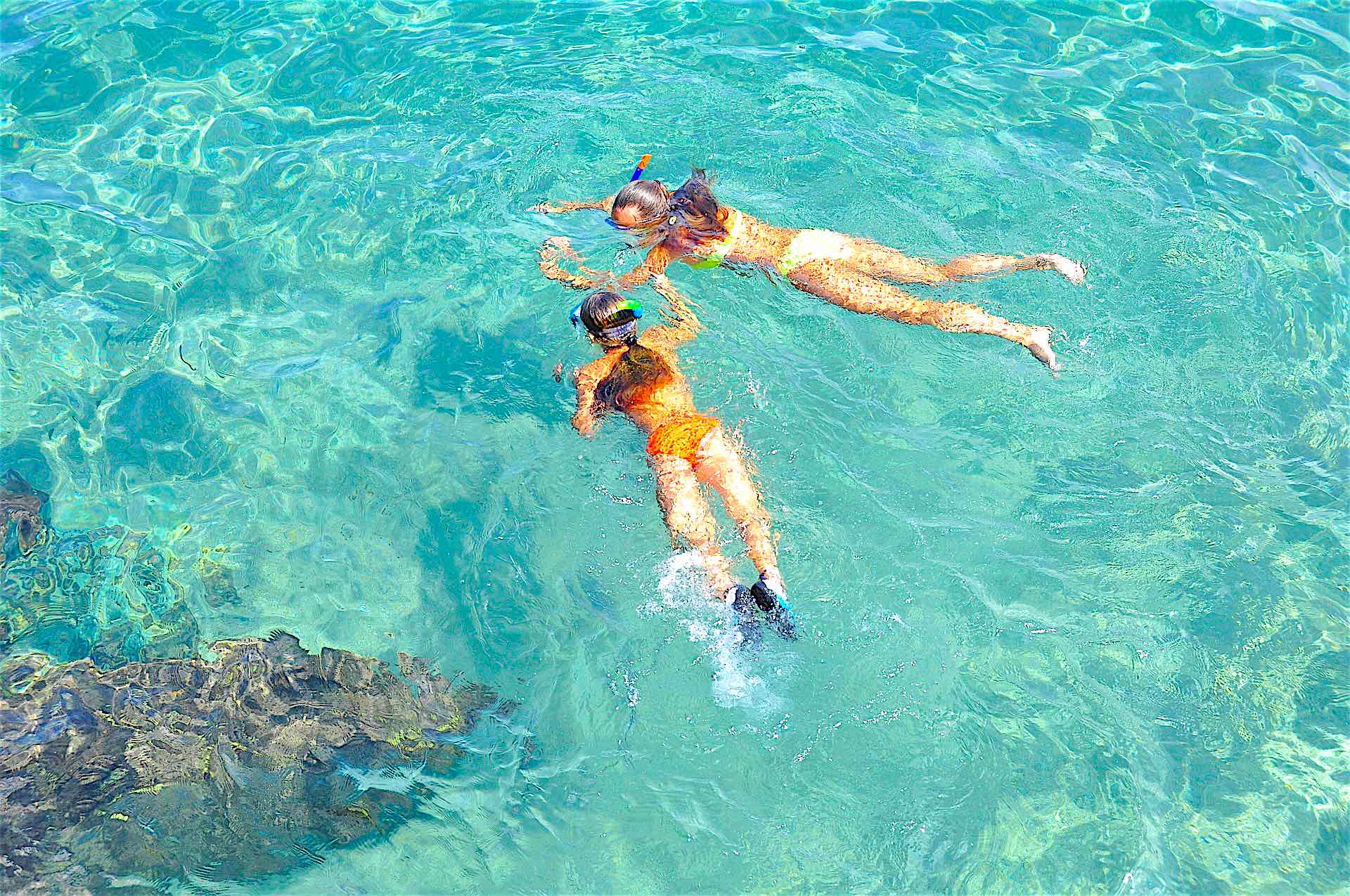 Koh Tao is surrounded by over 8 kilometers of coral reef and offers a huge diversity of marine life.
Add to that the calm, shallow water around most of the island and snorkeling is a perfect alternative for every visitor.
Snorkeling provides an ideal way for the large numbers of visitors to enjoy the beauty of the coral reef and abundance of marine life.
Koh Tao has hidden beauty in a lot of its beaches and bays, providing different landscapes and the underwater rock formations at some of these locations are superb for snorkeling.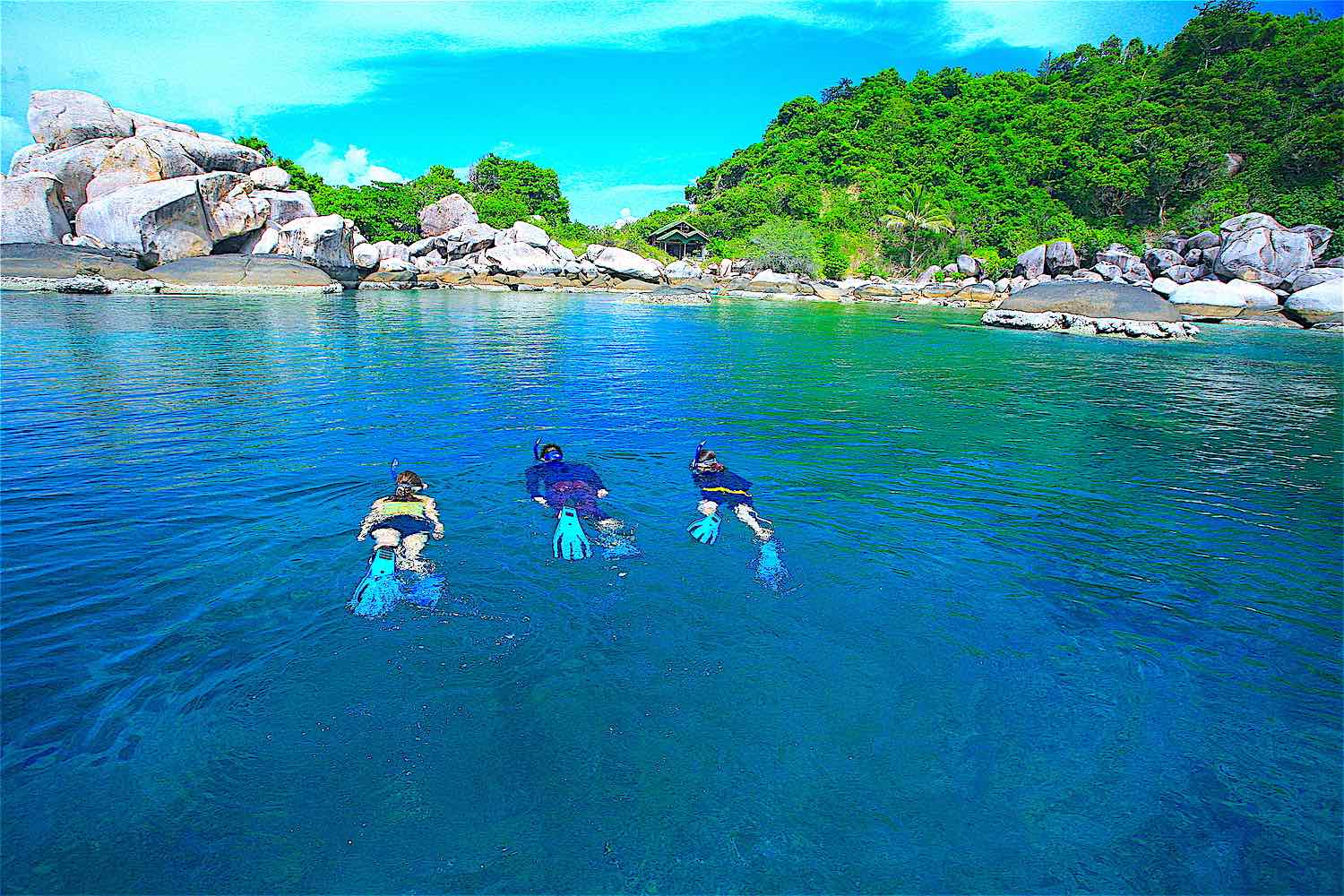 Our 6 Best Locations for Snorkeling around Koh Tao
Snorkeling on Famous Koh Nangyuan Island
Koh Nangyuan is situated around 800 metres off the north west tip of Koh Tao and is only accessible by boat.
The private island is open to the public between 9am and 5pm. To get there, you can hire a long tail boat and driver for a return journey from many of the beaches on Koh Tao.
As Koh Nangyuan is a privately-owned island, there is an entrance charge of 100THB, which is paid when you arrive on the island.
There is also a restaurant and cafe to buy food and drink or you may want to bring your own food and drink.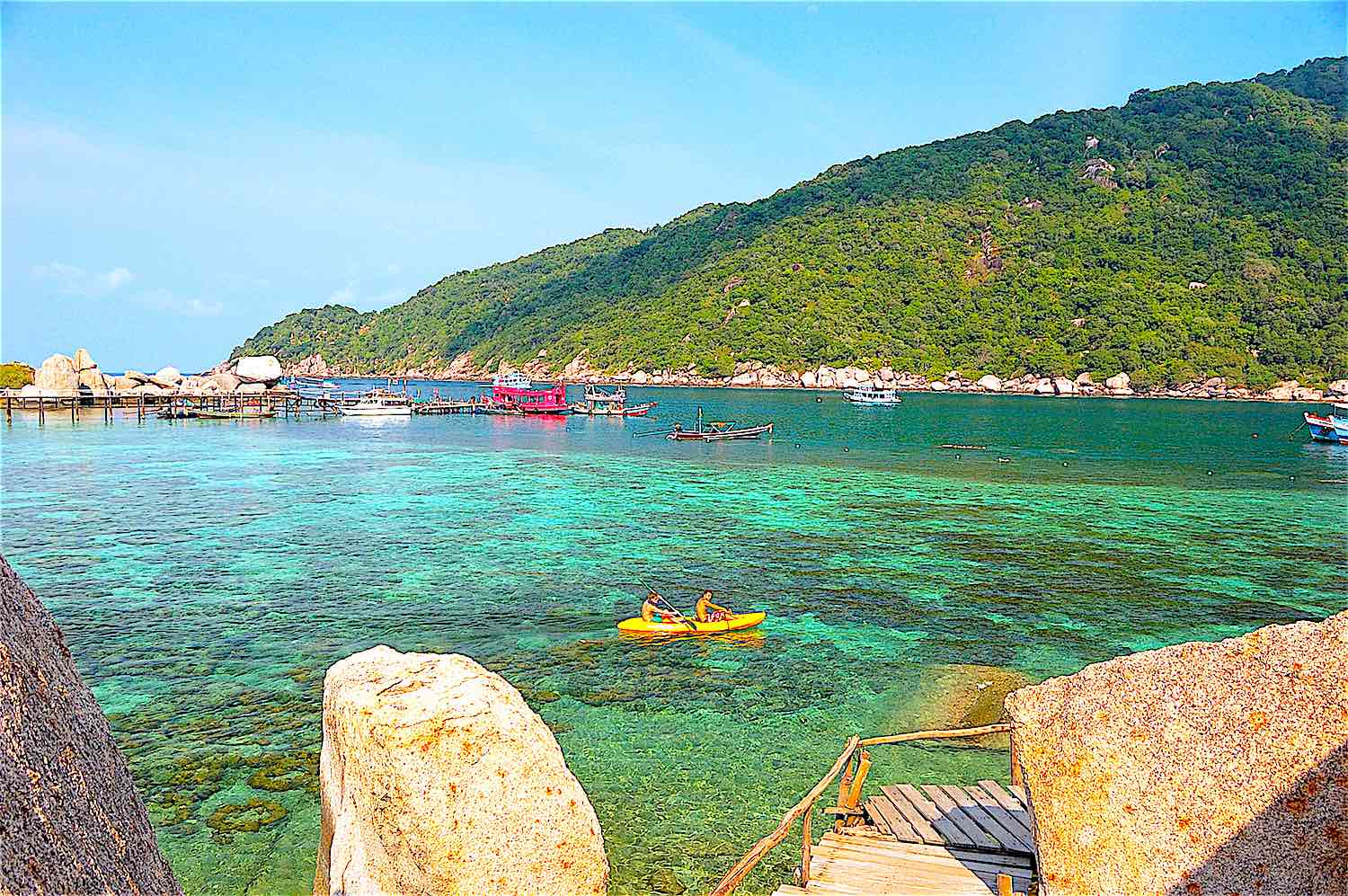 No Plastic
However, disposable plastic bottles are not allowed on the island so be sure to bring a reusable one with you.
Once you have paid the entrance fee, make your way to the east side of the island and you will find a sandy beach area that faces an area of water known as Japanese Gardens.
This is a designated snorkeling area and is roped off to prevent any boats from entering.
The water has a maximum depth up to 15 metres the further out you snorkel and there is little current for the majority of the year, which makes it great for first-time snorkelers.
Snorkeling in Japanese Gardens you will discover crystal-clear water and large granite rocks that have been polished by the water over the years.
The underwater rock formations at Koh Nangyuan are teeming with colorful fish.
There is also a mixture of hard and soft corals, which have helped to create the name of this location as it has a panorama similar to a Japanese garden.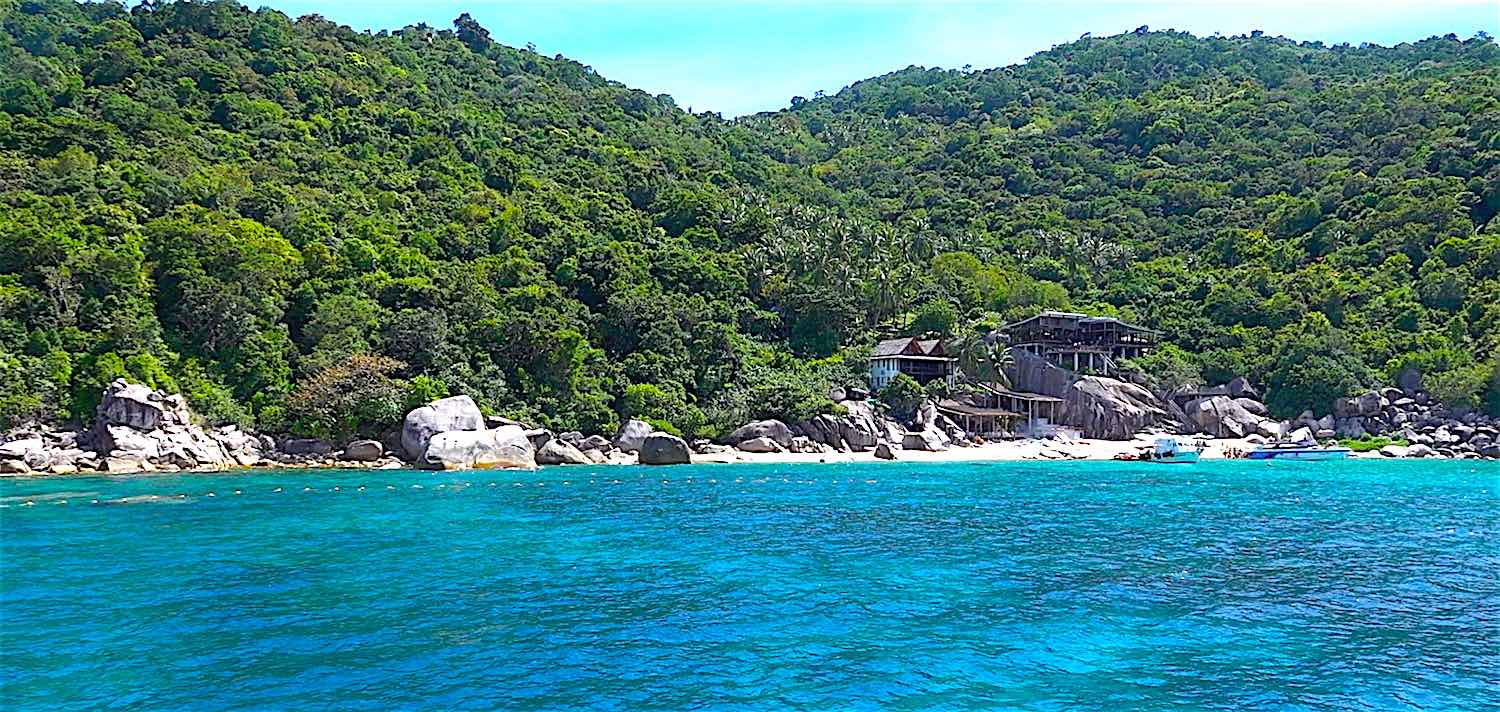 Snorkeling on the North of Koh Tao at Mango Bay
Mango Bay is situated on the northern coastline of Koh Tao and is accessible by boat, taxi or an off-road bike.
The trail down to the beach is only a small, dirt track so it can be difficult to navigate if you are an inexperienced rider.
As the path passes through a private resort, there is an entrance fee of 100THB so it can be easier to visit Mango bay by long tail boat from either Sairee or Mae Haad.
The wide bay itself has coral reefs that run down either side and the body of water that fills the bay is usually crystal-clear and turquoise in color.
The sea-bed throughout the centre of the bay is made up of fine white sand and depending on the prevailing wind direction, the water is calm and smooth, which makes it a great location for anyone to snorkel.
The bay is also commonly used by Koh Tao dive schools for beginner courses, fun divers and day trippers arrive from Koh Phangan and Koh Samui, so it is popular.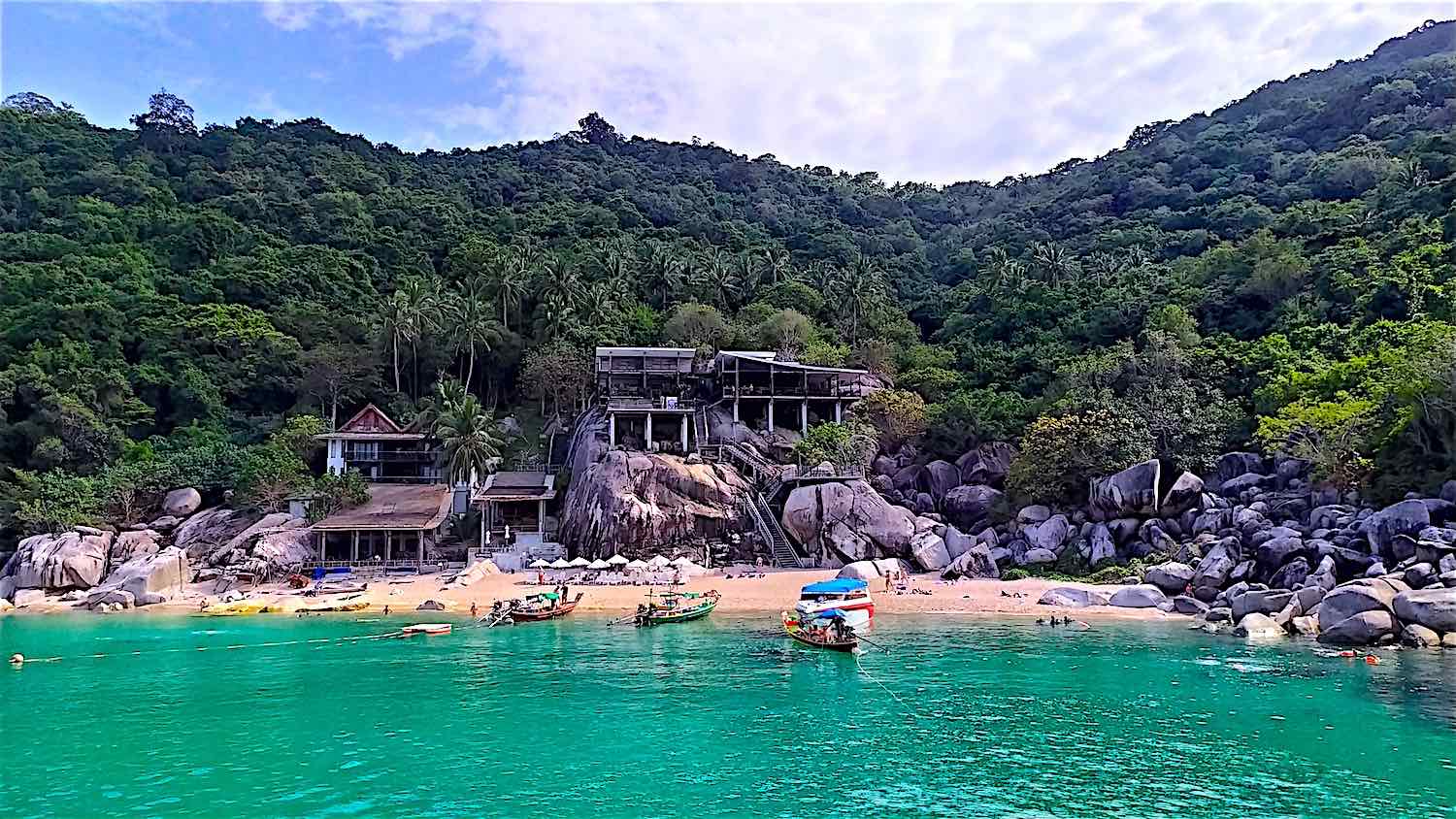 Explore & Snorkel
Don't let the thought of other visitors put you off as the coral reef extends for many hundreds of metres on both sides, so you don't have to look too far to see spectacular marine life.
There is a lot to see snorkeling at Mango bay including: barracuda, damselfish, triggerfish, wrasse, unicorn fish to name just a few.
Mango Bay is very easy to snorkel around and you may be lucky enough to find a few seahorses hiding in the sandy seabed.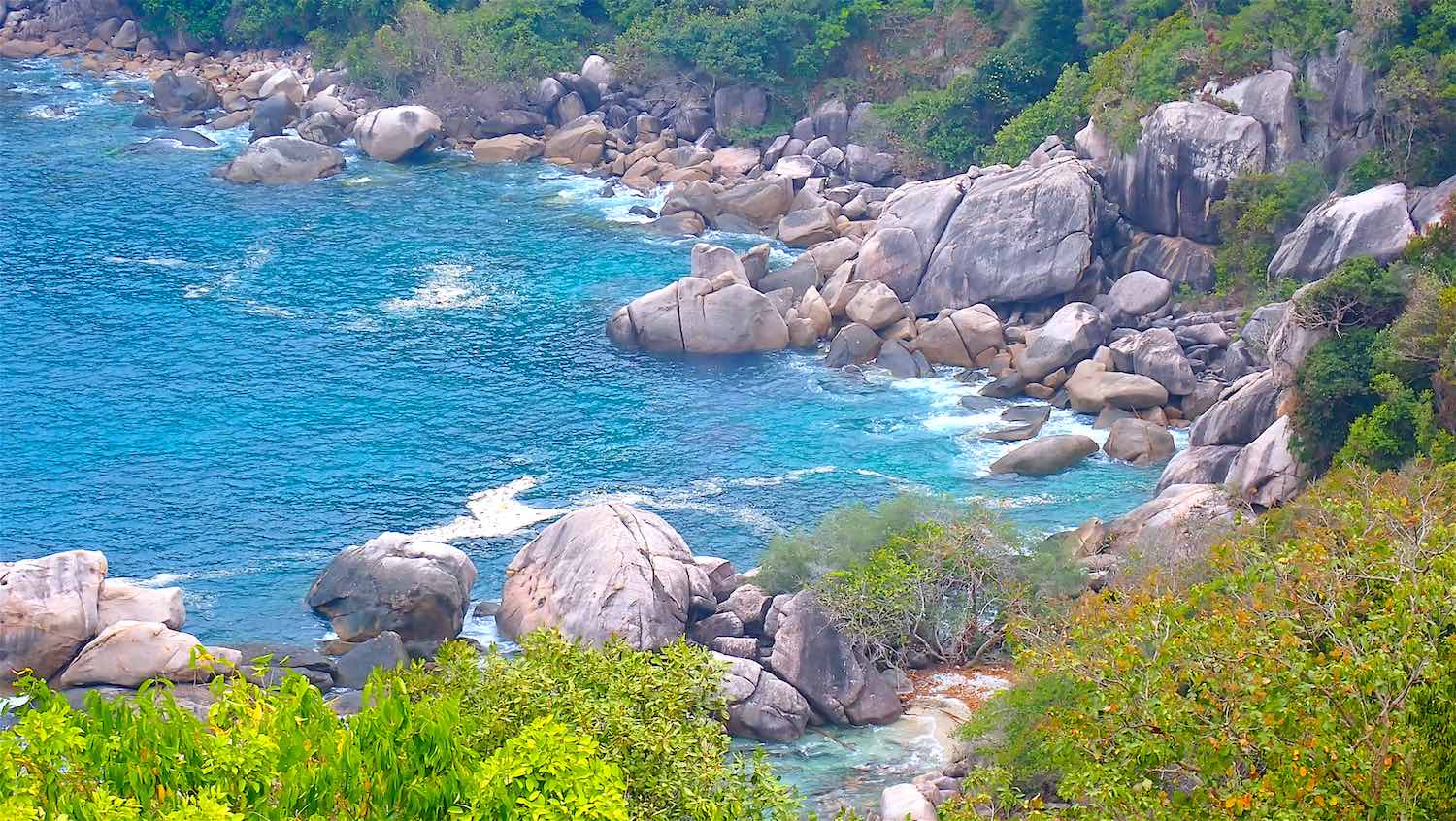 Snorkeling at Lighthouse Bay Koh Tao
Lighthouse Bay is situated on the north east of Koh Tao and offers another great location for snorkeling.
There is no direct road access into the bay, but you can get within a few hundred metres by pick up or scooter to a partially built resort.
From the resort you will need to continue on foot down the steep, rocky trail that leads to the bay.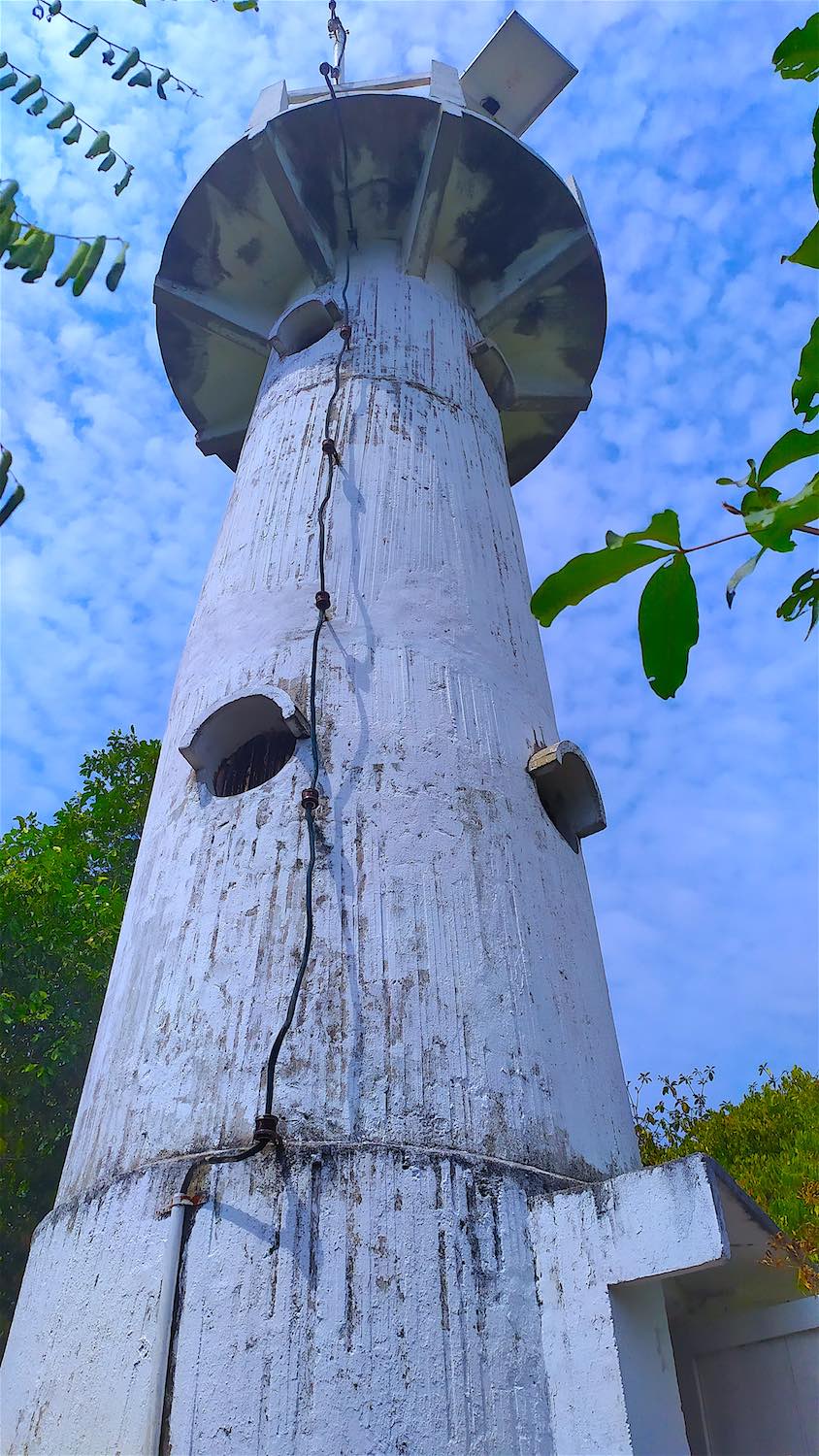 The main snorkeling area is just off shore, so you will need to swim a little to find the beautiful Coral reef and underwater rock formations that teem with life.
You can also get to Lighthouse bay by snorkel trip boat or long tail boat and dive straight in to the best areas.
Although the lighthouse is no longer in use, it provides a great reference for the boats to locate the best snorkeling spots.
Lighthouse bay is sheltered with good visibility, which makes it a great location to snorkel for most of the year.
The coral reefs are some of the best you will see on Koh Tao and includes table corals, staghorn corals and big barrel sponges.
The snorkel location is lit up by the many colorful Christmas tree worms found here, whilst the corals provide an ideal habitat for many small reef fish to flourish.
You can see lots of colourful fish, including parrotfish, wrasse, angelfish, butterflyfish and Longfin bannerfish as well as schools of yellowtail barracuda.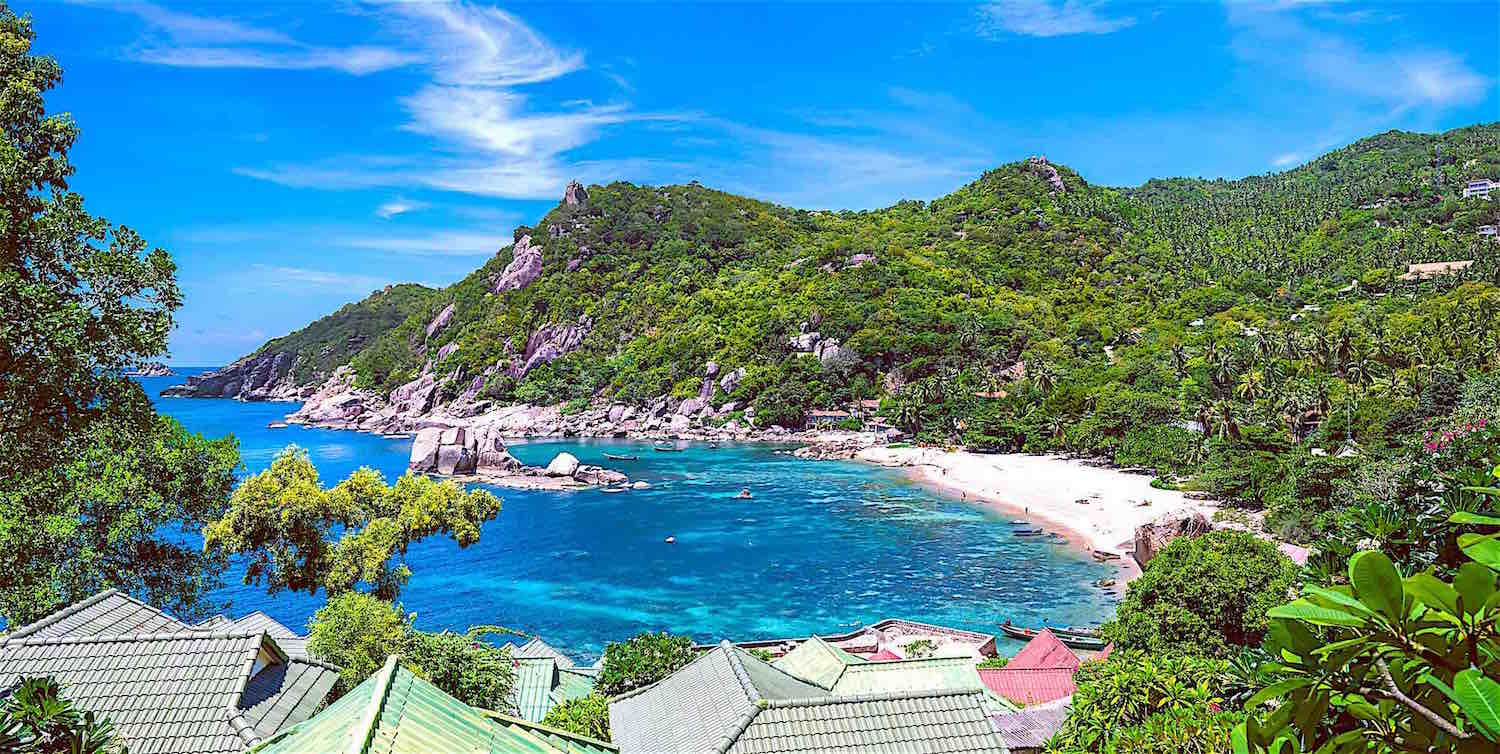 Snorkeling on the East Coast of Koh Tao at Tanote Bay
Tanote Bay is easy to find and located on the east side of Koh Tao and is best reached by scooter or taxi boat.
The route from Mae Haad passes over the central Koh Tao mountain, rewarding you with spectacular views of the east coast and it takes around 15 minutes to reach there.
Similar to many other bays on the island, the road down to the bay is steep and so is not ideal for novice riders.
Tanote bay is surrounded by high hills and is a perfect place for snorkeling.
The coral reefs begin less than 2 metres below the surface and continue down for a further 15 metres.
In addition to the natural reef, there is also an artificial reef project with a coral nursery being undertaken to help alleviate the pressure of visitors on the natural coral reef.
The bay is surrounded by huge boulders and there are many situated in the water, providing superb areas to snorkel.
These large granite boulders are covered in coral and are home to many species of marine life, including parrotfish, moray eels, rabbitfish and yellow tail barracuda.
The deeper areas in the centre of the bay are also visited by black tip reef sharks and Turtles.
Large Granite Boulders
Although the boulders provide great areas to snorkel around, they also provide an opportunity for rock jumpers.
At least one of them has a rope permanently attached to it to enable people to climb up and jump off into the clear, warm water.
If you are snorkeling around this area, be sure to keep a look out for people jumping, so you can continue to have fun and explore.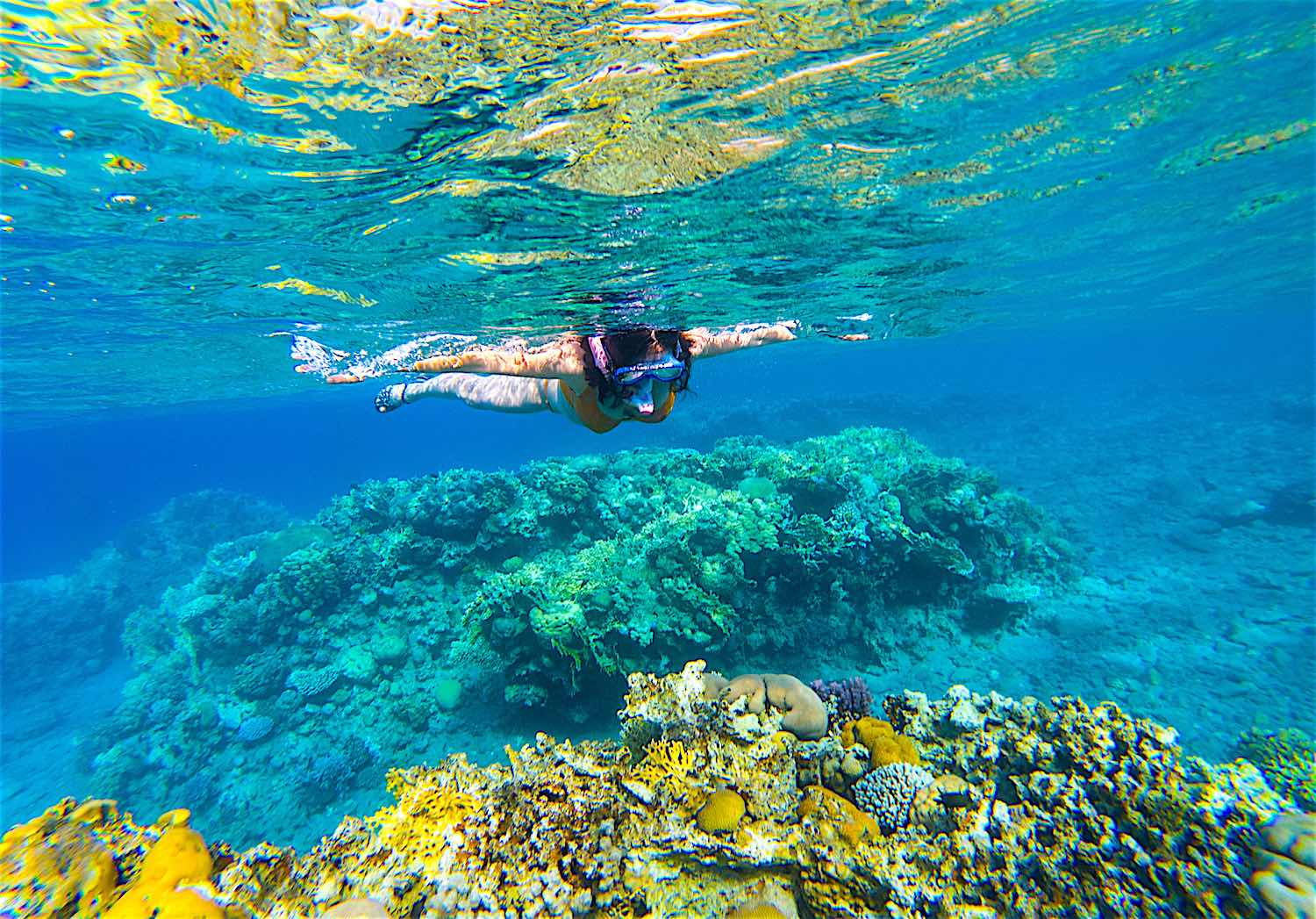 Snorkel 'Deep Bay' at Aow Leuk on Koh Tao
Aow Leuk, or "Deep" Bay, is located on the southeast corner of the island. A secluded bay, its name comes from the deep, concave shape of the bay and the depth of the water.
The water depth makes it a perfect location to snorkel, even during low tide.
The bay is easily accessible by foot or in a vehicle, although you do have to pass through Aow Leuk Grand Resort and pay a 50THB entrance fee.
Both sides of the bay are lined with coral reefs that begin in the shallow water off the beach, so you don't have to swim far to experience the marine life at this beautiful location.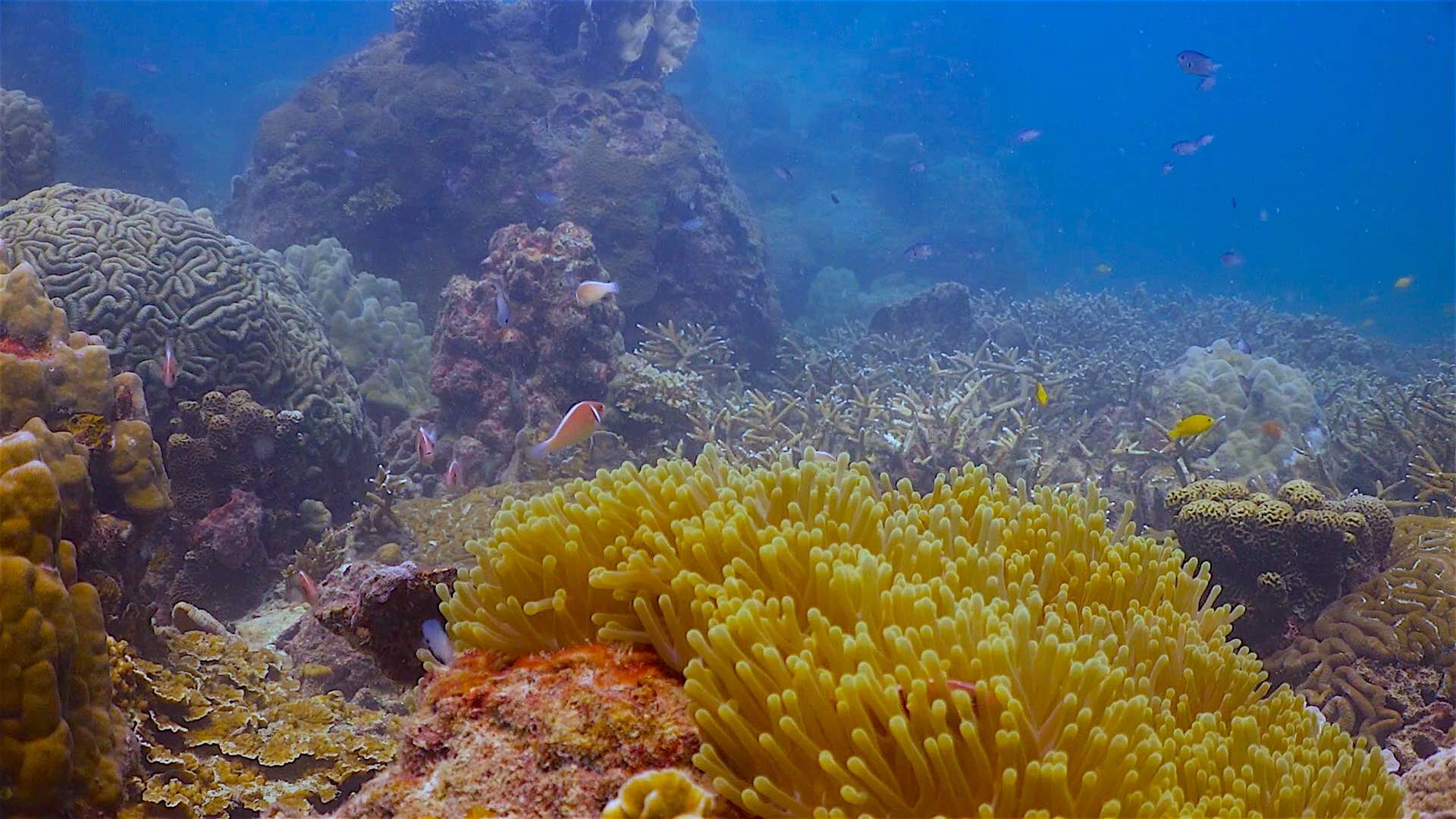 Underwater Aquarium
Underwater you can expect to see a wide variety of fish species including butterfly fish, clown fish, lion fish, monacle bream and Jenkins rays.
At the right time of year, you may be lucky to see baby black tip reef sharks using the shallows as a nursery environment, while the adult sharks tend to be found a bit further off shore.
You need to be aware that the resort doesn't allow your own food and drinks on the beach and it is possible that your bags may be checked to enforce this.
There are 2 restaurants located on the beach that offer good value food and drinks as well as a location to chill out in the shade once you're ready for a rest.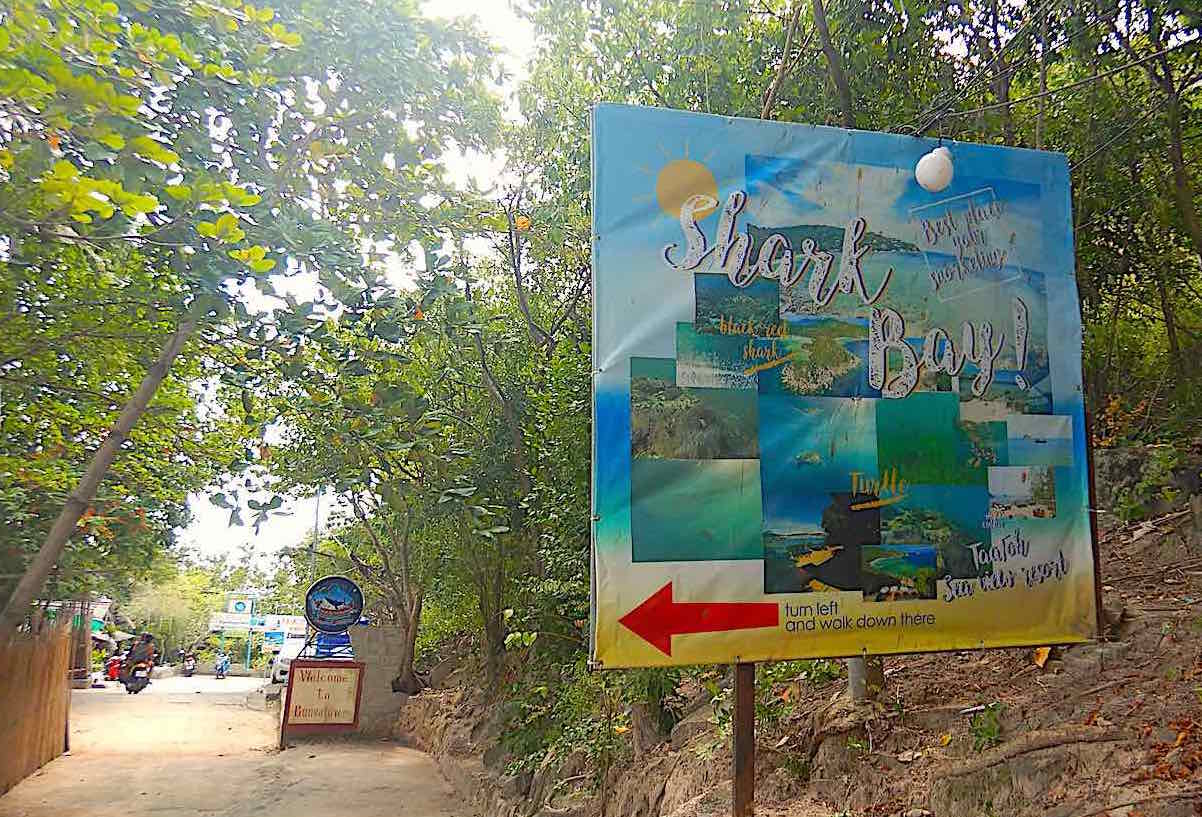 Snorkel with Black Tip Reef Sharks at Shark Bay Koh Tao
Shark Bay is a private bay located on the south coast of Koh Tao. By road it is best accessed by parking in front of the Haad Tien Beach Resort and following the signs.
There is an entrance fee of 200THB to pay when you pass through. It is possible to access the bay by boat or kayak for snorkeling, which will help you avoid the charge.
Shark bay is named after the visiting black tip reef sharks who use it as a nursery for their young.
This makes Shark bay one of the best locations to see them around the island.
The best time of day is in the morning after sunrise along the northern coastline of the bay and they can reach up to 6 feet in length. If you plan to visit early, try to arrive between 7am and 10am
Shark Bay is also one of a few locations on Koh Tao where you can see green sea turtles on a daily basis.
The turtles are found around the coral reef area despite the fact the reef in the centre of the bay is very damaged from a previous bleaching episode and has not recovered.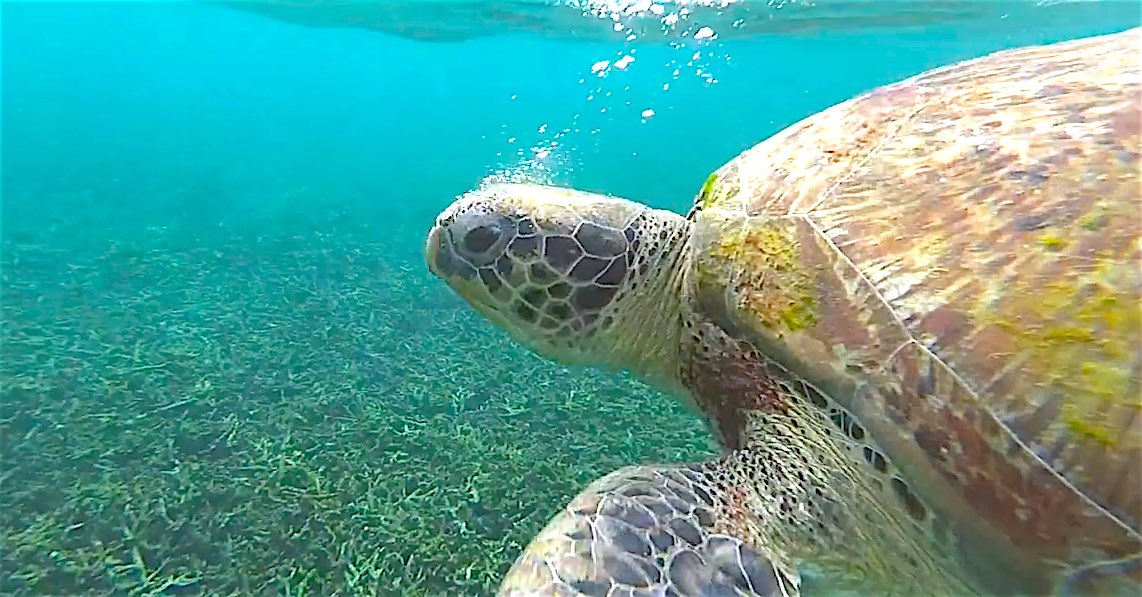 Green Sea Turtles
Turtles in the bay here can grow over a metre in length and are not scared of humans so will come very close to you.
Be careful not to touch Turtles or any marine life at all, as bacteria on our skin can be harmful.
When snorkeling at Shark bay don't be discouraged by the damaged coral you will see throughout the central area, as there is a lot to see, especially on the northern side of the bay.
The last mass bleaching event affected Shark bay very badly so the coral has not recovered in large areas and studies are currently monitoring the situation.