Scooter Rental on Koh Tao & Safety
Renting a scooter is a great way to see as much of Koh Tao as possible. However, there are obviously inherent dangers when driving in any country and Thailand is no exception.
Stay Safe
If you do decide to rent a scooter during your time on Koh Tao, you will have lots of fun exploring the island and this is how you can stay SAFE.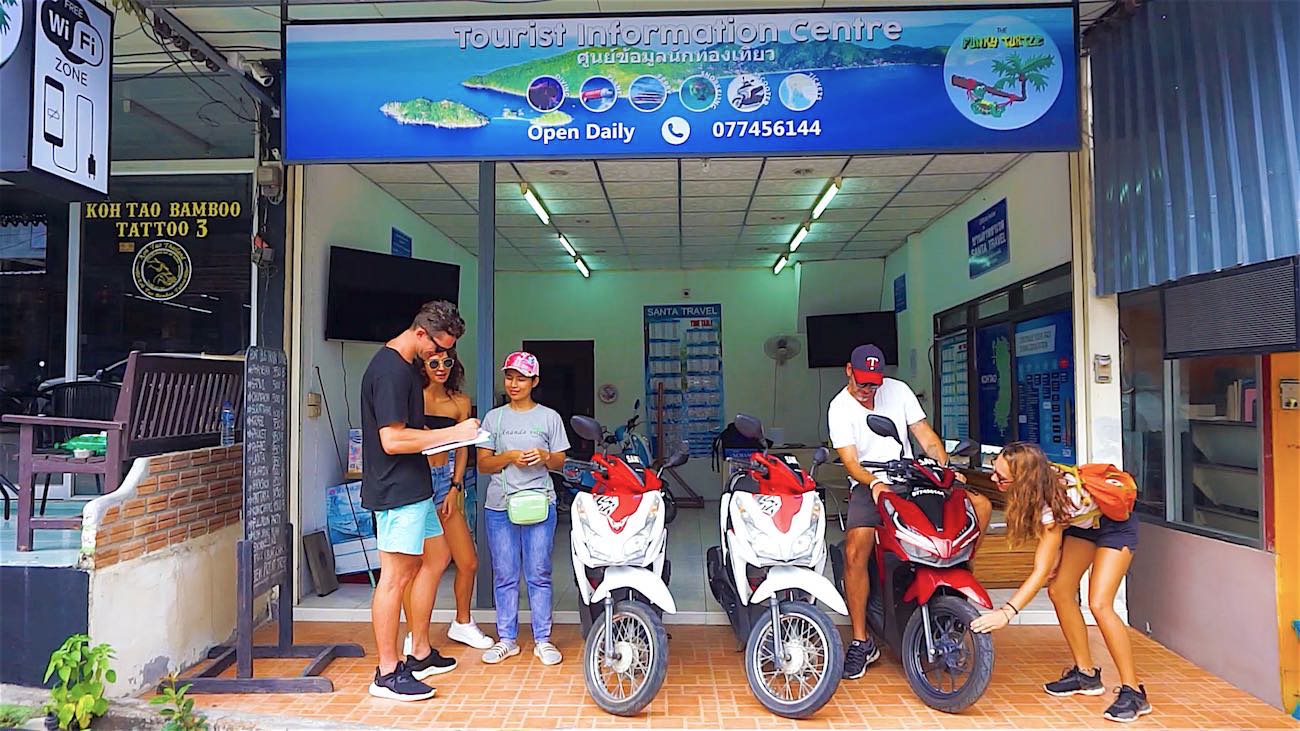 Best Tips to Rent a Scooter on Koh Tao
Always Wear a Helmet
Whenever anyone is riding a motorbike or a scooter on any road there is always the possibility of an accident.
It does not matter how good a rider you are. There are other scooters, motorbikes, cars and trucks sharing the road and not all of them will be as considerate or as proficient as you, especially some of your fellow tourists.
If you were to have an accident on your scooter, wearing a helmet will help to minimise the potential injuries you may suffer.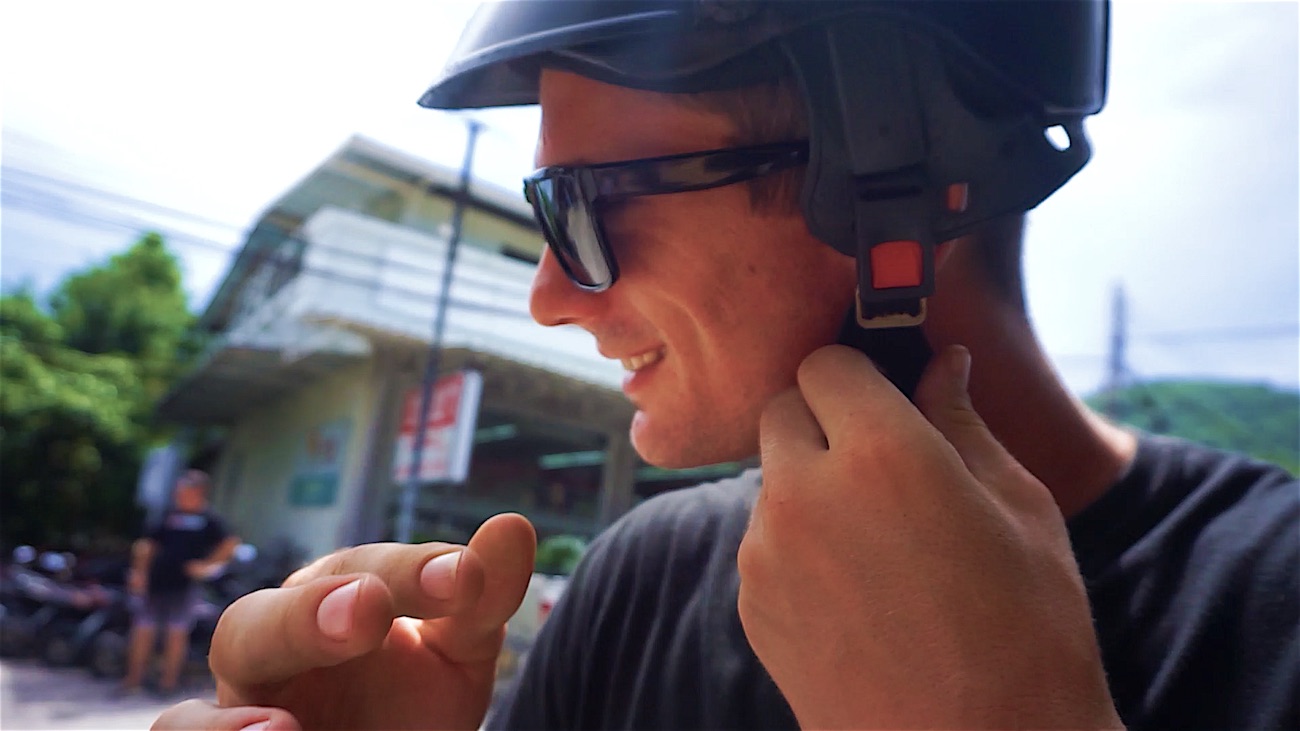 Wear A helmet
Importantly it is the law in Thailand to wear a helmet when riding a scooter. The police on Koh Tao regularly conduct road safety awareness campaigns and if you are not wearing a helmet, you may find yourself being stopped.
At a roadside stop, you will receive advice from the officer and then have to pay a fine for the pleasure of hearing that advice.
A fine for not wearing a helmet is often 3 times as much as the scooter cost to rent, so a relatively inexpensive way to explore Koh Tao, just got a whole lot more expensive.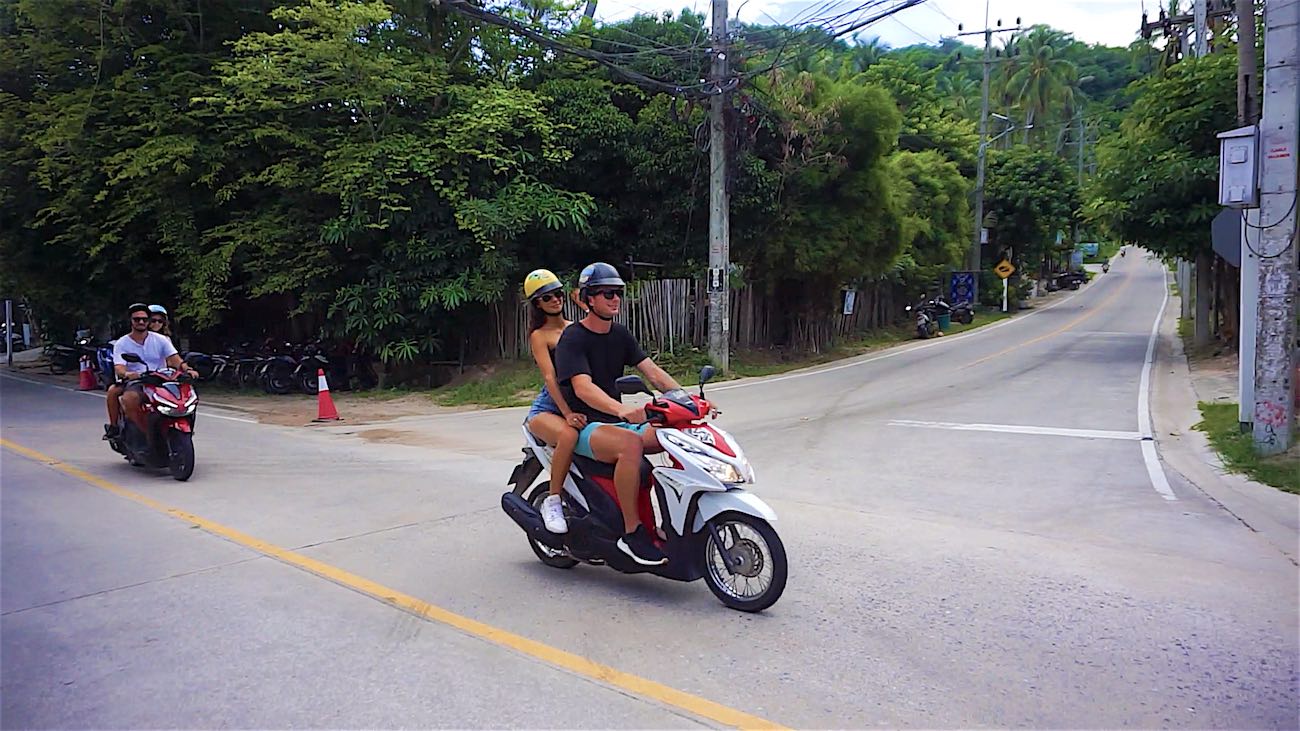 Drive SLOWLY
Demonstrating good awareness of other motorists around you along with common sense is a great attitude to have when riding a scooter on Koh Tao.
Part of demonstrating good road awareness is to drive slowly. The roads on Koh Tao have recently been upgraded and improved, so are of a good standard.
However, the island is only 7 kilometres in length by 3 kilometres wide and the roads are the equivalent of countryside roads in Europe, which means they are not designed for you to drive fast.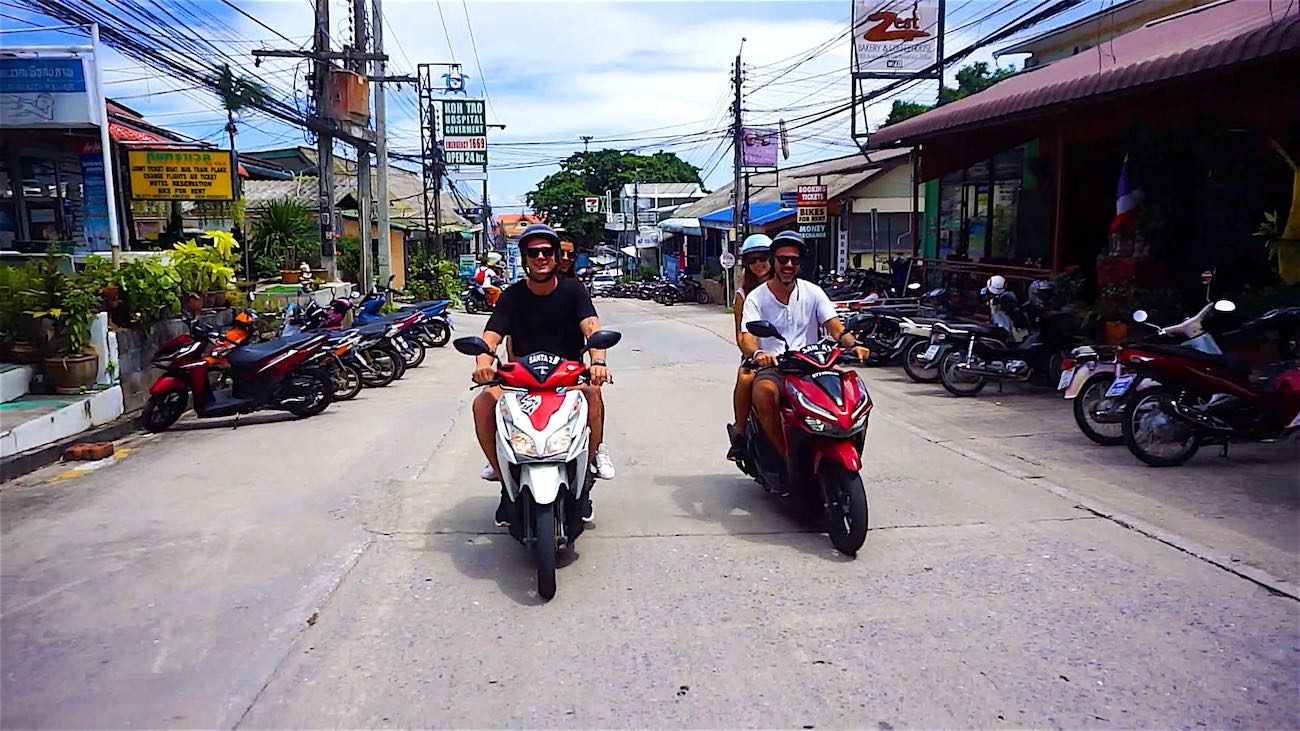 Drive Slowly
The best roads on Koh Tao are only 1 lane on each side and are not designed for overtaking at speed.
Safe speed limits need to be adhered to, especially in the villages with lots of pedestrians walking across and along the road.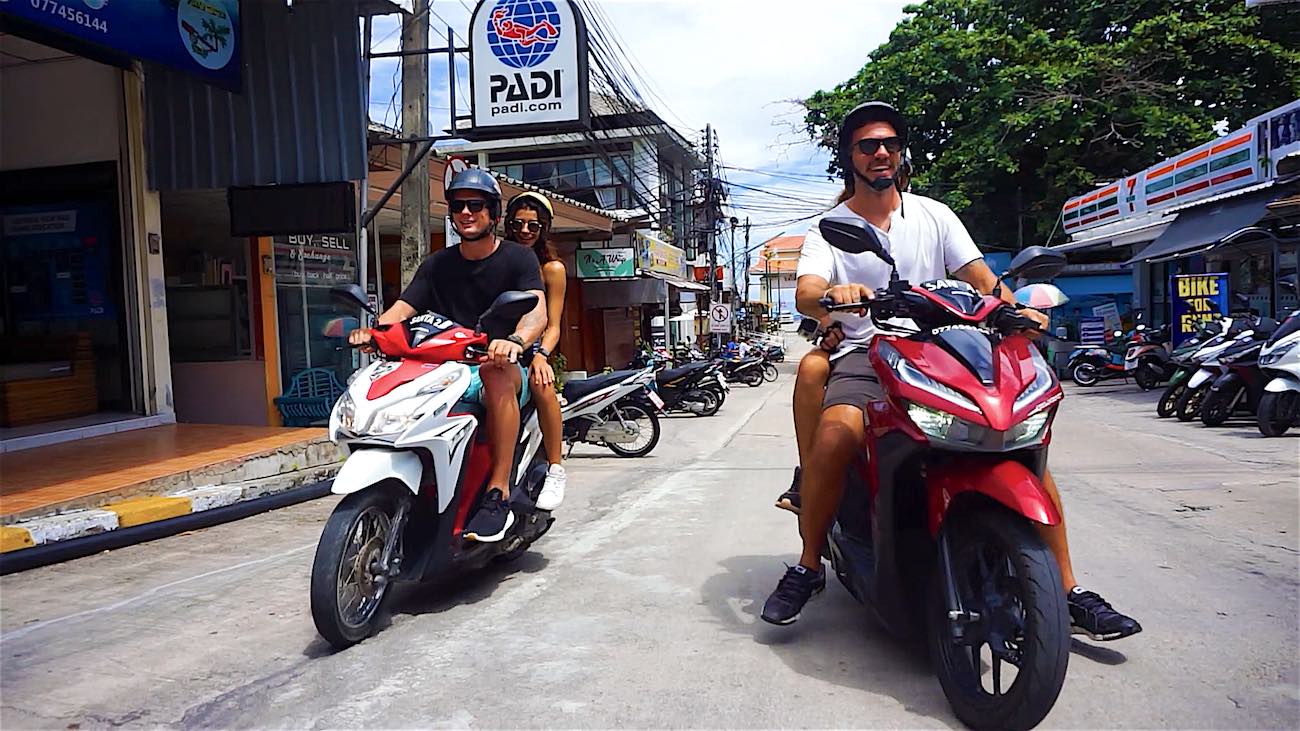 Use Mirrors
Before you even turn the engine on after renting your scooter, set up your two wing mirrors so you can comfortably use both.
Use your wing mirrors whenever you are pulling the scooter away from a starting position and whenever you are turning corners.
In Thailand scooter riders will undertake and overtake. Riders and drivers often pull out of a junction without looking over their shoulder as they have right of way, NOT the motorist already motoring on the main road!.
Quite often you will see motorbikes and scooters on the wrong side of the road approaching you from the front – refer to point 2 above.
Get into good habits. Always use your wing mirrors. Always be aware.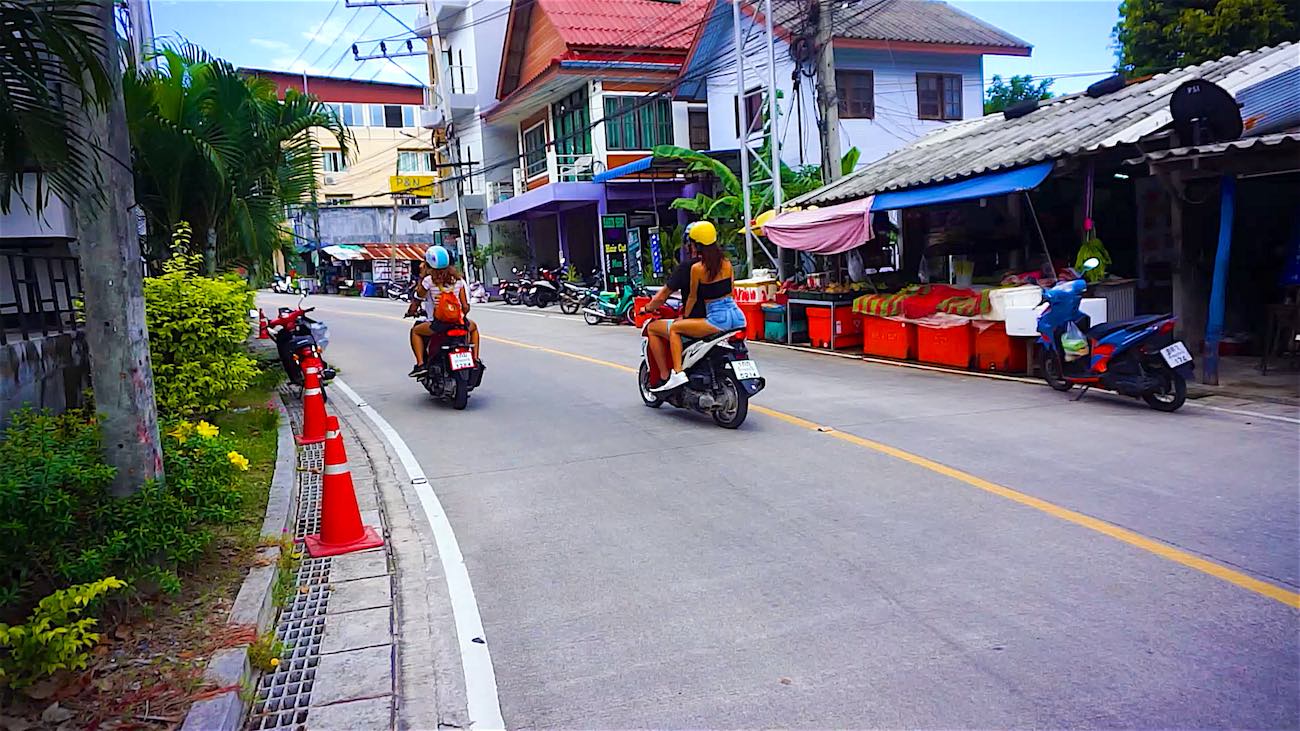 Drive on the LEFT side of the road
In Thailand you drive on the left hand side of the road. This is unusual for most visitors to Koh Tao who may be familiar with driving on the right hand side and it will take time to adjust to.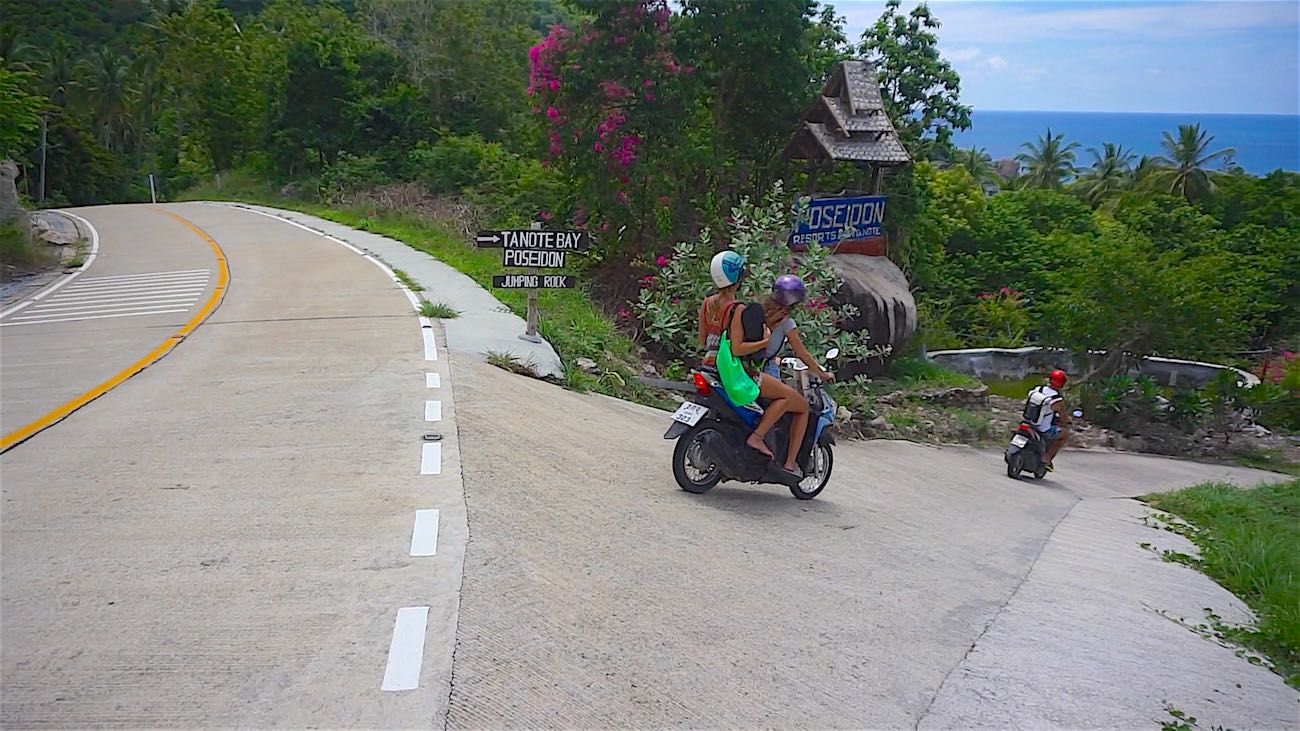 Rent a Scooter based on your Experience
There are many motorbike and scooter rental options on Koh Tao and you should choose the best option suited to your level of experience.
There will be three types of scooters available for rental on Koh Tao; Automatic (no gears), Semi-Automatic (5 gears, but no clutch) and manual which will be 5 gears with a clutch.
The automatic is the easiest to ride and is the best option for inexperienced scooter and motorbike riders.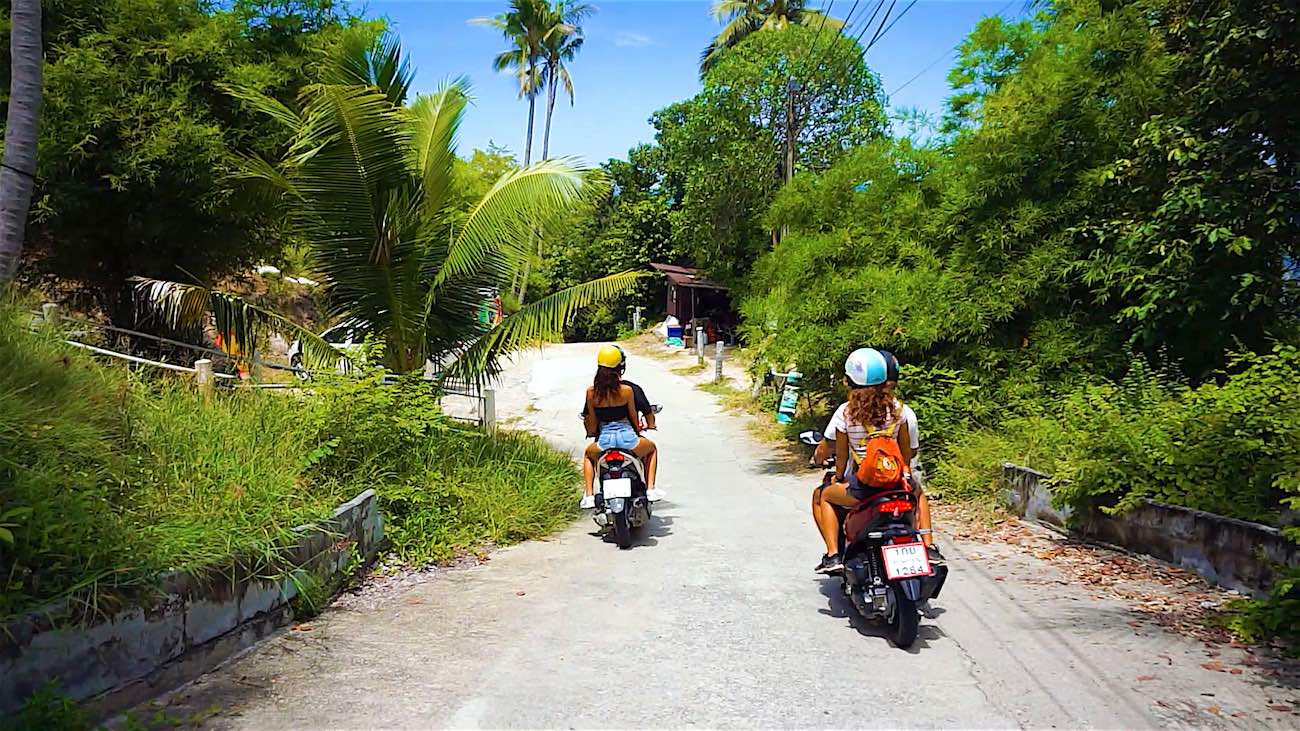 Do You have experience?
Semi-automatic requires a little more experience but is not very difficult to master and it offers you more control when riding up and down some of the hilly roads around Koh Tao.
A manual motorbike with clutch control is only advisable for a motorcyclist with experience and a licence for it.
Also consider the size of the bike. On Koh Tao you will have a selection of 110cc & 125cc automatic and semi-automatic scooters and for the more experienced riders 150cc & 225cc motocross and trial bikes.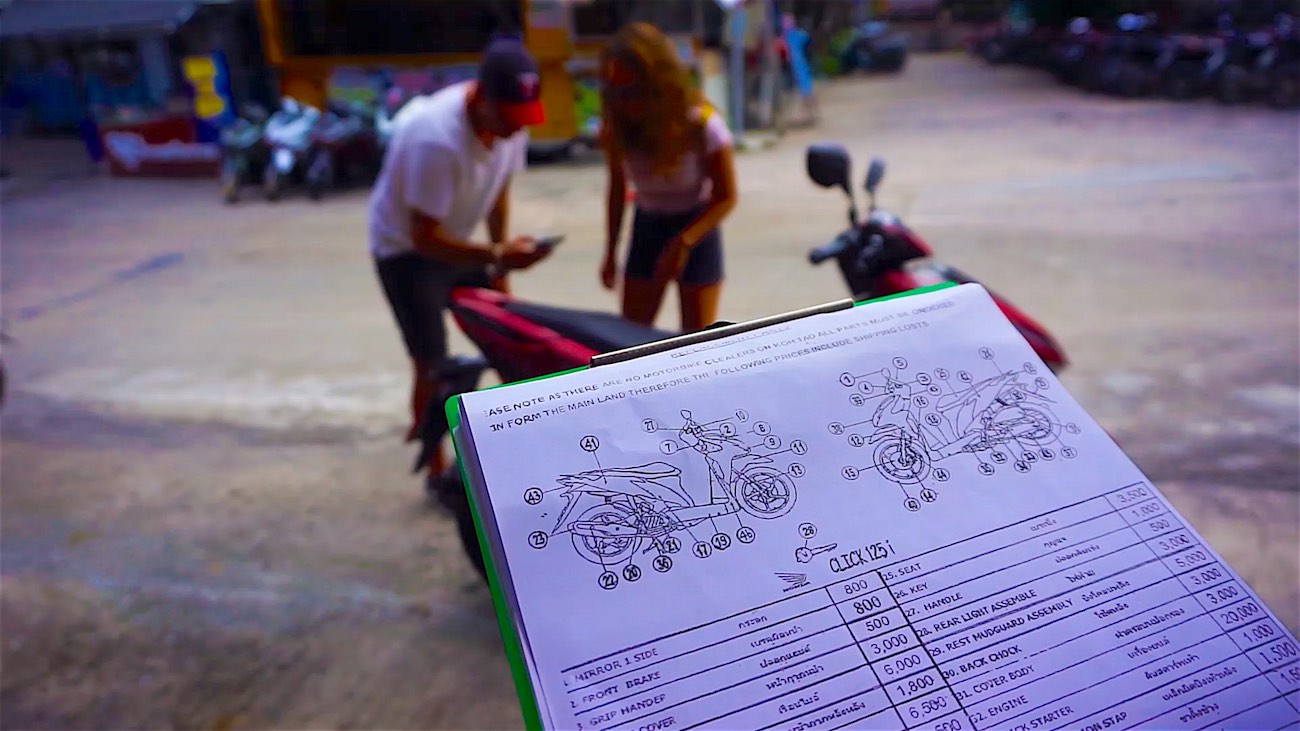 Inspect the Scooter before Renting
When you rent a motorbike or a scooter on Koh Tao, the scooter shop will ask you to complete a rental agreement.
Prior to agreeing to and signing this document, the usual procedure will be to check the scooter or motorbike.
Often the renter will point out existing damage such as small dents or scratches and will take some photos of the motorbike in its current state.
Pay attention when this is done and take photos on your phone as you will sign the agreement saying the bike is in a good and roadworthy condition.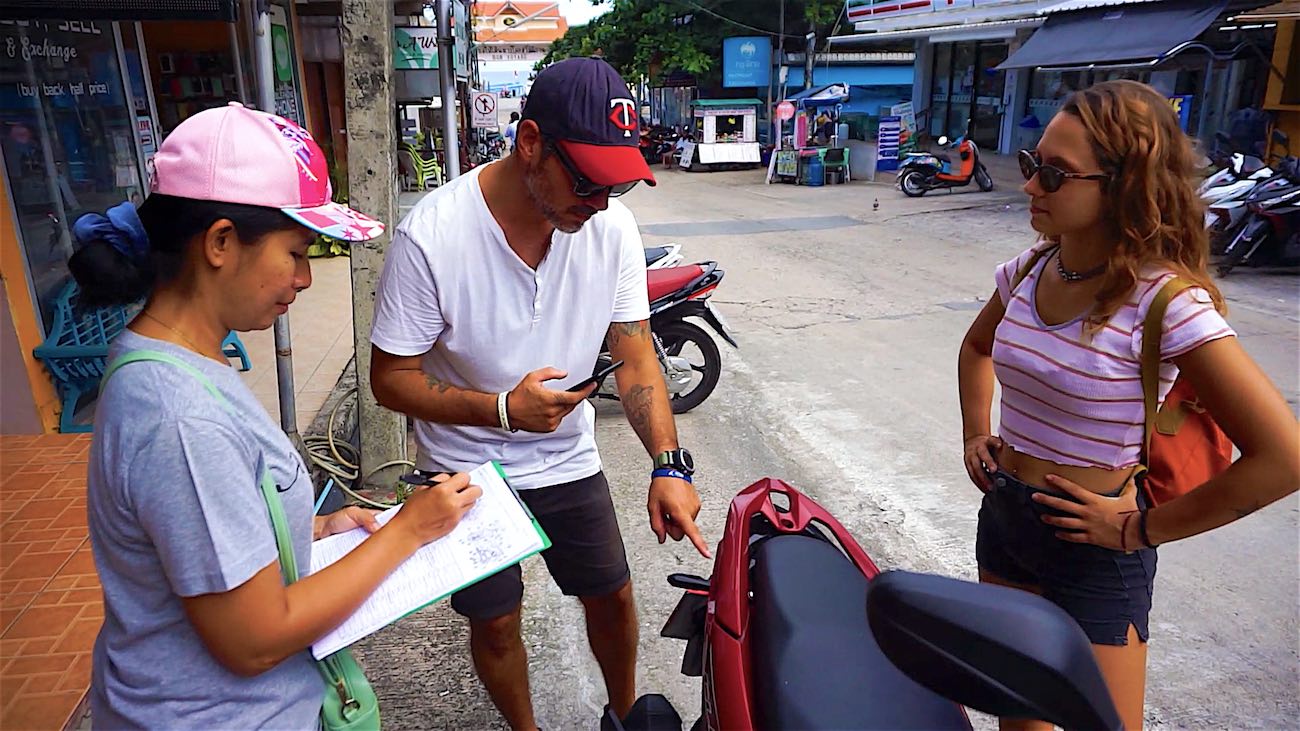 Check the Scooter
If you return the scooter or motorbike in anything but the condition as stated in the agreement you will be charged extra.
It is important you ensure the bike is in good working order, so here are a few other points you should check:
Sit on the motorbike and bounce up and down. Make sure the suspension is working well.
Adjust the mirrors so you can see behind in both right and left hand side mirrors.
Ride the motorbike forward slightly and test the brakes are working well.
Also ensure the bike is not too small. Your knees should not be sticking out – or too big, you should be able to touch the floor with both feet flat.
Make sure the helmet fits.
Check how much fuel is in the motorbike. Usually it is either almost empty, or it is expected that you return the bike with a pre agreed amount.
If allowed to, a slow drive up and down the road, or around the block will allow you to test the scooter to ensure everything is in good working order.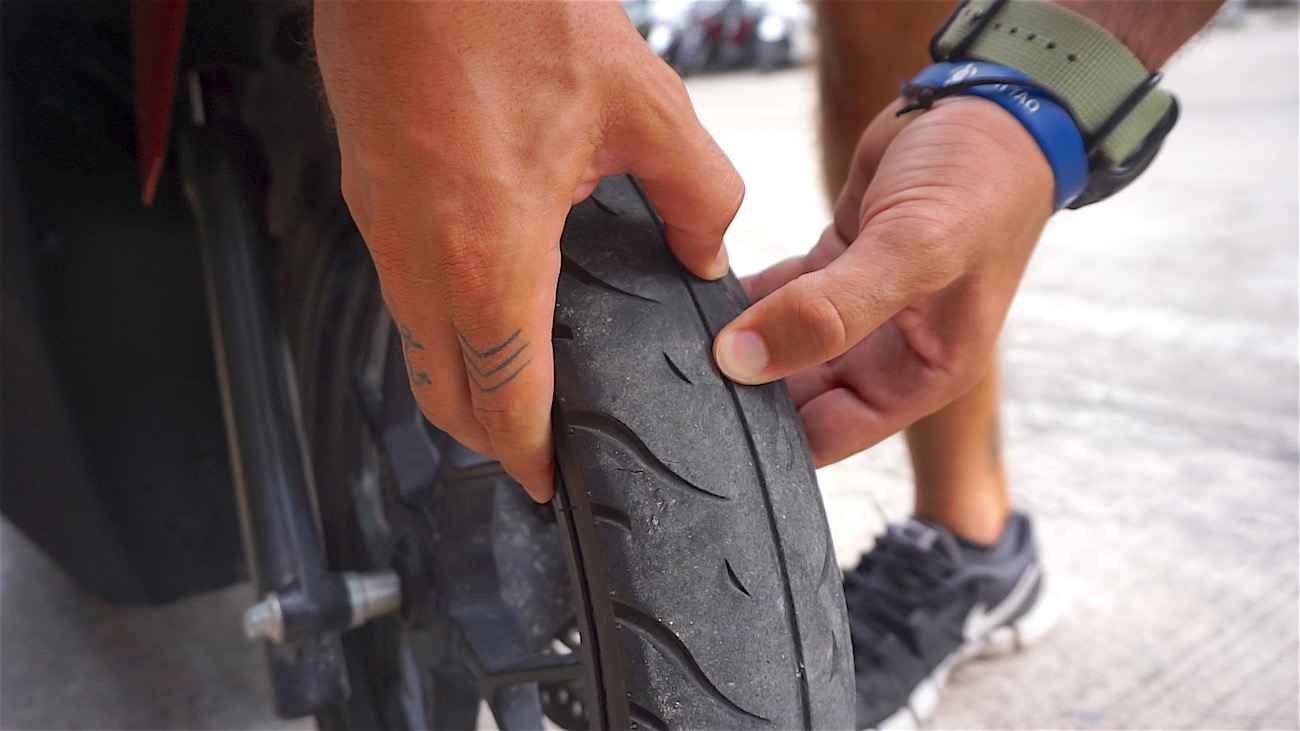 Breakdown & Repair Protocol
Sometimes you may have a small accident or get a flat tyre. If the scooter breaks down you should have the telephone number of the renter to call so they can come and pick you up.
You can inflate a tyre at most gasoline stations. Sometimes it is free if you are buying fuel, if not it will cost 10 baht. If you have a puncture, a repair should cost 100 – 150 baht.
If you do cause some minor damage it may be worth visiting one of the many mechanics on Koh Tao and getting it fixed yourself as it may be cheaper.
If you rent a scooter through us, we guarantee you will be dealing with a reputable scooter rental shop, so any repairs will be at the market rate.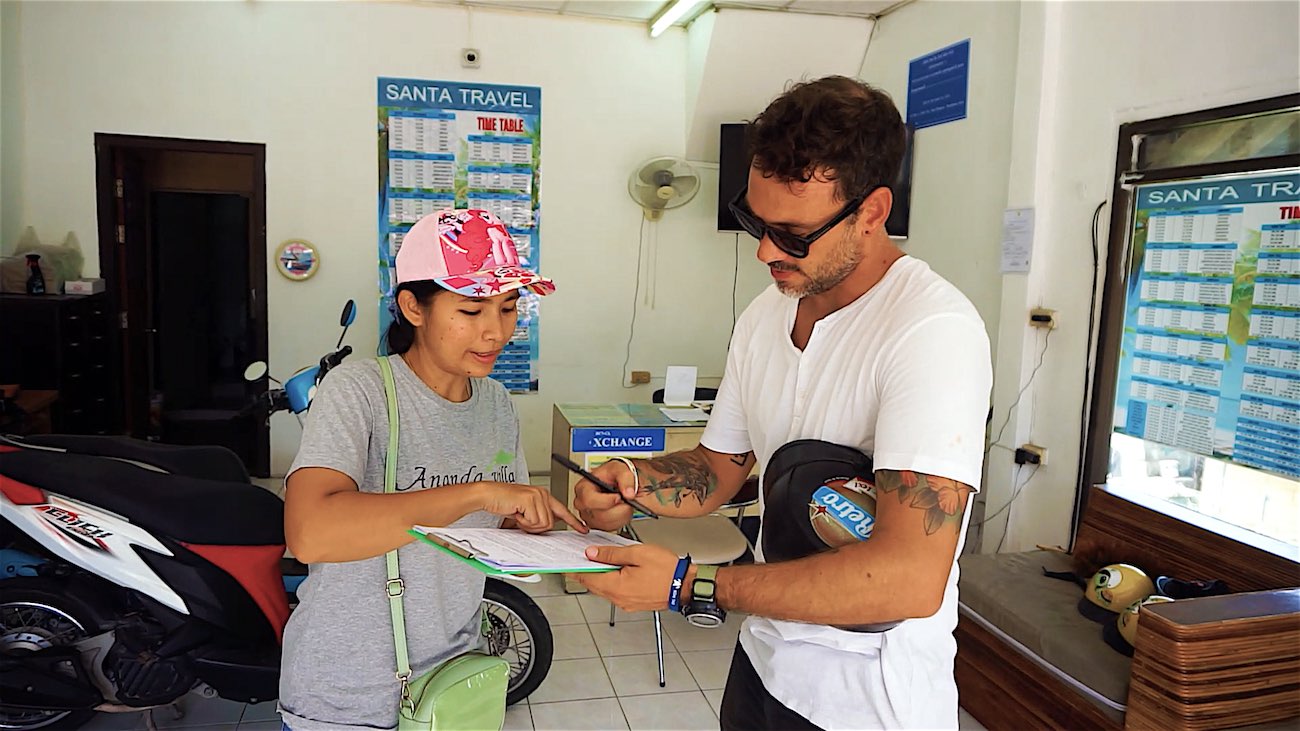 Do NOT Ride with a Pillion Passenger with No Experience
Another example of awareness and common sense. If you are relatively inexperienced at riding a scooter, do not take your friend on the back of the scooter or motorbike.
You will task load yourself and probably be the cause of an accident.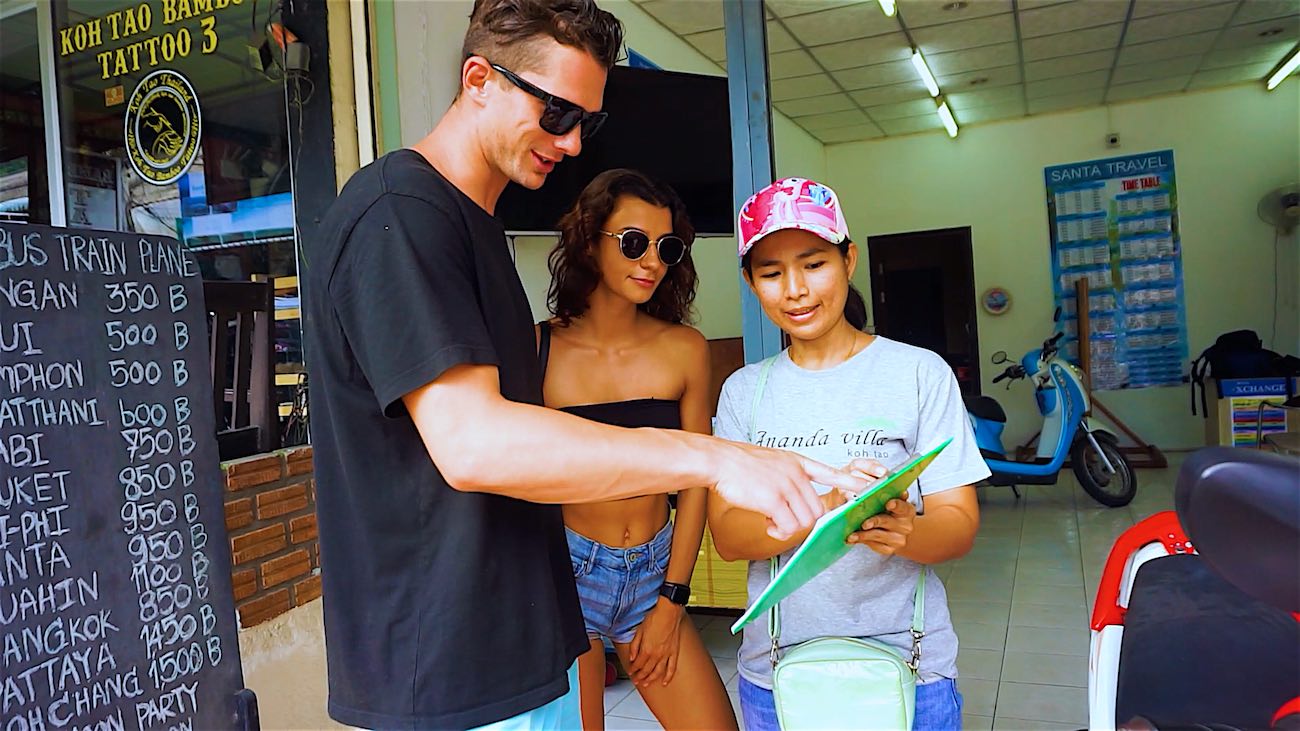 Wear Appropriate Clothing
The most common motorbike or scooter injury that tourists experience in Thailand is an exhaust burn. Referred to as a Thai tattoo and usually located on the inside of the right leg, exhaust burns hurt.
Remember the exhaust can get very hot, very quickly.
Falling off a scooter will be painful enough. By wearing appropriate clothing you will have fabric between you and the road and will reduce another common injury called road rash, otherwise known as gravel rash.
This is when somebody has had a fall, usually on dry gravel and suffers skin injuries caused by abrasions from the road surface, often when only wearing a bikini or a pair of swimming shorts.
Wearing long sleeve tops and long sleeve pants can help to minimise this type of injury should you be unlucky enough to have a small fall from your scooter.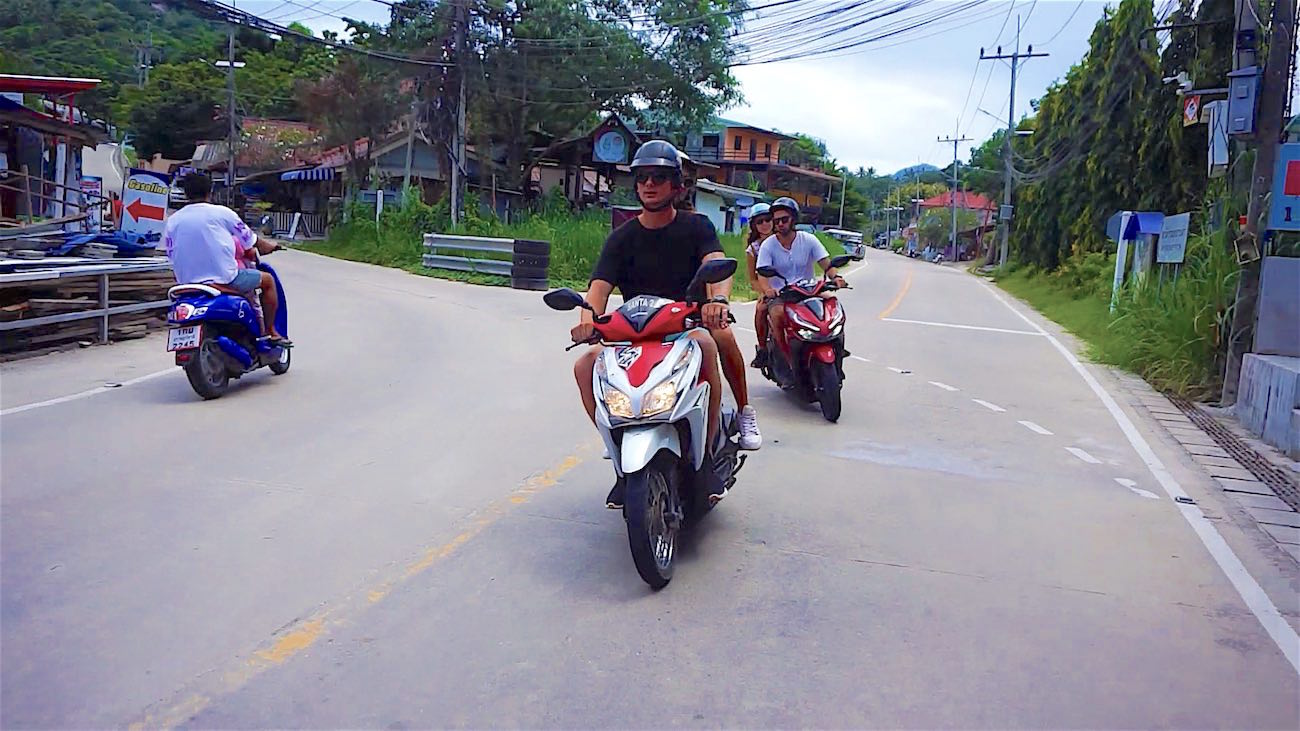 DO NOT drink Alcohol and drive
The most obvious and best tip of them all is do not drink alcohol and drive.
We can say without hesitation that unfortunately, the majority of motorbike and scooter accidents on Koh Tao are caused by the rider or riders being intoxicated or drunk.
Drink driving in Thailand is illegal and you risk being stopped, breathalysed, fined and/or imprisoned.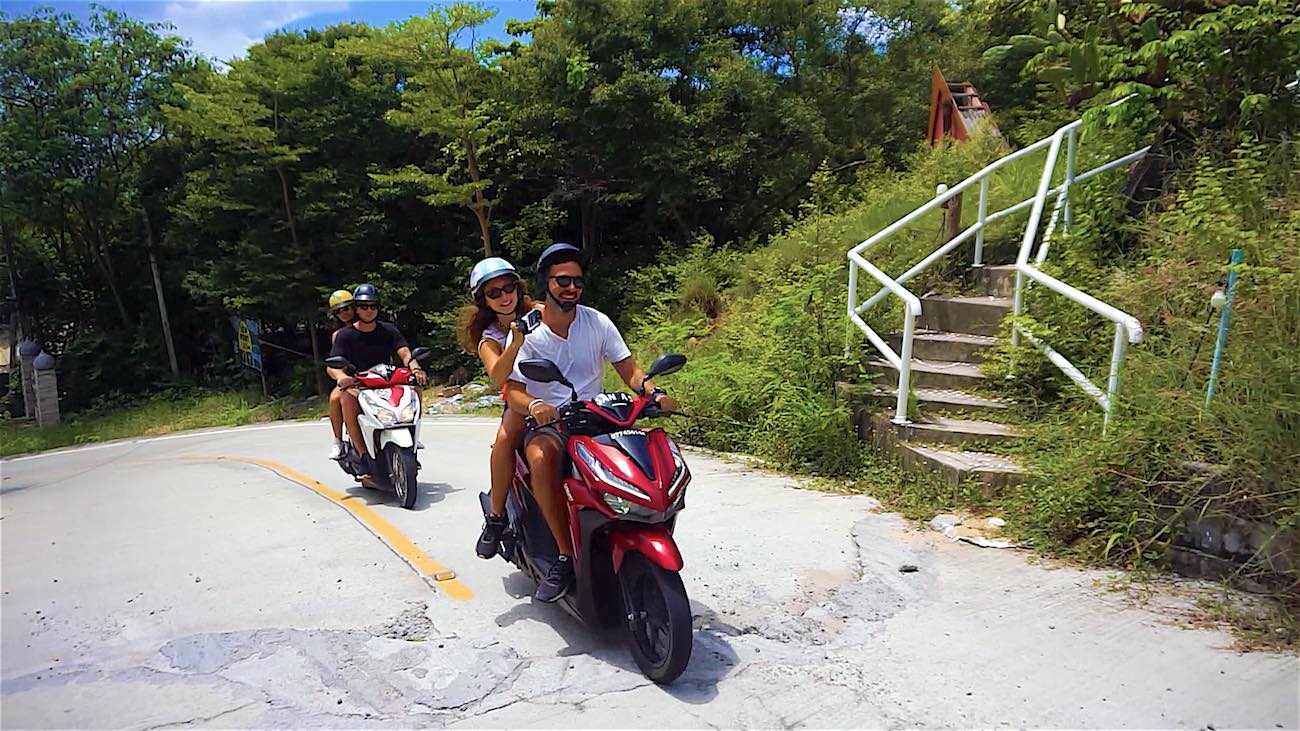 Do Not Drink & Drive
It is also highly dangerous, especially on the small roads of Koh Tao with the number of scooters on the road at certain times of the day and during the high seasons.
Riding a scooter on Koh Tao will and should be a highly enjoyable part of exploring a beautiful island in a comfortable and safe way.
Following these simple tips will help to ensure it stays that way and does not become an expensive and painful experience.
Submit A Form for Scooter Rental
Frequently Asked Questions
Is Koh Tao Scooter Rental the best way to see the island?
Yes, if you plan to visit multiple locations around the island. However, some areas of Koh Tao are inaccessible by scooter and you should not attempt to take a rental scooter on some of the remote dirt tracks.
You can get to almost every part of Koh Tao on a scooter and the parts you cannot reach, you can hike the rest of the journey.
Scooters on Koh Tao will allow you to reach the beautiful bays, beaches and Viewpoints, which is perfect if you are on a time limited travel schedule.
Is exploring Koh Tao by Scooter Safe?
Yes, exploring Koh Tao by scooter is very safe, especially after a recent concrete road upgrade.
Staying safe on a scooter requires common sense, abiding by the law and not taking the scooter onto any roads that exceed your level of experience.
You can access most areas of Koh Tao on a scooter and have lots of fun and adventure if you follow our best safety tips for scooter rental.
Is renting a scooter in Koh Tao a scam?
No, renting a scooter in Koh Tao is not a scam with many genuine scooter rental businesses around the island providing a reliable and trusted service.
Like in every other location around the world, there may be unscrupulous traders, which is why we recommend renting from a reliable and trusted source.
Follow basic common sense, intuition and ask questions before renting a scooter to give yourself peace of mind. If there are any doubts, you walk away after politely declining.
How much does it cost to rent a scooter in Koh Tao?
The cost of scooter rental will vary and can range from 150baht a day to 450baht a day.
Standard packages do not include insurance cover for scratch damage, so you need to be extra careful and the higher end at 400-450baht a day will include full cover for damaged parts and even theft of the scooter.
Scooter Insurance will not include damage to third party vehicles, only on your scooter, so you need to consider all options before renting.
It is always a good choice to add a level of insurance to the daily rental as this will cover you for accidental minor damage (scratches) caused by other persons to your scooter.
Is there any trustworthy scooter rental places in Koh Tao?
Yes, there are many trusted and reliable scooter rental companies located around the island and some resorts offer in-house rental for their customers.
Renting a scooter requires basic common sense and you need to ask direct questions before signing a rental contract, so you know exactly what is included in the rental cost.
Clear communication with the rental company before you arrive or once you are here will provide you with peace of mind.
Can I get insurance for scooter damage in Koh Tao?
Yes you can get insurance for scooter damage that happens on the scooter that you are renting.
It is always advisable to have your own separate health and medical insurance in the event of an accident that requires hospital treatment.
Our graded scooter insurance covers you for scooter damage:
Option 1 – 200baht a day is the standard rental cost with no damage insurance
Option 2 – 300baht a day for 'scratch damage', which is the most popular choice
Option 3 – 400baht a day covers damaged parts and replacement
Option 4 – 450baht a day includes full part and damage cover plus theft & loss of the scooter
Please understand that scooter insurance does not cover third party damage to other road users and vehicles or medical cover for any personal injuries to anyone including yourself.
What are the best tips for renting a scooter in Koh Tao?
The best tip for renting a scooter is to use common sense and do not drink alcohol and drive a vehicle on a public road.
If you go to a party or plan to go out and drink alcohol, the best decision you can make is do not take the scooter.
A lot of scooter accidents on Koh Tao are related to alcohol or inexperience riding a scooter beyond the level of training a person has had (if any).
Driving a scooter on Koh Tao while drunk can land you in prison or heavy fine or both and end the holiday you have worked so hard to plan and enjoy.
Here are the best tips to help you make the right decision:
Wear a helmet at all times
Drive slowly
Use Mirrors
Drive on the LEFT side of the road
Only rent a scooter based on your level of experience
Inspect the scooter before renting
Make sure you have a breakdown contact number
Do NOT ride with a passenger if you do not have experience doing so
Wear appropriate clothing
Do NOT drink alcohol and drive a scooter or a motorbike on Koh Tao
Do I have to leave my passport to rent a scooter in Koh Tao?
Not with our scooter rental service but you will need to present it at the point of rental.
A copy of the passport may be taken and/or additional official identification (driving license) required for the purposes of identification and verification.
Provide your address where you are staying on Koh Tao, communicate and build a good relationship with the rental company, trust is a two way thing.
What can I see if I rent a scooter in Koh Tao?
You can access almost all areas of the island as far as the concrete road will take you.
Some off road routes are accessible if the weather is dry but it is not advisable to try this on a standard scooter.
If you have limited time on Koh Tao, renting a scooter is the perfect way to explore as much of the island as you can.
You can easily reach most of the beautiful bays, white sandy beaches and stunning viewpoints.
Do I have to wear a helmet if I rent a scooter in Koh Tao?
Just like it is legally required in other countries to wear a helmet, it is the same in Thailand.
You can be stopped and fined and end up ruining your day and paying for the privilege by not wearing a helmet on a scooter.
Besides the cost, if you have an accident, the helmet will provide you with a level of protection and help avoid extremely high emergency medical costs.
It is one of our highly recommended safety tips – always wear a helmet.