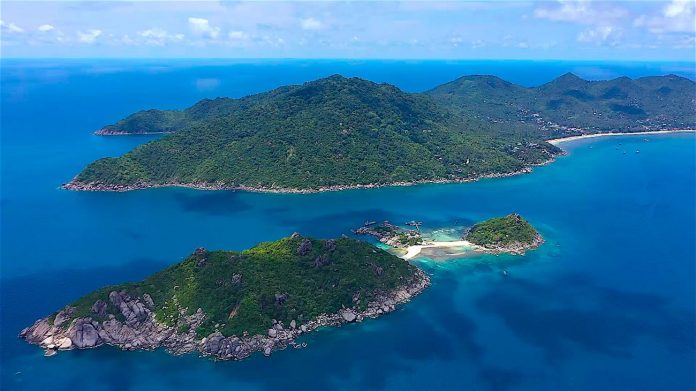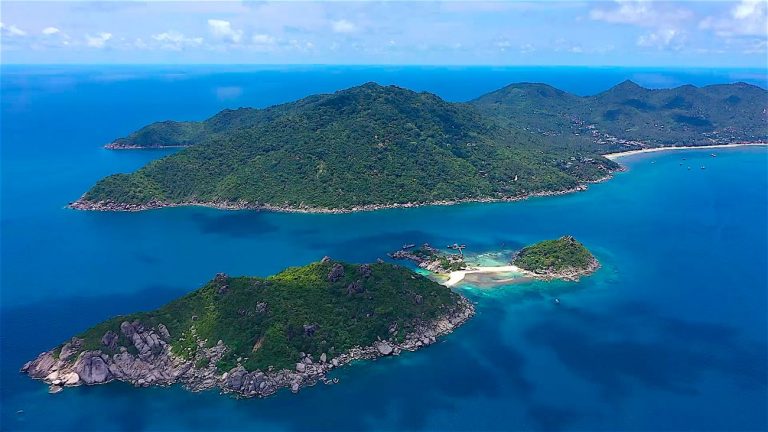 Koh Nang Yuan Travel Destination
Top of your bucket list when visiting Koh Tao should be to make a day trip to Koh Nang Yuan, the small island that is located off the north west coast of Koh Tao.
Koh Nang Yuan is actually three small islands connected by a sandbar or beach, which allows you to walk across from one side to the other during low tide.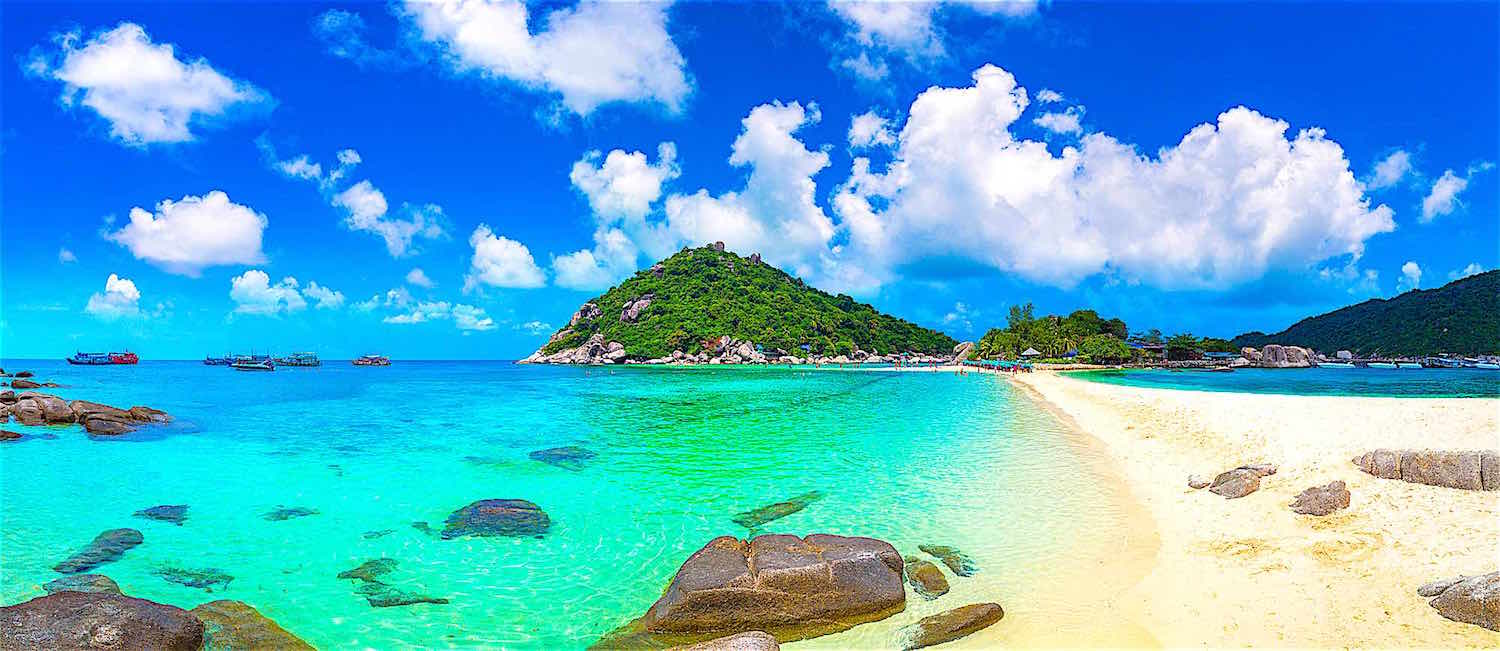 Tropical Marine Life
It is a postcard picture perfect place, one that you may have seen in your dreams, when travelling an exotic faraway land with soft white sandy beaches.
The sea surrounding Koh Nang Yuan has clear turquoise blue water overflowing with an abundance of tropical marine life.
You can witness a kaleidoscope of color within living coral reefs and a vibrant marine ecosystem that provides you with an almost psychedelic experience.
If you need more reasons to visit this island paradise, read our recommendations: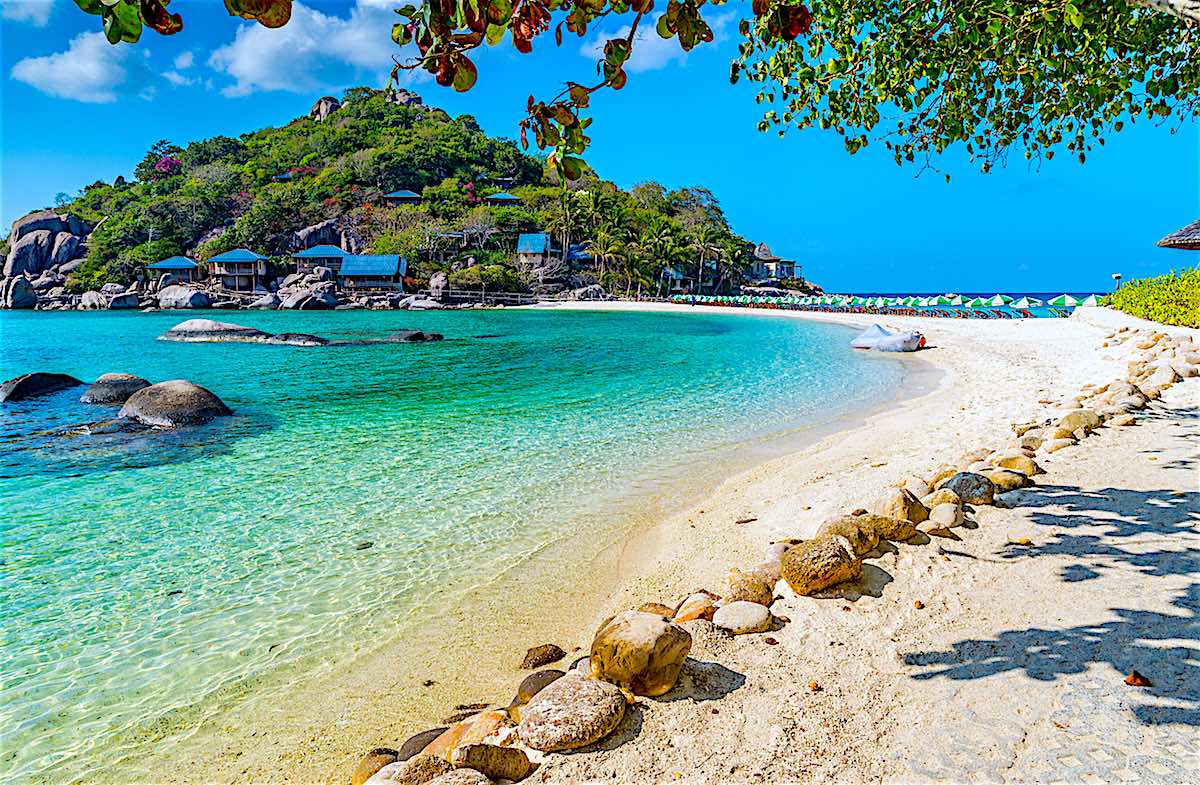 Koh Nang Yuan is a Bucket List Destination
1. Longtail Taxi Boat Ride
Koh Nang Yuan is a 15 -20minute journey from the west side of Koh Tao from either Sairee beach or Mae Haad beach.
By far the most romantic and certainly Thai way, not to mention the cheapest and relatively easy way, is to hire a longtail boat and a driver.
You can pay per person and arrange with the driver to collect you at an agreed time for the return trip, or agree a price and hire the longtail boat for the entire day.
Longtail Taxi Boat
You can organise a longtail taxi boat at almost every location along Sairee Beach and if you are staying in Mae Haad you can arrange it along the stretch of beach next to Breeze restaurant down to the Koh Tao Regal hotel.
Another great reason to take a longtail is the drivers are all local independents that own and operate their longtail boat and your money is going directly to them.
The journey is great fun, it adds a cultural perspective to the day and it may be the only time you get the opportunity to travel in such an iconic Thai mode of transport.
The longtail taxi boat is to the south of Thailand what the Tuk Tuk is to Bangkok.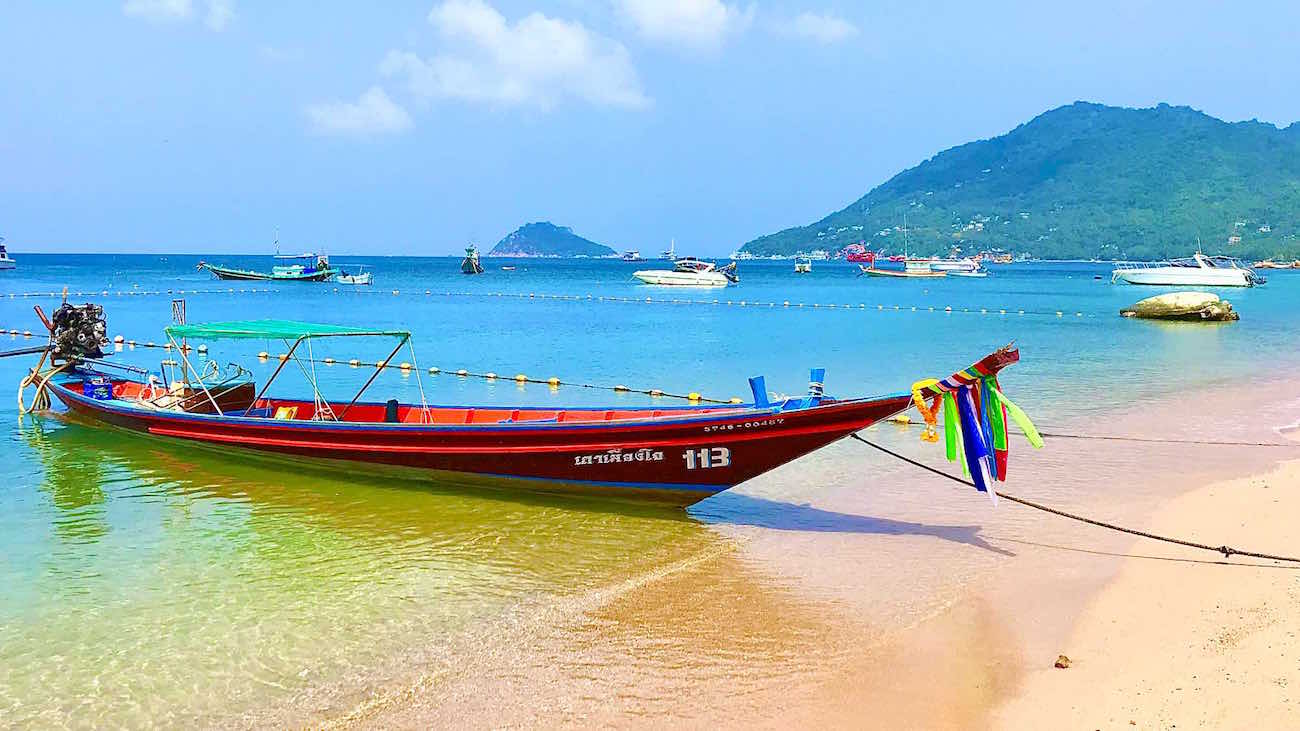 Kayaking to Koh Nang Yuan Island
Another method of transport to get to Koh Nang Yuan is by kayaking, although you need to be relatively fit and have some experience with a kayak.
There are lots of places on the beaches in Mae Haad and Sairee that rent Kayaks and on a nice day when the ocean is calm this is a great way to see both the islands.
Kayaking
The fitness will be needed if the weather changes or there are a few waves.
One thing you need to be aware of is that Koh Nang Yuan is a privately owned island and visitors are charged 100baht upon arrival.
Koh Nang Yuan has a strict no plastics policy and you cannot take plastic water bottles onto the island. You can buy water in reusable glass bottles and other refreshments once you arrive.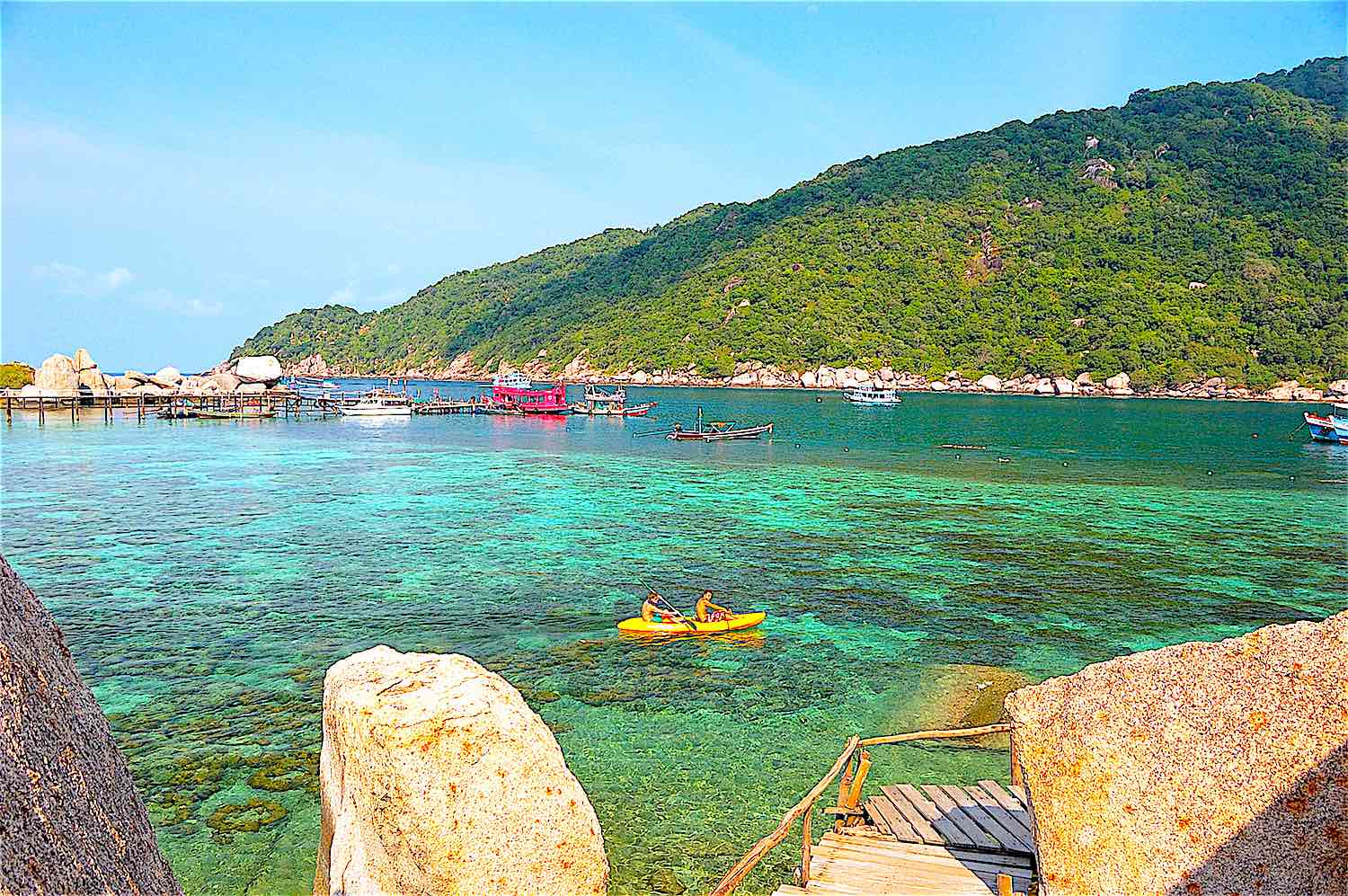 2. Beaches on Koh Nang Yuan
The multiple soft white sandbars that connect these three land masses are truly stunning and a great place to relax and top up your sun tan.
They are possibly the most important part of the stunning landscape that make this day trip such an important part of the visitor bucket list.
Popular Beaches
A lot depends on the day you visit, the time of year, the tide and a lot of this is down to the weather and a bit of luck.
The beaches can get quite busy with sunbathers on nothing more than a thin strip of white sand, or a wide stretch of deserted paradise, where your footsteps are the only ones in the sand.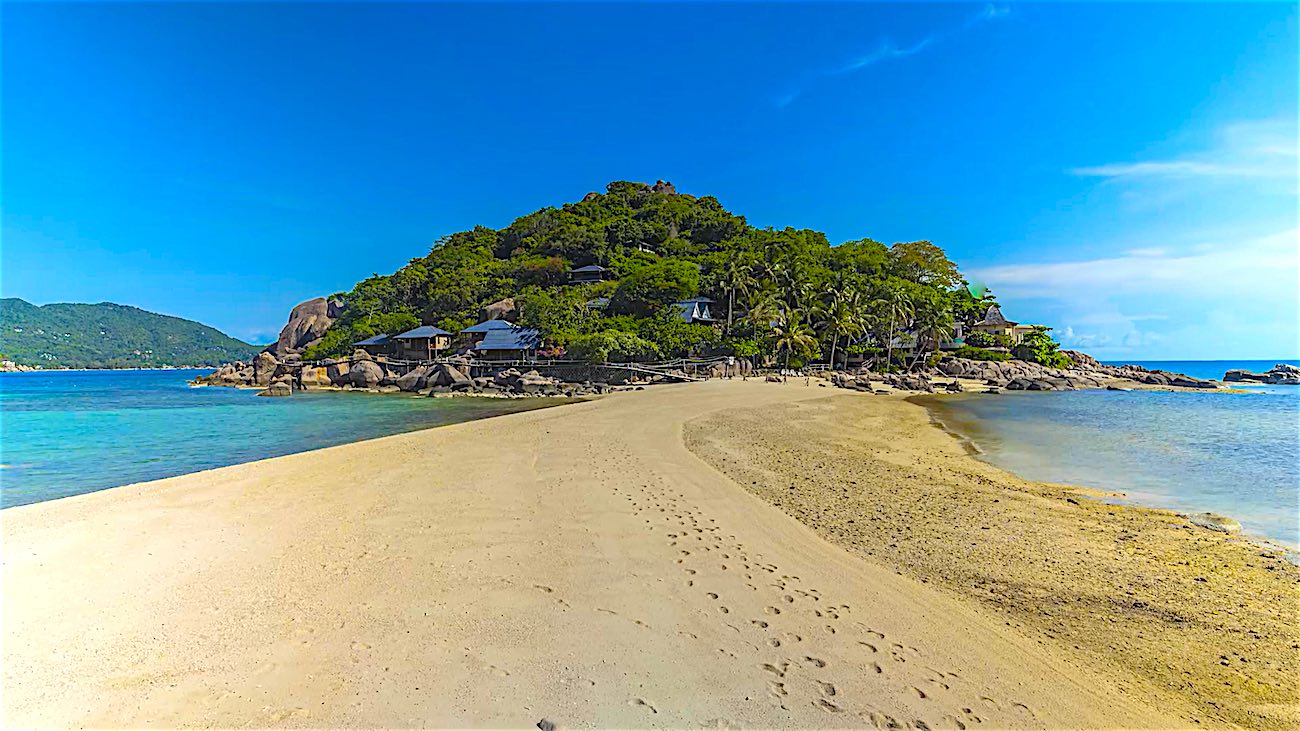 Koh Nang Yuan Amazing Beaches
Koh Nang Yuan starts to get busy around 09.30 and generally will stay busy for most of the day before completely clearing by around 16.30pm.
If you want some time on the beach to experience it without the crowds, then get there early or stay until close. All visitors to the island are asked to leave by 17.00.
Obey the Rules
When visiting Koh Nang Yuan, pay attention to the rules. One rule is that you are not allowed to lay your own beach towel on the sand.
Beach Towels collect sand and we are told the rule is through concern for the amount of sand that people take with them. You can however, rent a lounge chair and umbrella.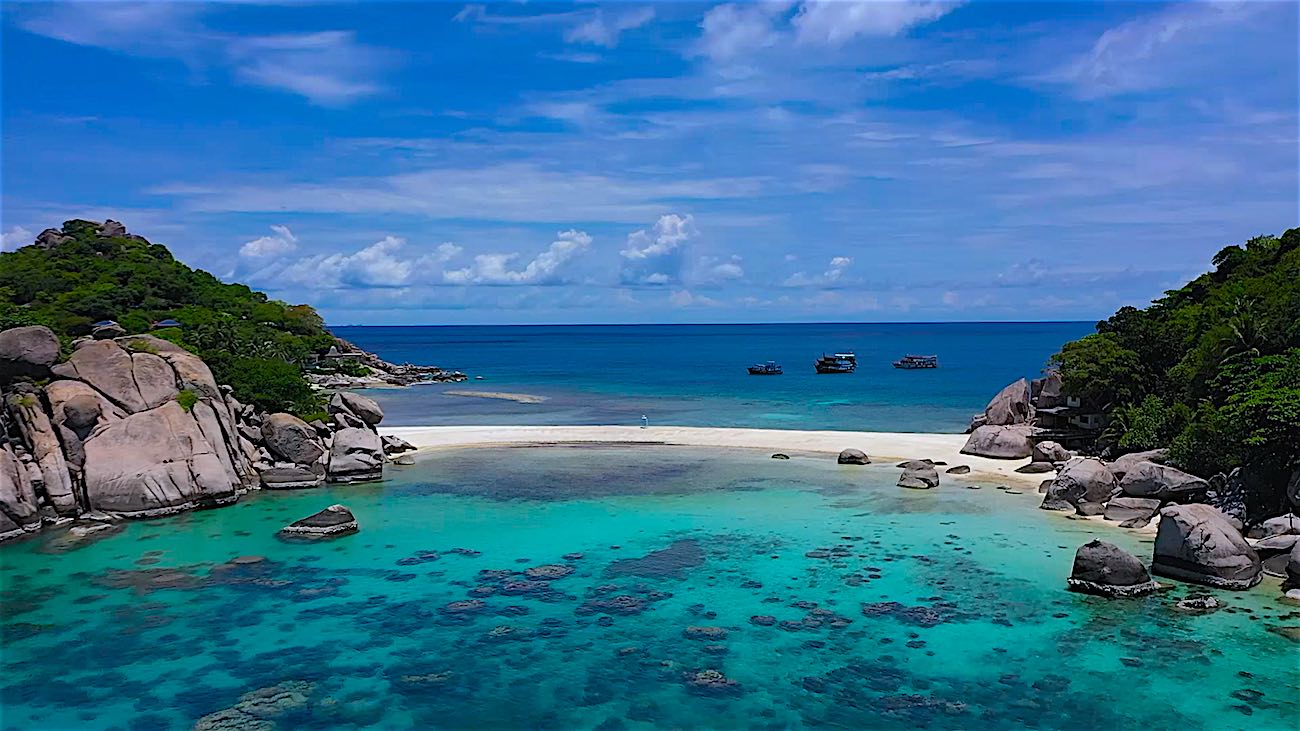 3. Snorkeling on Koh Nang Yuan
The shallow coral reefs surrounding Koh Nang Yuan offer one of the best snorkeling locations in Thailand.
You can surround yourself with a variety of corals and lots of reef fish including Parrotfish, butterfly fish, angelfish, blue spotted ribbontail sting rays and if you are lucky a sea turtle.
The Freediving community on Koh Tao regularly report black tip reef sharks along the south coastline of Koh Nang Yuan and we also see Eagle rays from time to time when snorkeling and on scuba equipment.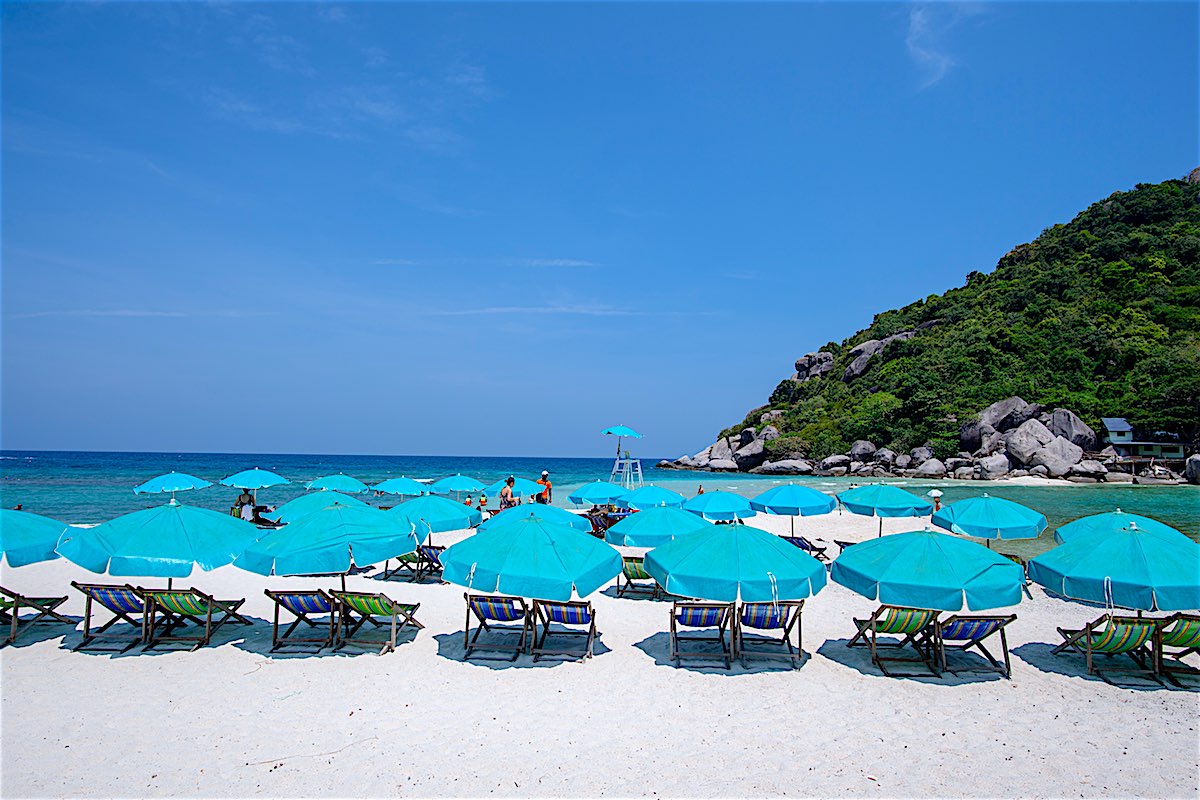 Warm Tropical Sea
The water is mostly calm and clear due to the shelter the islands provide and on a good day, especially in shallow water, it is like snorkeling in an aquarium.
There is a safe swimming and snorkeling area, protected from boat traffic, which makes seeing lots of exciting and colourful marine life very easy.
You can bring your own mask and snorkel or rent from the Nang Yuan dive shop on the island itself.
Japanese Gardens
The main snorkeling site for visitors is Japanese Gardens, situated on the east side of Koh Nang Yuan.
The site is suitable for beginners and you can snorkel right from the beach, as the bottom slopes away from the sandbar gradually.
You can also snorkel along the various coastlines of the islands, which are especially colourful along the east side.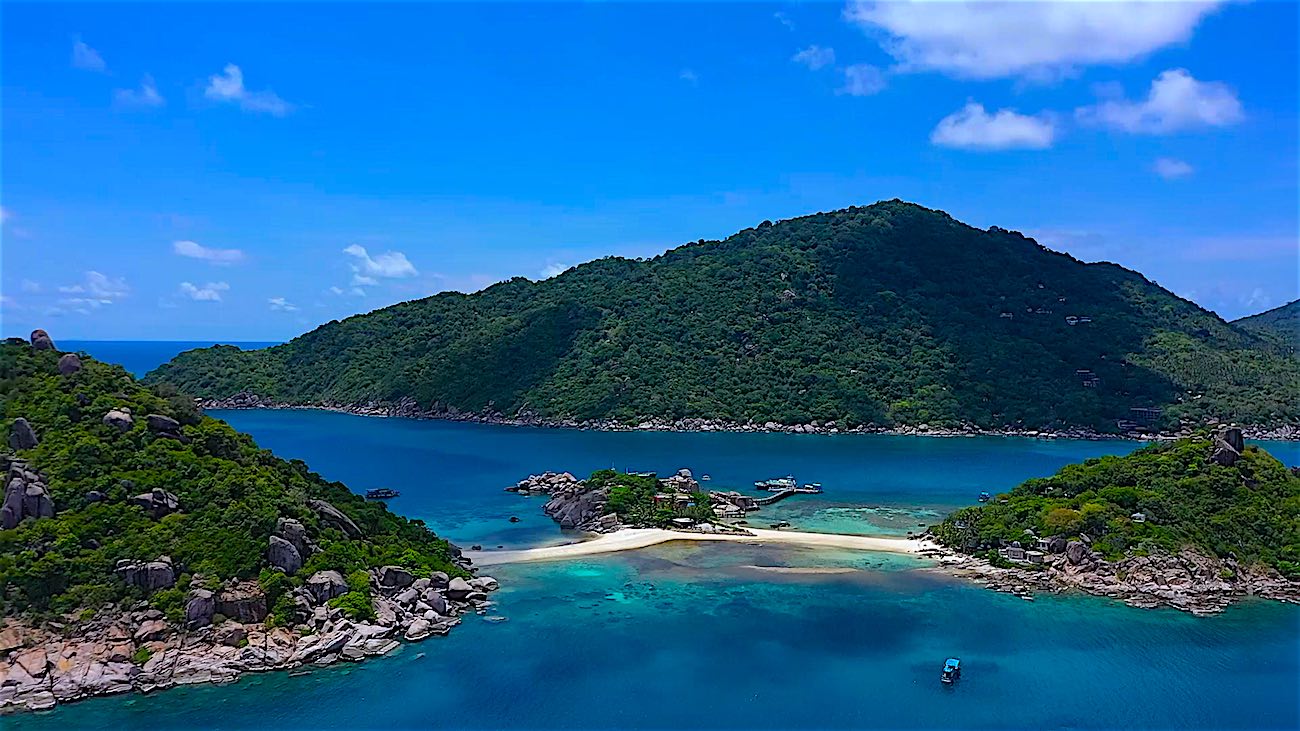 There are a few things you need to remember if you decide to snorkel.
Do not stand on the Coral Reef
Do not touch any marine life
Do not feed the fish
Wear a rash vest to protect from sun burn
Use Eco friendly Sunscreen – Reef repair reefrepair.com
Other than those simple rules have lots of fun.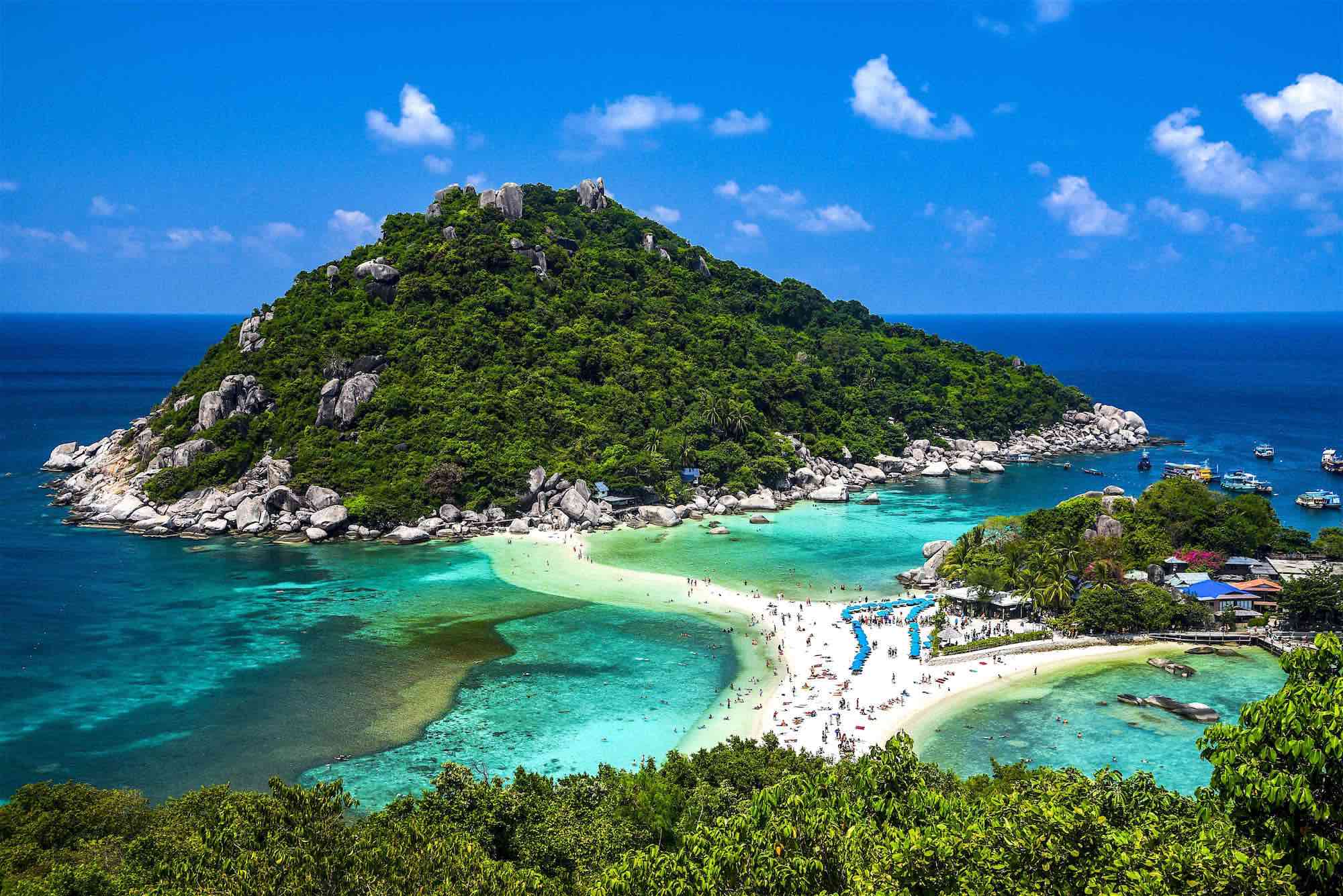 4. Koh Nang Yuan Viewpoint
One of the highlights of any Instagram reel of Koh Tao and to compliment your entire trip is that iconic panoramic image of Koh Nang Yuan.
After all, maybe that postcard picture is the reason you planned to visit Koh Nang Yuan in the first place.
For you to get that iconic photograph with yourself in it, you must walk up to the Koh Nang Yuan viewpoint.
Postcard Picture
It is one of 4 viewpoints we highly recommend to visit for anyone staying on Koh Tao more than a few days.
It takes 10-15 minutes to reach the viewpoint, which is the highest peak on Koh Nang Yuan.
Our advice is to visit the viewpoint early before the island gets busy or stay late after 3:30 in the afternoon.
At this time, it is a little cooler but more importantly, there are less people on the island and the beach should be relatively deserted, which makes your photo that much better.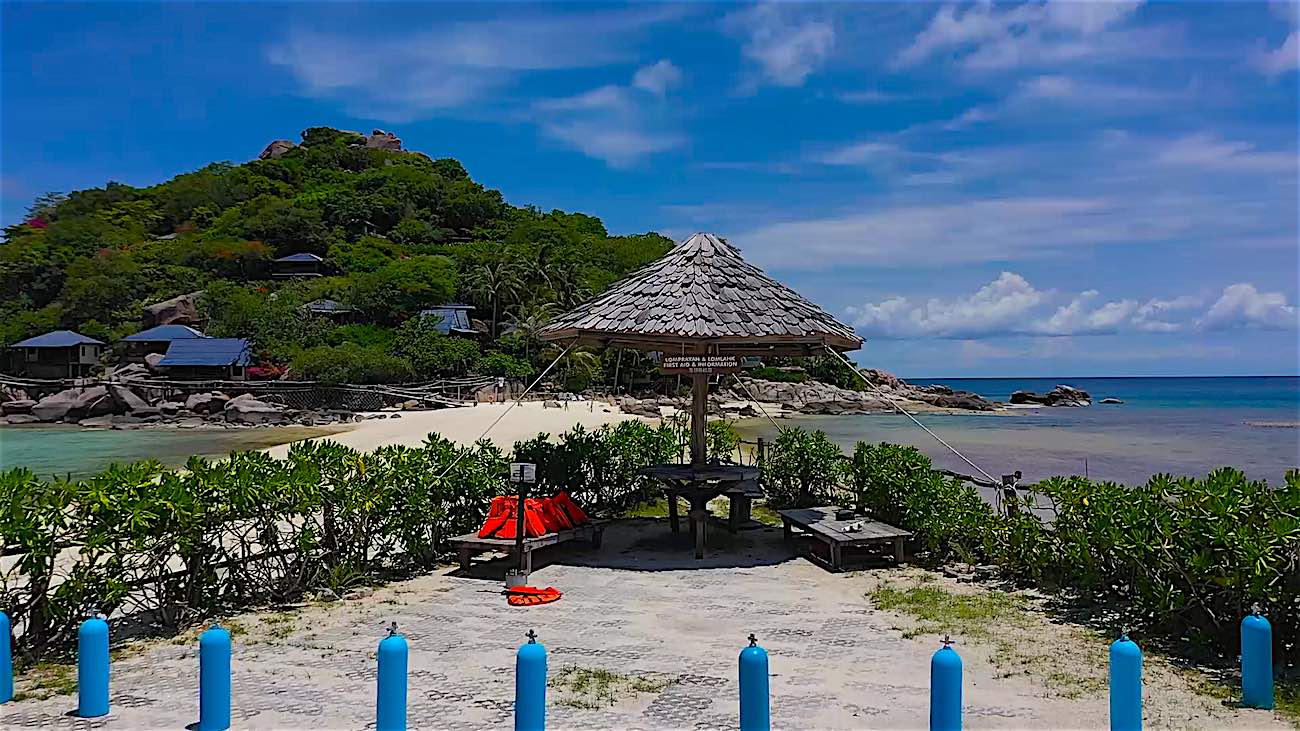 5. Scuba Diving in Koh Tao
And finally, do not forget the scuba diving.
We are not suggesting you have to do this all in one day and for many the snorkeling will be more than enough time in the water.
If you are a scuba diver or you want to complete a supervised try dive, there are few better places than Koh Nang Yuan to do this.
Discover Scuba Diving
To enjoy a try dive at Kon Nang Yuan, you will need to put some additional effort into planning your trip.
You can contact one of the many dive centres on Koh Tao, or contact the Koh Nang Yuan Dive resort and book a dive with them for the day you plan to visit.
Koh Nang Yuan has 6 dive sites that surround it. Japanese Gardens is on the east side of the islands and although easy to snorkel, it is also dived a lot by scuba divers.
Red Rock dive site is a Pinnacle just off Koh Nang Yuan situated on the east side, a little further north than Japanese Gardens and deeper with a maximum depth of approximately 20 metres.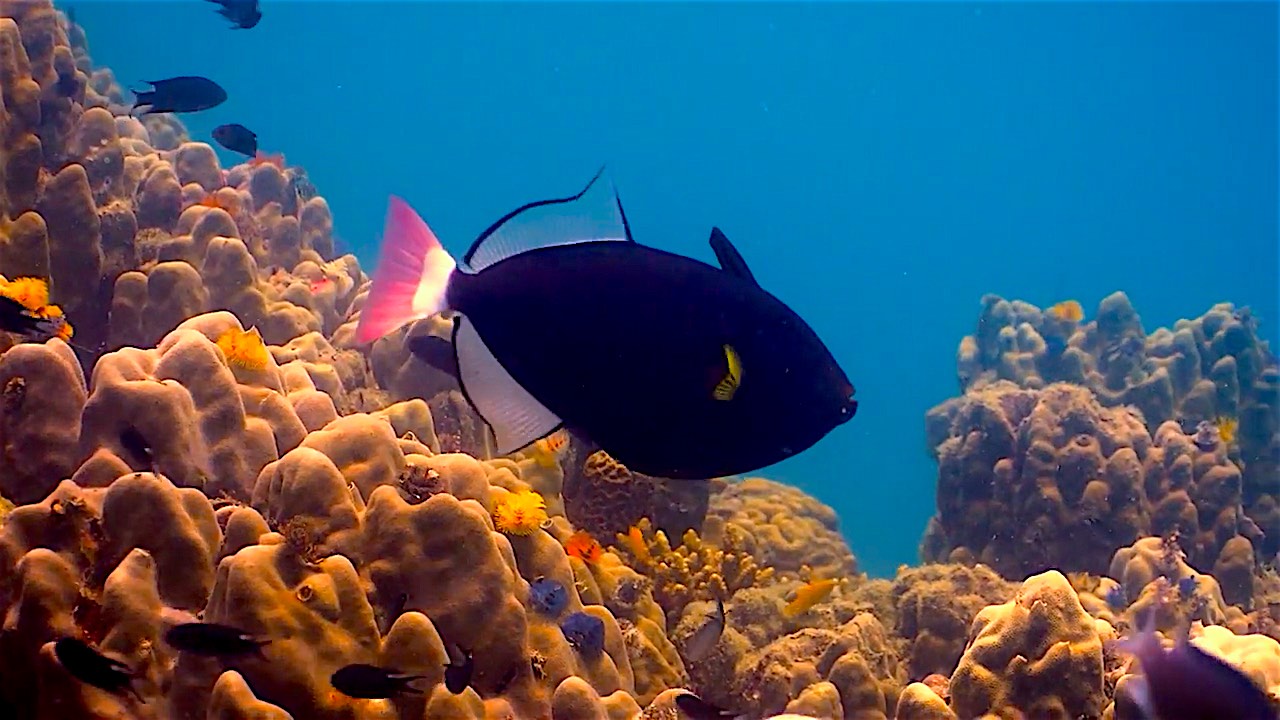 Koh Nang Yuan Dive Sites
Descend down onto the Pinnacle and circle it before heading west to the shoreline to explore the caves and swim through with lots of marine life to see including the Pink tailed triggerfish.
If you are lucky you will see a Jenkins Whipray inside the cave where they are known to hide, although they are easily disturbed and will take off if they hear you coming.
Located on the north west of Koh Nang Yuan is Green Rock dive site, which is more suited to advanced divers as it has greater depth and it often has a current.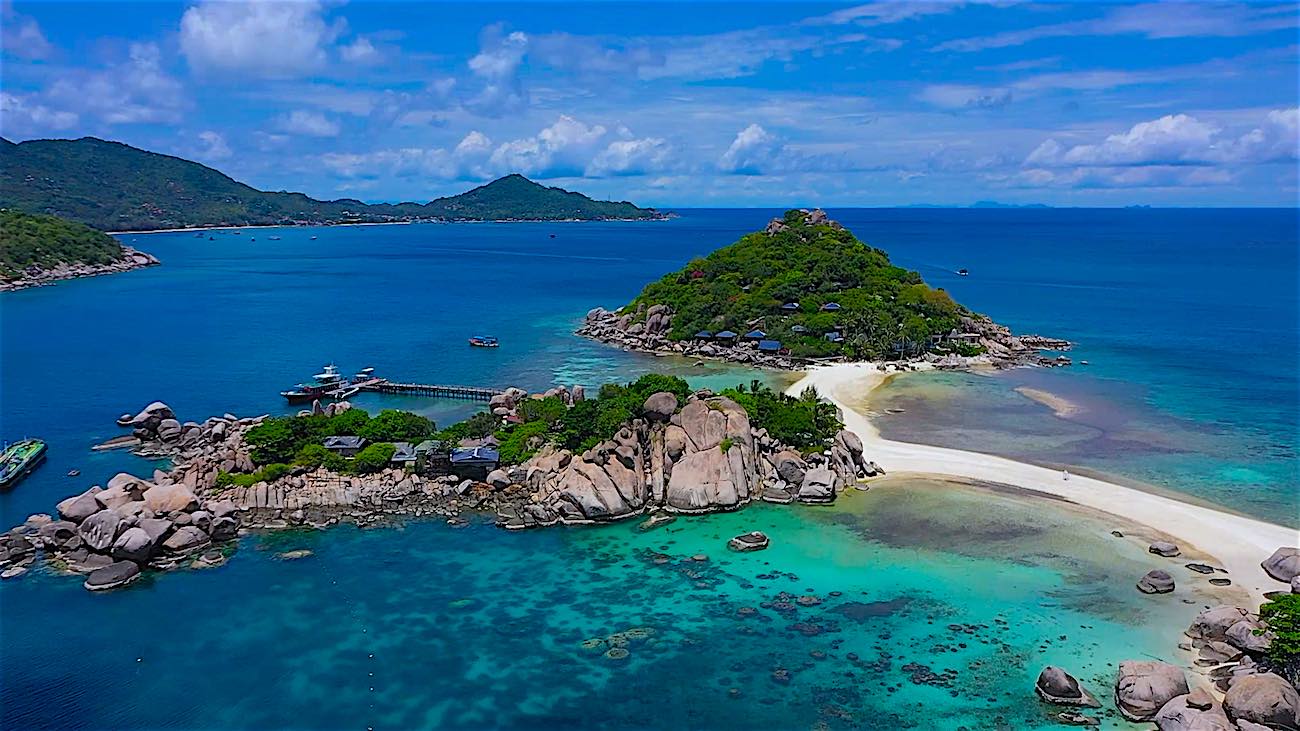 Green Rock Dive Site Koh Nang Yuan
The main part of the dive site is a series of huge boulders and underwater rock formations that have evolved into swim throughs and caves, making this an interesting and exciting dive.
The dive site depths at Green Rock range from 3metres at the top of the rock to around 28 metres.
There is always a lot to see at Green Rock including schooling yellowtail barracuda, circling near the top of the rock and harlequin sweetlips inside the caves, with white eyed moray eels hiding in the cracks and crevices.
Trigger Fish
The most interesting part of this dive are the trigger pits.
Over on the north of the main dive site, Titan and Yellow margin Triggerfish make their nests in a barren, moon-like landscape, right in the middle of a large sandy area.
This can be very exciting, but also quite an intimidating experience for the inexperienced diver during Triggerfish breeding season.
Our advice is to be cautious, seek local professional guidance and keep your distance.
As you may have heard, Triggerfish can get quite aggressive when protecting the nesting females and young.
Scuba Diving at Koh Nang Yuan
Located on the south west side of Koh Nang Yuan are 3 more dive sites. One of them is aptly named No Name Pinnacle and is small and used as an alternative deep dive site by the dive centres on Koh Tao.
This is especially popular during the monsoon season when it is one of the few dive sites you can dive at, offering protection from the north easterly winds.
Another dive site is buoyancy world, which is an artificial dive site designed and built by the local scuba diving community.
Buoyancy World
This site is popular with novice divers as they can use it to find their feet….or should we say find their fins when they first start to dive.
The idea and concept behind this dive site is to help prevent novice divers damaging the natural coral reefs and it helps to alleviate pressure off the neighbouring dive sites.
The final dive site and quite possibly the most popular dive site around Koh Nang Yuan is Twins Pinnacles.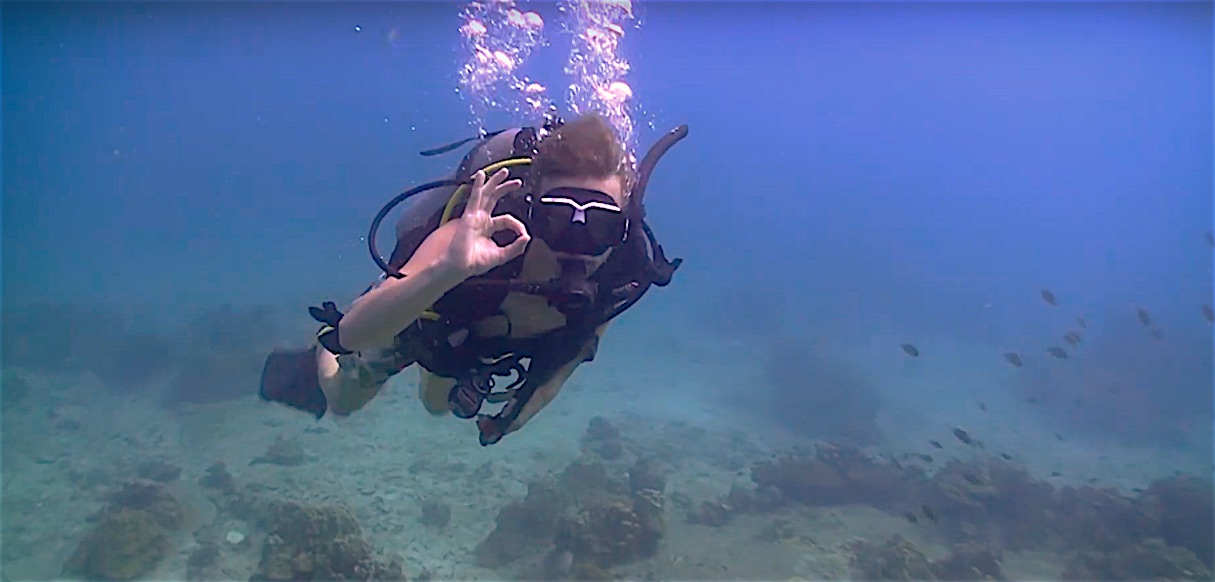 Twins Dive Site Koh Nang Yuan
Twins offers a fantastic surface view of Koh Nang Yuan and another Instagram worthy photo opportunity of Nang Yuan Twin peaks.
The dive site is also a pretty good dive site too and for a number of reasons one of the most popular around Koh Tao.
Underwater, Twins consists of three peaks made from granite rock, which are encrusted with living coral reef.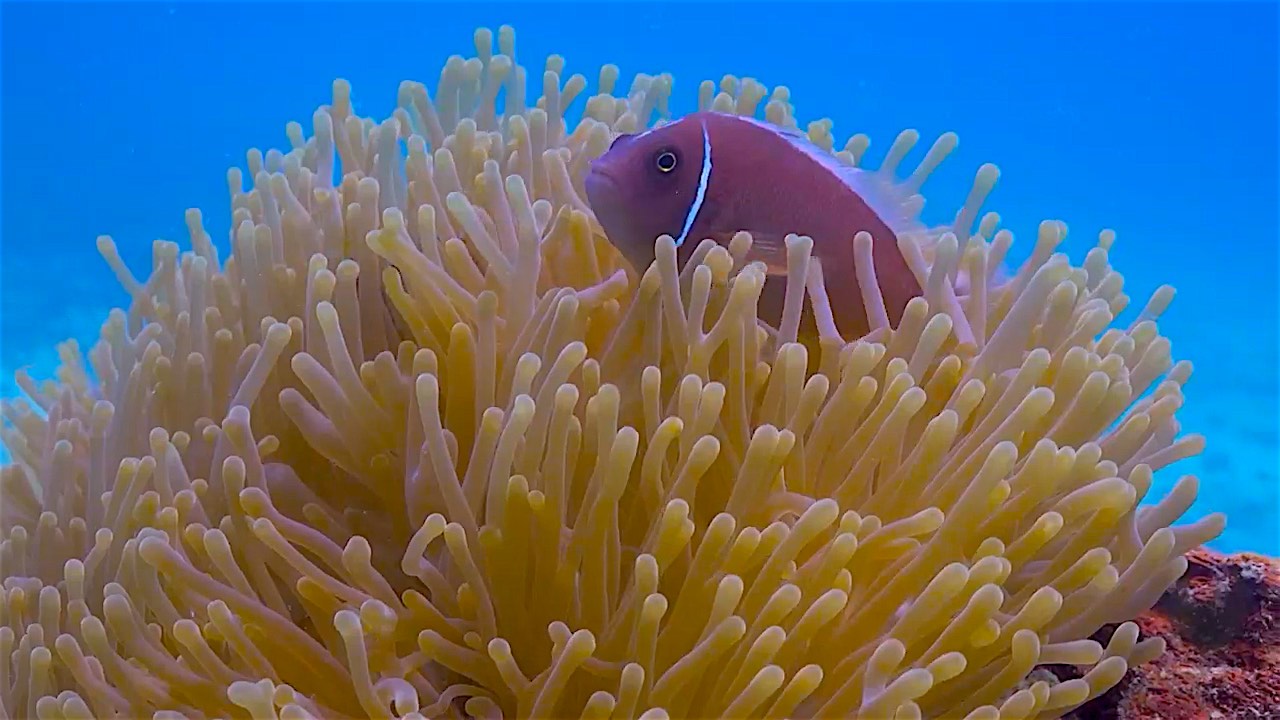 Marine Diversity
The deepest part is around 20 metres and you will spend a few minutes there before heading into shallower water where there is an abundance of marine life.
Whilst in the deepest part you may see large adult Longface Emperor fish and if you look out into the deep blue, you will see large Trevally coming in from the depths looking for a feed.
The middle peak offers an archway carved out of rock to swim through and an abundance of reef fish to immerse yourself in.
Popular fish here include butterfly fish, angel fish swimming around in pairs, goby and shrimp symbiosis, lots of nudibranch and pipe fish if macro interests you.
Nemo – Saddleback Clownfish
Swim around to the south east side and you will find Nemo – a saddleback clownfish with his family, living in a sea anemone. Nemo is the dive sites most famous resident.
If you swim to the shallowest peak you will find blue spotted ribbontail stingrays under ledges and hiding in the shadows created by the small overhangs.
Keep looking out for moray eels hiding in holes and crevices and this dive site is always a good one to see a Hawksbill and Green sea turtle at.
Like Japanese Gardens this dive site also offers snorkeling opportunities.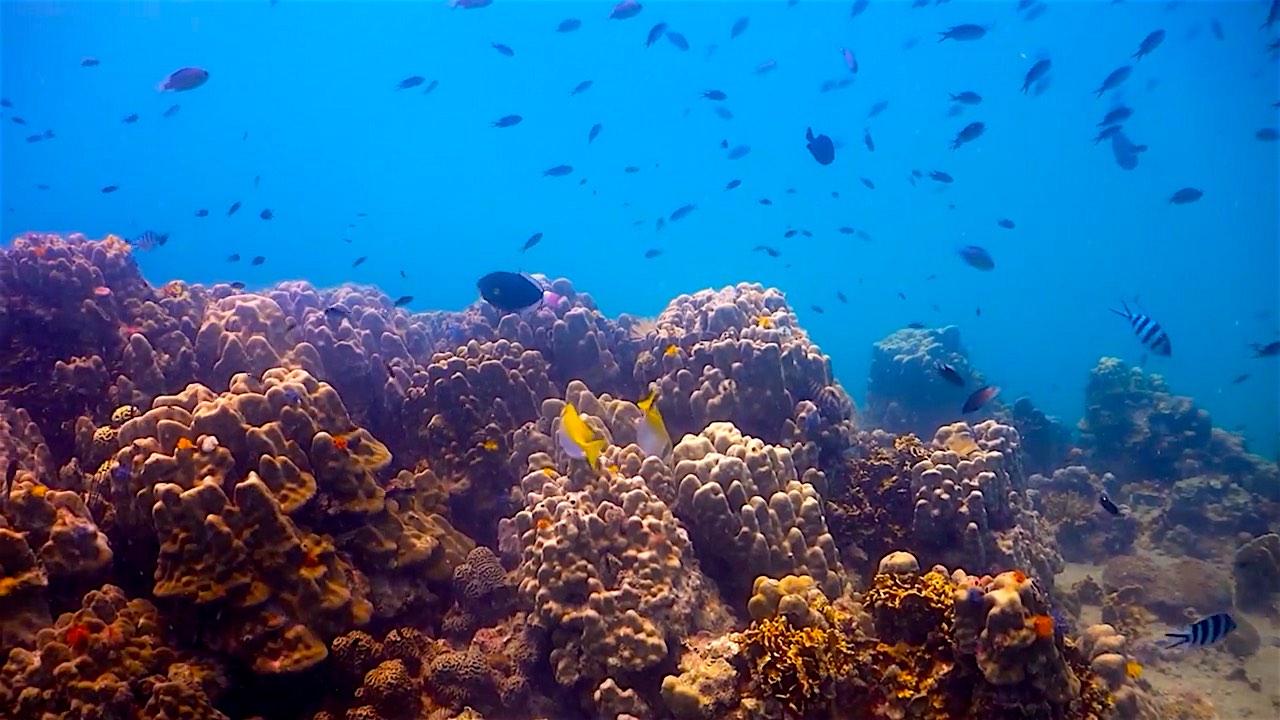 A Day Trip to Koh Nang Yuan
Anyone who spends more than a day on Koh Tao must visit Koh Nang Yuan. If you can spare an entire day you will not be disappointed and can enjoy an action packed fulfilling day.
There is also a restaurant on the island where you can have lunch, although it may be a little more expensive than on Koh Tao and it may offer a limited menu, but it is ideal to keep you going.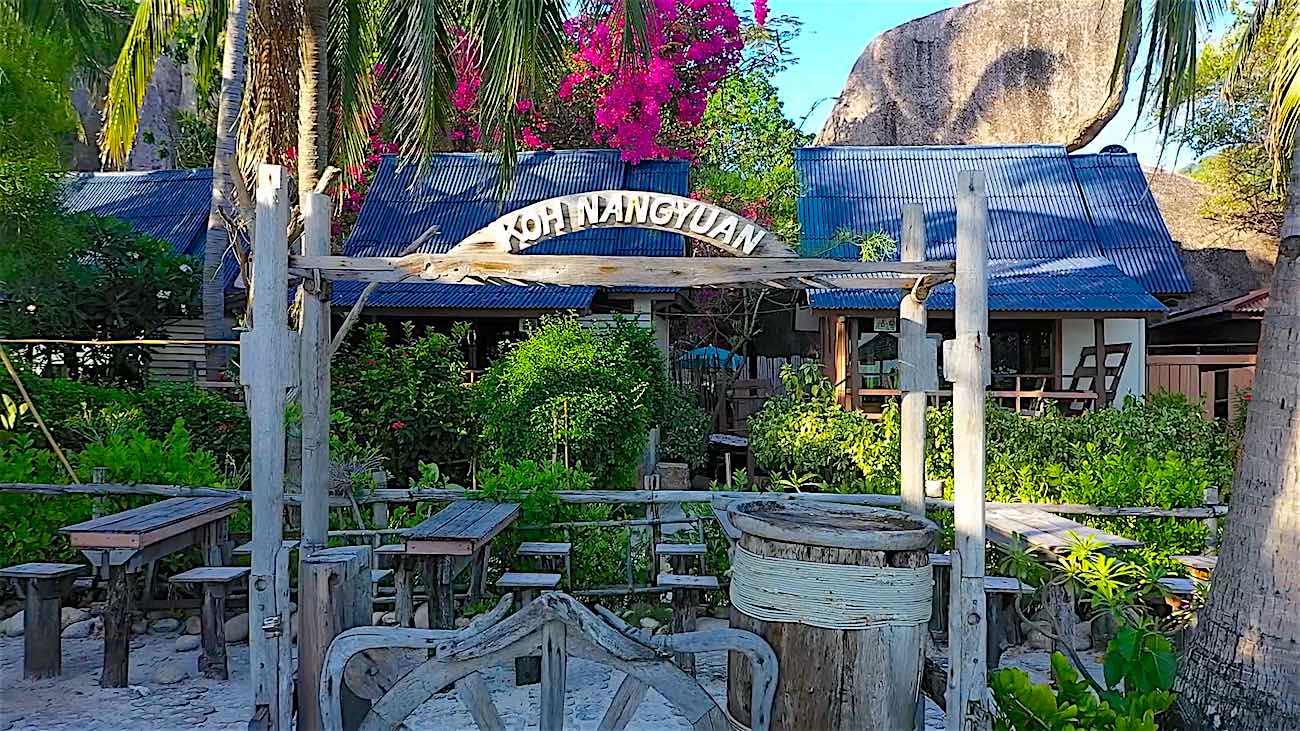 Food & Drink
Unless you are staying at the only resort on the island, you must leave by 17.00pm, which gives you more than enough time to explore this beautiful place.
A Koh Nang Yuan day trip offers you an amazing opportunity to collect memories on your camera with pictures from above and below the surface to post on your social media accounts.
If you do not have the time for an entire day, you can wake up early, eat breakfast at one of the beachside restaurants with good coffee and reach the island as it opens.
Visit the Viewpoint first and you can easily be back on Koh Tao for brunch. Enjoy your day!